Mid November goodies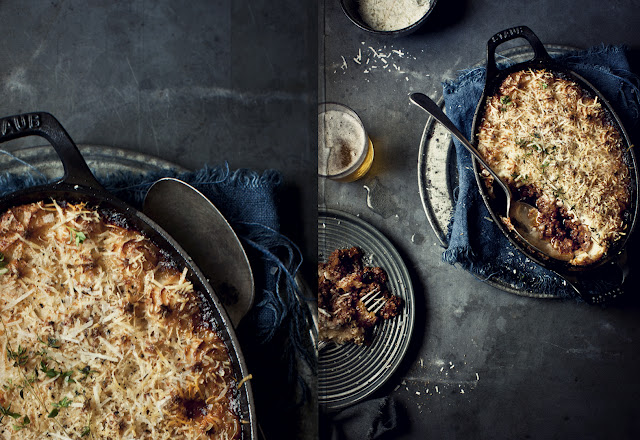 Katie's quick Shepherd's pie with roasted garlic cheesy mash
- - - - - - - -
600g lean organic beef mince (ground beef)
1 brown onion, finely diced
3 large cloves garlic, minced
2 cups beef or chicken stock
1½ tablespoons tomato paste
1/3 cup Worcester sauce
3 tablespoons HP sauce
3 tablespoons BBQ sauce
1/2 teaspoon ground nutmeg
4 sprigs fresh thyme leaves
Salt & freshly ground black pepper
Olive or canola oil for frying
For the topping:
3 large cloves garlic, whole, skin on
5 evenly-sized large floury potatoes, peeled, washed and cut into halves
2 tablespoons Natural Greek yoghurt
1/3 cup milk
50g Parmesan, finely grated
A few extra fresh thyme sprigs
Extra Parmesan for topping and serving
- - - - - - - -
Preheat oven to 180˚C (350˚F).
Place garlic cloves onto a small baking tray and roast in the oven for 30 minutes or until soft on the inside (test with a small , sharp knife) remove and allow to cool then squeeze out pulp and discard outer paper.
Fill a medium-large pot half-full with cold water, add a good pinch of salt then add in the halved potatoes. Bring to the boil over high heat then reduce heat to medium-high and cook at a high simmer until potatoes as fully soft in the middle when tested with a knife. Note: to ensure really creamy mash, always make sure your potatoes are thoroughly cooked, if they remain even ever so slightly firm in the middle you'll never get them smooth, as you'll just end up with tiny lumps dotted throughout the mash.
Drain potatoes, tip them back into the pot and using a potato masher, break up the cooked potatoes, then pass through a Tamil sieve or the finest setting on a potato ricer until totally smooth. Add in the milk, yoghurt, cooled roasted garlic pulp, and grated Parmesan and whip together to combine thoroughly along with a very good seasoning of salt and black pepper. Transfer to a large piping bag fitted with a star-shaped nozzle (the one I used measured 1cm/0.4") and set aside until required.
Heat 1 tablespoon of oil in a large, deep frying pan or saucepan. Add the onion and fry gently for 5 minutes, then add the garlic and continue to sauté over medium heat for a further 5-7 minutes before adding in the beef, break the mince up using the end of a spatula and combine all together. Fry until meat has browned then add the stock; tomato paste; HP sauce; Worcester sauce, fresh thyme leaves and stir all together. Cook for 30-40 minutes to infuse all flavours together and sauce has thickened. Fill baking dishes (this quantity will fill a single dish measuring 24 x 18cm/7 x 9.5" or 4 smaller 10cm/4" ramekin-style pots).
Pipe mashed potato onto top of meat filling, sprinkle with a little extra grated Parmesan, a seasoning of black pepper and a garnish of a fresh thyme sprig, then bake in the oven for 40-50 minutes or until top of piped potato is golden brown.
Serve hot with extra grated Parmesan (optional).
Serves 4
BBQ sweetcorn with Harissa spiced chicken and toasted Quinoa salad with marjoram and lemon, lemon yoghurt dressing.
- - - - - - - -
1 cup quinoa
3 fresh sweetcorn cobs (use frozen if you wish)
12-16 baby Roma tomatoes
1 large (or 2 small) chicken breast, sliced into thin strips
1-1.5 teaspoons harissa paste
Juice of 1 lemon
1 teaspoons smoked paprika
1/2 teaspoon cayenne pepper
Handful flaked almonds
Handful fresh basil leaves
A few sprigs fresh marjoram
Salt & freshly ground black pepper
Olive oil
For the dressing:
1/2 cup natural organic yoghurt
Juice 1 lemon
1 tablespoon EVVO
Freshly ground black pepper
Extra lemon wedges for serving (optional)
- - - - - - - -
Preheat oven to 180˚C (350˚F).
Place quinoa into a medium-sized pot and cover with 3 cups of cold water. Bring to the boil over high heat then reduce to medium and simmer for 20 minutes or until all the water has been absorbed.
Drain and set aside.
Into a medium-sized mixing bowl, add the harissa paste, juice of 1 lemon, 1 tablespoon olive oil, salt and black pepper to taste, whisk together then add the thinly sliced chicken, stir to coat in marinade, cover bowl with cling wrap then transfer to the fridge for 30-60 minutes.
Add 1 tablespoon olive oil into a large frying pan, warm over medium-heat then add the marinated chicken, fry gently until cooked through.
Turn cooled quinoa out onto a large, non-stick metal baking tray. In a small bowl combine paprika and cayenne pepper then sprinkle evenly all over quinoa, toss all together thoroughly. Sprinkle flaked almonds on top and again toss together to combine. Roast in the oven for 30-40 minutes or until quinoa is golden and toasted. Remove from oven, combine with spiced chicken then turn out into a serving bowl or platter.
Scatter with fresh baby basil leaves, a few marjoram leaves and serve warm with lemon yoghurt dressing.
To make the dressing; combine all ingredients together and serve chilled with warm salad.
Serves 8 as a side, 4 as a main lunch.
Rhubarb, peach & raspberry blueberry muffin pie with vanilla almond crumble
- - - - - - - -
1/2 cup slivered almonds
3 tablespoons  caster sugar
1 large/2 small bakery-bought blueberry muffin, crumbled into small pieces
2 ripe yellow peaches, stone removed & flesh cubed
Handful fresh blueberries*
1 cup raspberries* (*use fresh if you can but frozen is fine)
5-6 stalks fresh rhubarb
3/4 cup plain flour, sifted
1/2 cup light brown sugar
1/2 cup chilled butter, cubed
- - - - - - - -
Preheat oven to 180˚C (350˚F).
Place slivered almonds on a baking tray, sprinkle with 1 tablespoon of caster sugar and roast in the oven for 15-20 minutes or until lightly golden and caramelised, remove and place half the almonds (setting the remaining half aside) in a food processor and grind down to a fine/sandy texture.
Add sifted flour into a mixing bowl, using your hands rub in chilled butter until mixture resembles fine breadcrumbs then stir in the sugar and ground almonds.
Place rhubarb into a bowl and coat with remaining 2 tablespoons of caster sugar, turn out into a baking dish, top with the cubed peaches and raspberries then scatter the crumbled muffin on top followed by a handful or two of crumble mix (depending on personal pref.) finally sprinkle top with the blueberries and remaining roasted slivered almonds.
Bake for 40 minutes or until top if golden brown and fruit in the bottom cooked (use a skewer to test).
Serve warm with vanilla cream.
Serves 4-6.
Rhubarb, Mascarpone and hazelnut tartlets
- - - - - - - -
1/4 cup plain flour
2 tablespoons light brown sugar
50g hazelnuts
3 heaped tablespoons mascarpone cheese
1 teaspoon vanilla bean paste
2 teaspoons Frangelico liqueur
8 stalks fresh rhubarb, chopped into 2.5cm/1" pieces
3 tablespoons caster sugar
Pre-rolled vanilla bean/sweet shortcrust pastry
- - - - - - - -
Pre-heat oven to 200˚C (392˚F).
Butter 4 individual non-stick tartlet tins (the ones I used measured 12.7cm/5" round) and line with pre-rolled pastry. Place a small sheet of non-stick baking parchment into each then fill with baking beads or something heavy like rice or coins and blind-bake for 15 minutes in pre-heated oven before removing paper/rice etc. then baking for a further 5 minutes. Remove pastry cases from oven and allow to cool slightly.
Scatter hazelnuts onto a baking tray and toast for 10-15 minutes then remove from oven and blitz to a fine/medium sandy texture in a food processor, or chop by hand.
Combine flour, brown sugar, Mascarpone, vanilla bean paste, and Frangelico along with the ground hazelnuts in a bowl and stir thoroughly to combine into a thick paste.
Place chopped rhubarb and caster sugar into a medium-sized saucepan and bring to a simmer over medium heat for 2-3 minutes. Remove from heat and strain juices into a bowl through a strainer, retaining both stewed fruit and liquid. Return the latter to the pan and continue simmer over medium-high heat until reduced by 3/4 and you are left with a very thick, glossy syrup.
Spoon a heaped tablespoon of hazelnut paste into each tartlet case and smooth over base, repeat with other cases and paste then top with stewed rhubarb.
Bake for 30 minutes or until pastry is golden and rhubarb fully cooked.
To serve brush top of tartlets with reduced rhubarb syrup and serve warm with cream.
Serves 4.
Blood orange, mango and peach granita
- - - - - - - -
1 mango, peeled, flesh cut into round pieces
3 ripe yellow peaches, stone removed, cut into chunks
2 cups fresh blood orange juice
Juice 1 lemon
- - - - - - - -
Add all ingredients into the bowl of a food processor and whizz until smooth. Hold a sieve over a deep baking tray (the one I used measured 42 x 30cm/16.5 x 29" ~ so use one in or around these dimensions). Pour the granita liquid through the sieve into the tray pressing as much of the pulp through as you can, discard whatever final bits which won't pass through then carefully transfer the filled tray into a flat shelf in the freezer. Freeze for 2-3 hours or until required then scrape into fluffy granita snow using a fork or two.
Serve immediately.
Serves 4.
Roast almond, peanut and pistachio cranberry nut brittle
- - - - - - - -
100g butter
2/3 cup light brown sugar
1/2 cup golden syrup
2 teaspoons Frangelico liqueur
2/3 cup plain flour, sifted
1 teaspoon baking powder
1/2 cup unsalted, roasted peanuts
1/2 cup pistachios, shelled
1/2 cup whole roasted almonds
1/2 cup dried cranberries
Pinch sea salt flakes
- - - - - - - -
Pre-heat oven to 180˚C (350˚F).
Line a large baking sheet with non-stick baking parchment.
Into a medium-sized saucepan add the butter, sugar and golden syrup. Bring to the boil over high heat then reduce to medium/low and simmer for 5 minutes. Remove pan from heat then add the flour and baking powder stirring all well to combine.
Into the hot mixture add all the remaining ingredients, mix then pour out onto preprepared baking sheet. Bake for 20 minutes until dark golden brown. Remove from oven and allow to cool for 5-10 minutes. You'll notice the outside of the brittle will harden first leaving the centre part softer. Break off the hardened edges and set these aside then return the softer middle part to the oven for a further 10 minutes. remove and allow to cool thoroughly.
To serve, smash the brittle into small pieces and place in serving bowls (great for after dinner nibbles with coffee) or place into clear cellophane gift bags, close bag with ribbon or twine and use as homemade Xmas pressies :)
Chocolate cinnamon teacakes
- - - - - - - -
200g unsalted butter, softened
3/4 cup caster sugar
1 teaspoon vanilla bean paste
2 free-range eggs
1.5 cups self-raising flour
1/3 cup Dutch process cocoa powder
1/2 teaspoon mixed spice
2.5 teaspoons ground cinnamon
1/2 cup vanilla yoghurt
70g good quality dark chocolate (60% cocoa solids min.)
1/4 cup Icing sugar
1/2 teaspoon extra ground cinnamon for dusting
- - - - - - - -
Preheat oven to 180˚C (350˚F). Butter liberally 6 mini Bundt cake tins.
Fill a small saucepan 1/3 full with cold water then place over a low heat. Place a heatproof bowl on top of the pan into which add the chocolate and warm until melted, stirring occasionally. Once fully melted, remove bowl from pot and set aside to cool a little.
Into the bowl of a stand mixer, add the softened butter, vanilla bean paste and caster sugar and beat on medium speed using the paddle attachment for 10 minutes until really light and fluffy. Add the eggs in one at a time, beating after each addition then continue to beat for another 5-6 minutes. Note: Don't worry if the mixture resembles scrambled eggs when you add the eggs ~ that's perfectly normal and it will smooth out/become less lumpy as you beat.
Turn off the mixer, remove the bowl then sieve in the flour, baking powder, ground cinnamon, mixed spice and cocoa. Return to the mixer and continue to beat (use a slow setting at first or the dry ingredients will fly everywhere!). Whilst contents are mixing add in the cooled melted chocolate and yoghurt and beat for a final 2 minutes.
Pour mixture into preprepared individual cake tins and bake for 50 minutes or until the middle of the cakes are cooked through ~ test using a skewer.
Remove from oven, allow to cool then turn out onto a wire rack. Combine icing sugar with extra ground cinnamon and dust over cakes.
Serves 6-8 depending on cake tins.
All above images © Katie Quinn Davies 2011
- - - - - - - -
All recipes up now, thanks for your patience :)
A full on week for me, 4 editorial shoots in the past 6 days and 3 more to come before Sunday *eeek!* so keeping this little update on the shorter side for the mo. but all good and it's great to be able to get some time again to dedicate to the blog ~ am loving getting back into WKa :)
I am planning to do something special for Christmas again on the blog ~ grabbing every spare second I can here and there in-between jobs from now until mid-December. It won't be as mammoth a venture as last years gargantuan post (!) but am hoping to still deliver something as special, but different. So stay tuned on that front...
Finally Sydney is starting to see a bit warmer weather (hello - as one would expect in mid Nov!?!!) it's now shorts and t-shirt weather for us here (even though it is now bucketing rain at the mo. ...) yet for some reason I chose to go down a route of mustering up some recipes mainly in part for chillier climes/cosy scenarios.
But Southern hemisphere readers, hang on to your mozzie spray,  BBQ's and sunscreen, I'll be back early next week with a total flip and feature some lighter, Summery ideas as well as a few pre-Christmas recipes and gift ideas.
X