Vive la France! (and a few missing oeufs...)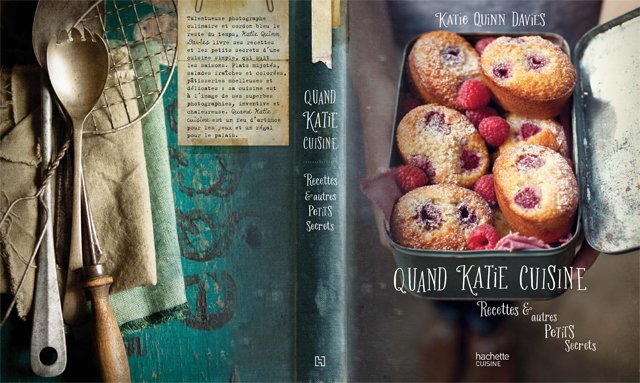 I've been meaning to write up this post for a few days but alas I have been pretty unwell and bed-ridden for the past 6 or so days with a rotten stomach bug picked up God only knows where. Thankfully however I am officially on the mend and feeling a whole lot better now and getting back to working on the blog and work.
Sadly being unwell prevented me from cooking and photographing 2 or 3 dishes I had planned to shoot last weekend to celebrate another bit of news relating to the book, which is the French version of What Katie Ate is now officially on sale in France via my French publishers Hachette Livre.
The French version has a slightly different title as we all felt it read a little nicer when translated, which is; Quand Katie cuisine ~ Recettes et autres petit secrets (When Katie cooks ~ Recipes and other little secrets). For anyone wishing to purchase a french copy you can do so here on amazon. I'm really thrilled to get the book into France, I have heard it's quite an achievement to get a foreign cookbook taken on by a French publishing house and circulated in France, so I am pretty chuffed :) Hachette were one of the first publishers to contact me just after I announced the book was being produced and I am so very honoured to be working with them. Pour Hachette, je dis merci beaucoup!
The French book has a slightly different illustrative style text on the cover and inside, this was due to the French publishers wishing to have a fully working font as opposed to a static illustration which was used for the Aussie and US version of the book ~ hence the slightly differing visual title on the cover.
I've been getting amazing feedback on the book so far both here in Australia and in the US and Canada. All the positive comments and messages have been wonderful. It's also great to see such positive reviews going up on the likes of Amazon, Anthropologie, Barnes and Noble and such. Obviously the more positive reviews the better it is all round so, please if you have a moment, have a copy of the book and want to write up a few supportive words on these listed sites and others selling the book please do so, I know I would be hugely grateful and it would be much appreciated from this end. Makes all the hard work worthwhile for me (and encourages a few more sales! ;)
Blood Orange and Rosemary Cake
Taken from What Katie Ate ~ Recipes and other bits and bobs
© Katie Quinn Davies  |  Penguin Lantern Books 2012
On the topic of great praise and positive feedback received, so many people have mentioned to me a selection of recipes they're dying to try first and the one in particular which keeps popping up (one of my faves) is the Blood Orange and Rosemary cake on page 257.
I wanted to make a note what we unintentionally made a bit of a 'boo boo' in the cake recipe; we listed that the cake requires 3 eggs, but didn't mentioned in the recipe where to put said eggs! Sadly it was only after the book was printed that this was spotted, how we did miss it, we are all utterly stumped as it was proof-read 3 times ~ but these things happen.
When we spotted this small error, we decided it was best to go back through the book with a seriously teeny, tiny, minuscule fine tooth comb and Penguin have listed a few extra corrections/tips here and where to put said MIA eggs!
You can check out these amends and read a little interview with me here on the penguin site.
Finally, this will be the last post going up on this current and soon to be obsolete What Katie Ate site. On Saturday November 10th and Sunday November 11th the blog will be taken down so when you click on whatkatieate.com or whatkatieate.blogspot.com you will see a holding page. This will be up while we are testing the launch of the new site. All going to plan the new site will be live on Monday November 12th.
The new site's address will be www.whatkatieate.com aka no more blogspot.com. So the next post you will see will be featured on the new, improved, much easier to navigate site with lots of great new features, all of which I'll run through in the first post. I can't wait to (finally) introduce you to it all :)
Until then and lots of new recipes and photos x