2 Days in the Blue Mountains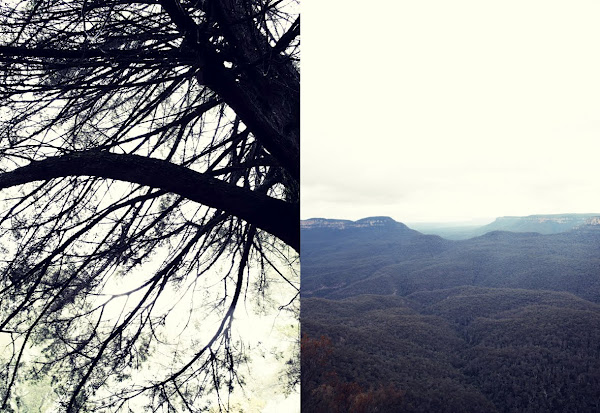 Design*Sponge In the Kitchen With...
A Chocolate Guinness Cake which was adapted from a few different online recipes including Nigella Lawson's version.
All Images © Katie Quinn Davies
The last few days have been jam packed with fun times; good laughs; an 'In the Kitchen With' feature on Design*Sponge *woohoo*; a ridiculous amount of rain and fog and finishing with a great Monday afternoon food stylist job with one of the best (and nicest) photographers out there; Alan Benson. Alan has photographed amongst other titles; Songs of Sapa by Luke Nguyen; The Real Food Companion by Matthew Evans and The Bourke Street Bakery.
Saturday my husband and I headed away for 2 nights to the Blue Mountains, an area which is normally just a 1.5 hour car ride west from Sydney CBD. However, this Saturday just gone what with it being a long holiday weekend, the lovely NSW road corporation thought it a fabulous idea to do roadworks on the main highway linking Sydney to the Blue Mountains.. *round of applause lads*. So needless to say, that normal 1.5 hour trip took us 3 hours+... However sarcasm aside, we got there in the end and checked into the fantastic guesthouse which my husband Mick picked out as a surprise ;)
Whispering Pines is a gorgeous set up, owned and run by husband and wife team; Bill and Maria McCabe. It's a stunning old chalet-style house nestled right at the edge of the Wentworth Falls. We stayed in their garden studio, totally private and secluded and surrounded by the most incredible wooded garden and acres of manicured lawns. There has been a huge amount of care and attention given to the property. It's always so nice to feel so far removed from the hustle and bustle of everyday life yet with little time or effort required to get there. After checking into our apartment - totally charming and cosy, complete with kitchen area which was well stocked with local breakfast provisions and a loaf of freshly made bread, we headed to a the main town of the area; Katoomba for a bite to eat and a few beers. Unfortunately it never stopped raining all weekend - with the exception of a few hours on Saturday afternoon which thankfully gave me an opportunity to grab a few photos of the majestic 3 Sisters and surrounding breath-taking Blue Mountains as I also discovered with this area of NSW, you get fog - and copious amounts of it - leaving photo opportunities at this time of the year a rarity. So it was a case of find a carpark (an impossibility and downside to Katoomba) and dash to the nearest pub for cosy shelter and beer. We hit the jackpot choosing the; Old City Bar Bank and Brasserie where I had an amazing 'Bastardo' pizza; Smoked Ham, Roast Pumpkin, Chili and Parmesan - was utterly delicious on a super thin and crispy base and I'll definitely be making a similar recipe at home in the near future.
Sunday was spent pottering about some antique shops in Katoomba - where in one in particular: Explore Retro I found a great selection of new enamel and ceramic food props - most at a steal at $10 each. I had a really good chat with the owner; Scott Wurth, who has been running the store for 5 years, ironically it turned out used to be a photographer himself. A really nice bloke and I'll head back up and source props from him in the future for sure. We spent a few more hours in the unrelenting pouring rain, perusing the quaint village shops of Leura where I discovered the culinary marvel that is Josophans Chocolates *drooool* (more info on this Aussie chocolatier to come in later postings) and a really dinky Christmas store (entry and in depth exploration of all found Christmas stores is mandatory in What Katie Ate land), where amongst a Pandora's box of all things decorations and Christmas, I discovered Roxy the Robot, from the minute I set eyes on her it was true love. I don't now if it's her little white apron that stole the show for me, or the miniature spatula she carries in her left hand, but either way, I snapped her up pronto and she's now sitting staring at me on my desk as I type :)
Before heading back to our Whispering Pines on the Sunday night with the car full of foodie goodies which we picked up at various gourmet stores in Katoomba and Leura, we drove up to Lilianfels - a five star luxury hotel situated right at the 3 Sisters where we had High Tea for a bit of a laugh, followed by a few drinks in the bar.
All in all a really wonderful few days away and an area I'll head back to with enthusiasm, although I feel best bet in order to get some good walks and photos in will be to wait until the warmer and less drizzly summer months. Thankfully I bought a huge bag of dark chocolate at Josophans in Leura, so I'll be shooting a new chocolate dessert this week along with a Goat's Cheese tart I've been meaning to feature on the site for some time. I bought some wonderful goats cheese from a store in Katoomba so no better a week to post up this recipe I've been making for dinners here for the past few years and which always goes down a storm.
Cheers
Katie :)