A long, lazy weekend in Orange, NSW...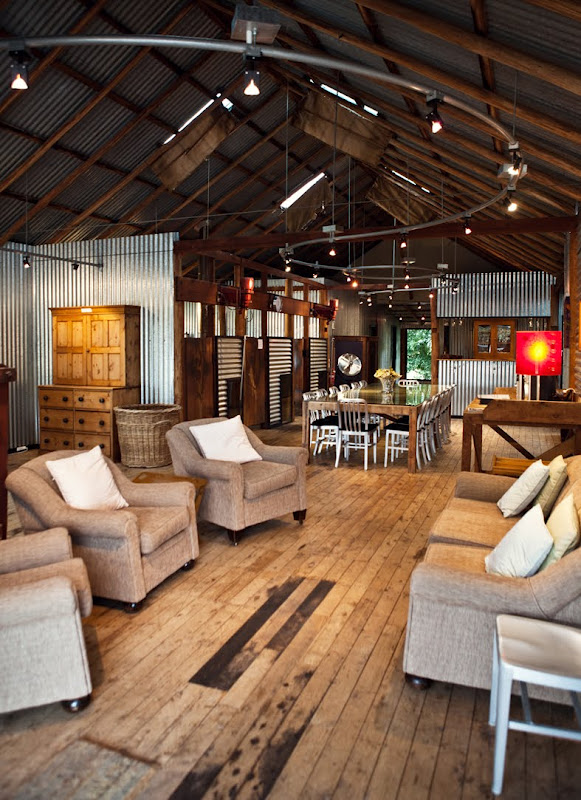 Authentic features have been lovingly retained in the main shearing shed building, including the original shearing station equipment and floor staining which would have occurred from the continuous contact of oil in the sheep's wool with the original floorboards. Also marks on the floor from the sheep's hooves are still evident...
A few inquisitive residents...
Early sunset on Friday outside Whispering Moon cottage...
A ramble around the Black Sheep Inn...
La Boucherie, Millthorpe, NSW.
The incredible pretty and quaint preserved town of Millthorpe ~ a 30 minute drive east of Orange town centre.
The countryside surrounding Orange in and around Borenore and Darcy's Old Wares situated in Lucknow which is situated about 10 mins drive east of Orange along the Mitchell Highway.
Apple orchards at Small Acres Cyder and Hillside Orchards, Borenore, NSW
All images © Katie Quinn Davies 2011
Last Thursday I took a little holiday away for the weekend and drove about four hours west inland from Sydney into beautiful country New South Wales - to a town called Orange.
Over the years I have lived in Oz it's a place a lot of people had told me they thought I would love due to it's notoriety as a foodie haven. So I decided to bite the bullet and head over for a few days away. I went for two reasons, one of which was to celebrate 5 fantastic years of marriage to my wonderful husband Mick (♥x) but also just to take a well-overdue break and escape from the big smoke for a couple of days to unwind and grab a bit of R&R. So we packed up and headed out late Thursday afternoon arriving in Orange by 9pm or so.
I was surprisingly quite taken-a-back at the size of Orange itself, having for some reason thought it to be a much smaller, sleepy little village full of tiny galleries, restaurants etc., but it's home to now approx. 40,000 people and as such a much larger town than I was expecting. We stayed at an amazing place located an easy straight drive 9km west of Orange town in an establishment called the Black Sheep Inn. It's set on the slopes of Mount Canobolas amongst orchards and vineyards and it is perfectly located for basing yourself at accommodation from which you can easily drive around and sample the food and wine for which the region is renowned and also in turn, meet the super friendly people who run said orchards, wineries, farms, olive groves and such...
The Black Sheep Inn is an superb, award-winning venture, really different and unique. Owned by the incredibly helpful and welcoming Helen and Andrew Napier, who two years ago took over the running of the property from Andrew's folks; Dee and Rob - I met the latter on Sat afternoon by chance and what a really lovely guy, there's an amazing sense of a close-knit family at this place.. Helen herself popped over to say hello on Friday morning and overall she just couldn't have been more friendly and accommodating. The Black Sheep Inn is an original 100 year old iconic shearing shed converted into unique and modern accommodation. Traditional and contemporary elements have been cleverly melded into one stylish whole. Black Sheep Inn has five guest suites and a perfect place to rent out with a group of mates if you want to get away for a weekend together. In addition to the main converted sheering station they also offer a self-contained cottage - which would have been the original sheep shearer's quarters; Whispering Moon Cottage~ which has an option of one or two bedrooms, each with an en-suite, and a living area with cosy fireplace. This is the option we decided to opt for and we had a absolutely brilliant relaxing stay."The key elements of the main shearing building have been painstakingly conserved, such as the timbers hand-cut from the property, the galvanized iron, the flooring and sheep chutes, the wool table, the red Sunbeam shearing machines, the wool baskets and the huge Koerstz wool press. But the accommodation facilities of Black Sheep Inn provide a distinctive twenty-first century pizzazz and a unique rural experience".
Weekend breakfast is served in the main sheering shed, cooked by Helen herself, who uses only local, fresh and seasonal produce. Guests dine at a communal table - which was in fact the original wool sorting table and is now cased with a glass top. Both Mick and I were blown away when we went over to the converted sheering shed for a look-see on Friday morning. It oozes stylishness and serenity. There are two communal sitting areas but one in particular is hidden away over to the left with an adjoining balcony which overlooks stunning views of the surrounding countryside. It was so easy to envisage yourself sitting on the balcony in the summer, or by the adjacent roaring fire in the winter months, enjoying a bottle or two of good Aussie red which you'd buy on a day tour to the local wineries. It's a total escape from the city/daily hum-drum and one I would highly recommend if you get the chance.
One of the surrounding villages outside of Orange we drove over to on Friday was the beautiful heritage town of Millthorpe. A really charming little village, boasting award winning restaurants, arts and antique stores, a museum and boutique shops. There was a real sense of style and prettiness about the town and full of very quaint, well-kept cottages with rambling wild flower and rose gardens. The town itself offers a gorgeous array of design-led boutique accommodation options and restaurants to choose from - esp. the award-winning Tonic and a funky little coffee shop called La Boucherie which stocks alongside great coffee and pastries, a range of books, cards and artwork.
Small Acres Cyder is run by Gail and James Kendell who operate their business on Arkhurst Road, just off Borenore Road (about 15 mins west of Orange). We decided to take a trip over to their orchard and cellar door on Saturday to taste their range of locally grown, locally made artisan cider. Needless to say after 20 minutes of tasting the ciders, guided by James' adept knowledge, we easily walked away with a mixed dozen case.
I'm not a huge cider drinker, mainly due to the fact I associate most cider as being served in a pint glass and it generally being very sickly sweet (think Bulmers/Magners etc./the general run-of-the-mill pub variety found in most Irish pubs/bars - which was pretty much the last time I really encountered cider in the general sense). However the offerings at Small Acres Cyder are a million miles away from this mass manufactured style I have been more familiar with. We started off the tasting with a glass each of their Somerset still dry and Norfolk Still medium dry varieties, moving up to their Sparkling varieties and a wonderful and unusual Dessert style cider. All I can say is it has totally changed my thinking of cider being a cheap-ish pub option to that of a serious premium drink offering which you could enjoy with a good meal (in particular roast pork) over the usual white wine.
Their direction is driven from that of older style UK traditional alcoholic cider made from authentic cider apples. James is one of the few cider apple growers in NSW (most other local apple producers grow only an eating apple variety). James' apple trees are sourced from England and France and he chose Orange was a perfect location to base their venture due to the ideal climate, soil conditions and established food and wine industry.
This coming weekend I'll be posting up some recipes inspired by my time away this last weekend in Orange and surrounds using produce picked up over the 3 or 4 days away including a pork and cider dish; prosciutto wrapped venison with spicy relish; and a pasta dish (very similar to a ravioli I featured a few months back) inspired by a meal I had at Lolli Redini on Saturday night....