A long overdue update :)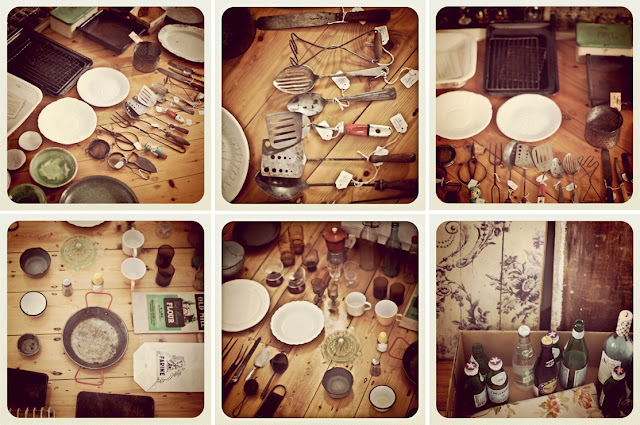 Finally I have managed to get a little bit of time together to update the blog (!) It seems like AGES since I have written up a post, I had hoped to get one up a few weeks ago but alas, due to the manic workload on my plate, it didn't eventuate, but thankfully in a week or two I'll be back on line regularly with weekly uploads for photos and recipes and news once my manuscript is handed in next week :) The book shoot for the first What Katie ate cookbook is currently in full swing (heading into last week - yippee!!) and I'm 75% there with it *yay* after a full on past 2 months of final recipe writing; testing; external recipe testing; shopping for my tester and again for the photo shoot each week, and then renting and sourcing props and settings.
It's been a very intense 2-3 months for me, but finally I can now see light at the end of the tunnel and am very excited to see the whole book start to take shape over the coming months.
Where I could I snapped a few extra behind the scenes pics. I am blessed to have a great team on board during this photo shoot stage: Simon my cook who is helping me prepare all the recipes for the shoot and Madeleine, who is, quite possibly the most incredible assistant ever ~ she could write her own book on how to make a "superb, would-be-lost-without-her" photo and styling assistant. Thanks guys :)
So until I am back up in action with a few new recipes in 2 weeks, here's a few pics for the moment, along with some other snippets of info. about what's been going on over the past 8 weeks or so... x
Props, props, props and more props, and that's just the tip of the iceberg...
A small selection of the piles of hand-dyed fabrics for the shoot.
Going through photos from the blog for possible inclusion.
The amount of shopping required for a 300 page cookbook is quite something,
I should have shares in Coles and Woolies at this stage....
Shooting blue swimmer crab and amazing tiger prawns from the Sydney Fish Markets.
STILL washing up at 11.45pm :(
My glorious assistant; Madeleine (top left and centre)
MORE washing up... *groan*
4 weeks of recipe writing and testing stage finally finished, time for some celebratory bubbles had on a gloriously sunny Sydney afternoon!
The White House, Daylesford, Victoria, Australia
* * * * * * * * * *
All images © Katie Quinn Davies 2011
Last weekend just gone, I decided it was time to have a long-overdue bit of R&R away from the book shoot to recharge the batteries. A few months ago I booked a property in Daylesford (an easy 1.5 hour drive North-West of Melbourne CBD).
I have long been an admirer of this property: 'The White House' for years, but until now, I had never stayed in it. I stumbled across the property on the internet a while back in 2008 and always had a yearning to rent it one weekend and find out if it really was the superb spot it portrays in it's beautiful online photos...
From the moment I stood foot inside the door, my mouth was a-gasp...! No kidding, it is quite possibly, the most beautiful house I have even had the great fortune to stay in. Stunning. Utterly beautiful ~ and I'll be honest, I'm a tough (fussy) cookie to please… My only gripe was I couldn't buy the house along with all it's contents and move it to Sydney!!
The house is owned by and styled by Lyn Gardener ~ owner of the delectable; 'Empire Vintage' in Melbourne.  Lyn's eye for detail and taste-level is out-of-this world.
All images in above collage strictly © Empire Vintage 
I share a similar aesthetic (as in I love mixing old vintage pieces with new and have a fondness for industrial vintage pieces) but what can I say… Lyn truly deserves all the many accolades she receives and her title of 'Melbourne's Queen of Vintage' is most definitely well appointed and fully deserved.
The house consists of 2 bedrooms in the main house and a separate bedroom and bathroom in the guest garden cottage. All bedrooms are beautifully decorated and feature wonderfully luxurious hand-made linens on super comfy beds.
It was chilly in Daylesford this weekend but the house is equipped with a fab heating system and bucket-loads of firewood to provide a fantastic open fire – great for chilling out in front of with a big bottle of Aussie gutsy red.. There is a superb surround sound system in the house along with stereo and iPod dock and various CDs. Upon arrival you'll find a loaf of fresh bread plus breakfast provisions for the morning and a full-stocked kitchen for whipping up a meal to enjoy in-front of the cosy fire :) All in all, a wonderful weekend away, in a magical house, which I will most definitely be re-visiting.
Prop.d
* * * * * * * * * *
I wanted to take a photo or two for my book whilst I was away in Daylesford last weekend and had it all planned out: recipes written; ingredients bought and props for the shoot sorted ~ the latter of which I rented here in Sydney beforehand and packed away safely in a box, all ready for the plane journey down to Melbourne...
So it was a super-great annoyance when I realised in the airport that I had rather cleverly (not!) left said box of props in my studio office... *grumble*...... Thank God for Prop.d 
I gave them a call and swung by their Footscray store to pick up a box of props to use on the shoot. Their collection of items is fantastic. The gorgeous Rachael and Carly saved my bacon on this one, big-time...
Like the aforementioned White House, Prop.d is a company I've often read about in recent months but never had the good pleasure to work with, what with me being located in Sydney as opposed to Melbourne these days. The company is co-owned with Rachael by one of Australia's best known stylist: Glen Proebstelwhose work I have greatly admired since I got involved in this industry.
"Rachael Hart and Glen Proebstel met 3 years ago when Glen joined the Melbourne based creative agency Katrina Herschell Management. Rachael was working for Katrina as the booker/producer and Glen was the new kid on the Melbourne block. Since then they have worked together on a wide range of advertising and editorial bookings, Glen working the creative side of the jobs and Rachael working the production end. Since leaving KHM Rachael and Glen have teamed up again and created "prop.d" (pronounced propped), pulling together Glen's huge and ever growing collection of beautiful objects in the form of a stylist's prop house.
While 'prop.d' is one of Glen 's babies he still continues his ongoing editorial and freelance work. He is the Style Director of Inside Out magazine and contributes to other editorial publications such as Country Style, Gourmet Traveller, Elle Decoration UK, Living Etc UK and many more. Some of his advertising clients include; Domayne, Mil Lel Cheese, Myer, Tuppaware, Sheriden, Aura by Tracie Ellis and Space Furniture. He has also worked on the following cookbooks with publishers Hardie Grant and Penguin; Tobie Puttock "The Daily Italian", Maeve O'Meara "Food Safari", Greg Malouf "Saraban", and 'The Foodies Guide and Calander 2010'.
Real Living Magazine, October Editorial
* * * * * * * * * *
A few photos from a shoot completed back in April for Real Living Magazine.
All images © Katie Quinn Davies 2011
Pete Evans' My Kitchen
* * * * * * * * * *
Back in January 2011 I had the pleasure of being asked to shoot Pete Evans 5th and latest book; 'My Kitchen'.
It was a fantastic few weeks of working alongside Pete; his head chefs from Hugos and the wonderful David Morgan, whom I think is one of the best food and prop stylists in Australia.
The shoot consisted of not only all the food pics but also a few days on location at Pete's house in Bondi.
The first day on location was one I won't forget in a rush ~ shooting all day from 8am until 6pm on the rocks at Bondi in 43+˚C searing heat *eeek*. The book is now on sale and looks fab. The recipes are incredible (esp. the Bo Ssam - you HAVE to make this dish - I did - for nearly a week non-stop!).
My Kitchen is on sale - online here