A Long Weekend in Melbourne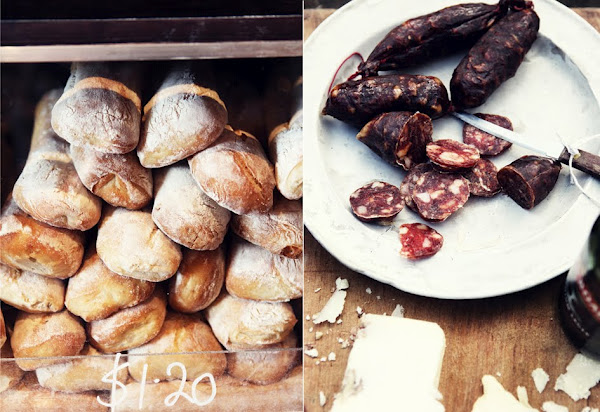 Some photos and lunch from newly opened; DOC Mornington
Grafitti art in renowned; Hosier lane
Architecture at Federation Square and Monday lunch at Movida
More grafitti in Hosier lane
All Images (with the exception of the last) © Katie Quinn Davies.
Last images above on right © Tim Burton @ ACMI
All Images © Tim Burton @ ACMI
Thanks for all the lovely comments and well wishes for my past weekend in Melbourne, it was really great to get away for a few days and chill out. It was surreal being back in the city and it really only felt like we left last week, not six months ago - where does the time go to?!
Albeit pretty chilly compared to what we are now used to in Sydney, I have to admit the ease of Melbourne and it's laid-back lifestyle really made me miss the place. As a non-Aussie with an outsider's opinion, it's a much easier city to navigate than Sydney and the shopping in general is without a doubt, a million times better I find. The new David Jones store is stunning and well stocked, I had a little splurge on a pair of Chloé shoes - a small 'well done for securing some recent photo jobs to me' pressie ;) and was delighted to find they had plenty of stock in my size - an occurrence which is rather (frustratingly) infrequent I have found in the Sydney CBD branch and I normally walk away empty-handed. Anyway girlie shoes aside.. we had a really relaxing time down the coast staying with the in-laws. Bob my father-in-law cooked up a superb roast pork on Friday night accompanied by a cracking side of red cabbage - the recipe for which I'm going to have to get my mitts on and post up in here. Saturday we did a bit of credit card damage, and I met up with a good Irish friend of mine for a girly catch-up and some glasses of white at a previously unbeknownst to be me, superb little pasta and wine bar in Howey Place called; Solarino, if you ever find yourself in this restaurant try their antipasto platter, it's one of the best I have eaten and great value at $22 for the amount and variety they serve up on a wonderfully rustic wooden platter.
Saturday night we went for a fantastic dinner in Comme *see below* and Sunday was spent pottering around the city, enjoying a drink or two in Fed Square before heading into the Tim Burton exhibition at ACMI. This exhibition is one I have fervently wanted to see for months and one of the main reasons we travelled down to Melbourne for the weekend. I am a huge - strike that - gargantuan fan of Tim Burton, his creativity and dark humour delights and bewilders me at the same time. I cannot fathom at times how anyone can be that talented. The exhibition itself is very well put together and contains hundreds of original sketches and models. I'd give my right arm for even just one little, tiny pen and ink sketch. I was disappointed (but not surprised) that they didn't allow photography in the main exhibition itself but they did have a smaller selection of some of his polariods on display upstairs and they were happy to let people snap a few. I felt like a child in a sweet shop looking at the many Jack Skellington heads on display from The Nightmare before Christmas and I delighted at seeing, first-hand and up-close the intricate and perfectly detailed models of the aliens from Mars Attacks. It was quite surreal peering into their teeny - yet bulging eyes thinking of their "Yak, yak, yak, yak' voices from the movie :)... My all time Tim Burton piece is without doubt one of his earlier works; Vincent; a short, six minute black and white film about a little boy who thinks he is Vincent Price. If you are into Burton and haven't seen Vincent, it's well worth a viewing. The highlight for me of the exhibition was seeing the little models from Vincent - a real 'pinch myself' moment after years and years of pure adoration for his stop motion animation work. All in all a fabulous exhibition and well worth a visit if you are in Melbourne before Oct 10 when it wraps up.
One of the main finds on this quick trip down south was a new deli which has opened in Mornington close to my in-laws house and a town I spend a lot of time in when I'm down that direction. It's a recent opening by the same owner of the city's Carlton Espresso and DOC Carlton - Tony Nicolini. DOC Mornington is a ''concept store'' — Nicolini's words — showcasing first-class Italian and local produce. I'm a lover of delis, it's a really stunning shop (with café/restaurant attached beside) and I found myself hesitant to leave even after 30 minutes in the place bewildered at their incredible choice in cured meats, Italian products, breath-taking fresh veggie selection and cheeses - all of which have samples to taste on display - a great idea and sadly a rarity in a lot of delis, I found it resulted in me buying many more cheeses than I originally had planned to do. I left with a full bag of locally produced cheese including a fabulously nutty, walnut Pecorino variety and a superb aged, bitey vintage cheddar. I also purchased some wonderful spicy cured Sopprezzate sausages all of which we devoured with some beers, the cheese and fresh crusty bread on Sunday evening.
All in all a fabulous weekend away and one I hope to do again very soon. But until then, back to the grindstone work-wise and a few more recipes for the blog which I will post up in the coming days.
Cheers
Katie :)
Images © Comme
As briefly mentioned above, on Saturday night eight of us went for dinner at Comme in Melbourne CBD. It's a restaurant I had heard much about in my four+ years living in Melbourne and regretfully having never managed to make a trip there to date, I was delighted when I found out they had room to fit us in. It's a beautiful setting, the bar is maybe just a tad high in the 'pretentious' stake for my liking, but on walking into the dining room, one is met with a really warm and inviting atmosphere and the waitress assigned to our table was super efficient and very friendly. For starters I chose the; Cream of parsley soup, crumbed goat's cheese, garlic croutons & crayfish vinaigrette (out of this world good and it pained me not to me able to finish it all as it was a large serve and pretty filling when going the whole 3 courses), followed by the Angus sirloin which I must confess was a bad choice on both mine and my friend; Ali's part, it really was quite tough and chewy and not to either of our tastes. Luckily my husband - being your atypical meat-eating Aussie blue-blooded male, will happily chomp down any piece of steak put in front of him, so at his insistence we swopped plates half way though meaning I got to finish off the Cassoulet of duck, Lyonnaise sausage, ham hock, confit pork belly & garlic crumbs which he had ordered and I can confess I am now a Cassoulet convert, having never eaten it before - it was incredibly flavoursome and more-ish, the beans in it were incredible and perfectly cooked.. I hope next time I am in Comme, they still have it on the menu as I think I'd order it for starter and main... I'm not a massive dessert eater, generally heading straight for the cheese platter, but on spying Valrhona chocolate cake, banana, milk chocolate ice cream at the top of the dessert menu, it was a no brainer, and it went above and beyond it's expectations.
The menu is varied and overall we all raved afterwards about our dining experience with everyone agreeing it was an 8 out of 10 scoring only being let down by the poor steak dish.