A very Merry Christmas 2011!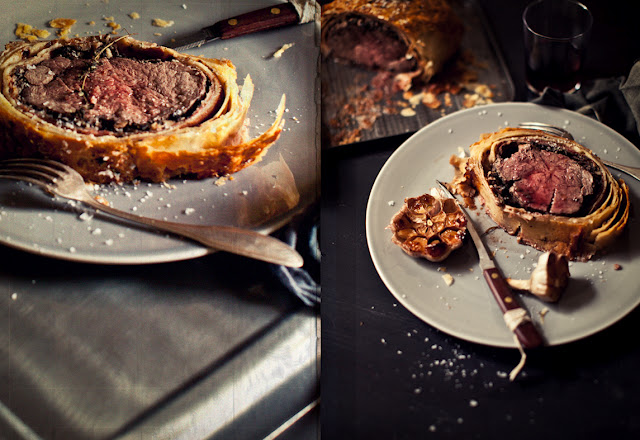 Roast Loin of Pork with Apple, Apricot and Pistachio Nut Stuffing
Creamy Pecorino and Parmesan Macaroni Bake with Salami, Roast Tomatoes and Chilli
Garlic Butter Roast Chicken with Lemon, Macadamia Nut and Bacon Stuffing
Roast Chicken with Mushroom, Walnut, White Truffle and Sausage Meat Stuffing
Roasted Sweet Potatoes and Parsnips with Nutmeg, Garlic and Honey
Crispy Brussels Sprouts with Broccolini, Bacon and Pine Nuts
Baby Yellow Squash with Chilli, Red Onion and Garlic Pangrattato
Baby Carrots with Fennel, Thyme, Honey and White Wine
Hot Smoked Salmon Paté; Peach, Apple, Chilli Chutney; Sour Rhubarb Paste for Cheese
A selection of cheese and meats given to me by the one and only, fab gourmand and all-round great guy Andy Arnfield of my fave Sydney foodie store; The Gourmet Grocer. Deservedly so, Andy's online business is doing a roaring trade, he'll deliver all or any of his shops products anywhere in Australia or further afield. Andy also stocks a full range of Phillippa's baked goods, this is a bakery based in Melbourne who recently sent me an amazing hamper choc-full of the most incredible baked Xmas goodies - mince pies, gingerbread, cakes and pies.
This year I'm stockpiling a few bottles of my fave Logan wines. I've loved this family-run, boutique winery (which are based in Mudgee, NSW using grapes grown in Orange, NSW) ever since I laid eyes on their amazingly designed labels and brand about 4 years ago (the design co. actually had each varieties leaves and flowers embroidered by hand and then photographed for the labels). Their varied wine range is superb and compliments any meal or food occasion. They have a wine club and you can order online.
Ali's Pavlova with Christmas Berries and White Chocolate Cream
Mini Raspberry and Chocolate Ganache Meringue Kisses
A great find for the warm Sydney Summer months (if it ever would arrive!!) - Pure Pops are a hand-crafted ice pop company based in Sydney. Supplying a great range of fun flavoured fruit popsicles and highlighting the best seasonal fresh fruit on offer, Pure Pops contain no artificial flavours, preservatives or stabilisers, resulting in a delicious pure icy treat and are a perfect addition to parties, weddings and special events, Pure Pops also offer customised flavours and popsicle sticks.
Homemade Granola Bars made with what is, without a doubt, THE best muesli on the Aussie market, I am eating this stuff by the bucket-load at the moment ~ The Unexpected Guest topped off with a thick layer of my new sweetie find and current addiction (not good for bikini season in Oz!) ~ Conscious Chocolate.
All images © Katie Quinn Davies 2011
Ho ho ho! Merry Christmas! Hold that thought - where on earth has this year gone to?!? And more to the point where is Summer in Sydney???! For the first time in Oz I feel I'm back home in Ireland and having a cosy, heaters-and-jumpers-on-style Christmas... I really do hope the sun starts to shine and the temps start to rise as in exactly 7 sleeps time my sister, her hubby and their fab 8 year old daughter, my niece; Erika will be setting foot in Sydney ~ after the 1,867 hour flight from Ireland ;) I am really looking forward to their visit and taking a bit of time away including a week away in Queensland,  from what has been a crazy hectic year for me work-wise and included a full-on, yet fully enjoyable few months of solidly working on my book. I can't believe it will be going to print in early April, then before we know it it'll be October and it'll be on sale!! Woohooo! :)
I decided, due to not having a lot of free time to go mad, like I did last year with the massive 495 pager Xmas post (!?) to this year keep things a little more 'low-key'. I have included a few recipes which I often cook myself as these days I personally will rarely cook a massive turkey at Xmas, opting generally for other meats such as lamb or pork or sometimes just a really nice piece of fillet beef. Often at Xmas I love to organise a range of smaller plates which we'd graze on over the day as opposed to eat one huge meal.
This year I will be spending Christmas Day with my husband Mick ~ just the two of us and I will cook a beautiful organic, free-range chicken stuffed with my Lemon, Macadamia Nut and Organic Boks bacon stuffing. The bird itself gets slathered all over in a fab garlic and lemon butter and I'll serve it with a load of super crunchy 'Mum's Roast Potatoes' and a few sides - all the recipes for which I've included in this post. For a casual lunch I'm going to cook up a few prawns from my last post in November as the great thing with these guys is you can cook them and they still taste great eaten hot or cold so again, a great one for nibbling on through-out the day so they too are great for a BBQ where you need to feed a load of people who are coming and going throughout the day.
Dessert will be borrowed this year from my friend and co-worker Ali Irvine, Ali and I have worked together for the past year on Real Living Magazine. Ali ~ a freelance food editor is an amazing cook and has an incredible talent for pairing flavours. This month I asked her to supply me with a recipe for a good, easy and simple Xmas dessert and she's delivered a gem. This pavlova is fantastic and provided me with some of the best looking, plump and pillowy meringues I have every made. I gave it a test run this week and it was a fantastic success. I decided to turn the recipe into one large pavlova for the shoot, keep in mind you can easily make this as individual meringues as per Ali's recipe and I look forward to being able to prepare this dessert 90% on Xmas Eve leaving me with very little to do for sweets on the 25th.
A few weeks ago I was sent a package in the post by a company in Bangalow in NSW ~ The Unexpected Guest is a company who specialise in producing two of the most amazing mueslis I have ever tasted. For breakfast, I am normally a toast and Vegemite and a mug of instant coffee sort of gal, but since Adam from the company sent me down a few bags of their product I am utterly hooked. Adam and his fiancee Juniper formed a boutique breakfast company focused on creating the most delicious breakfast experiences around. All their products are certified organic and use the best quality ingredients they can source. Adam sent me a granola style toasted muesli which is naturally sweetened and called: 'Granuesli' (seemingly Sanitarium trademarked granola in 1920!) and also a gluten free muesli which uses yummy maple roasted almonds along with a host of other fantastic ingredients. Adam and Juniper started the company two years ago in their kitchen in Bondi. Juniper is Canadian and had made the granola for years and through friends popping round and taking a bag home, orders started to flow and the word got out. It wasn't long before Juniper started producing to a number of retailers and cafe's within the Eastern suburbs of Sydney. They had always used organic ingredients but as the company grew they decided they wanted to certify the products and therefore started looking for a certified organic commercial kitchen which is what brought them to the north coast. Two years later they are now nationwide and servicing aprox 150 retailers.
I really found this product top-notch and after munching on many bowls during shoots here at the studio over the past month, I figured it might be good to try out a recipe for homemade granola bars which I could take on location shoots to beat the munchies. So I used the Granuesli (which is crunchy and crisp) and mixed it with the gluten free muesli, combined the two with organic Aussie honey and topped the lot off with a good dollop of melted chocolate - in this case with a few bars of melted 'Conscious Chocolate' - which is a recent find of mine and my new addiction for late night sugar cravings... although in this case it is actually sugar-free as they use 'agave nectar'. The bars have a crumblier, softer ~ almost silky and fudge-like. Flavour-wise it is really well balanced between sweet and bitter and overall just tastes really clean and very good quality. Also you find - even with only 6 little squares per bar, you'll eat maybe max. 2 squares and feel you've had enough and it's a case more-so of less is more, quality over quantity etc... If you are living in Oz Conscious Choc. will deliver Nationwide.
On a final note, I was pondering a few weeks or so ago about what I would cook for the Xmas post and when on one of my trips to the supermarket, I wondered how much the post would cost me all up for groceries. It got me thinking about the unfortunate and at times, inevitable amount of waste which happens at food shoots. I try to use the food after the shoots where I can, and or use food to share with friends/dinner parties etc., but unfortunately in this photo business when it comes to food, some of it does get thrown in the bin at the end of the shoot due to over handling and such. This year I felt it a good idea to cut back on the amount of recipes I was planning to feature and instead of going OTT with a load of ideas, to take a few hundred dollars from the blog food budget and give it to a homeless shelter here in Sydney and also to the RSPCA ~ both these organisations and charities need all the support they can year-round, however it is always especially hard for them at this time of the year and they are two organisations I always like to give to when I can.
Uncannily this brings me to another company I stumbled across a few days ago - run by an Aussie DJ Ben Korbel, The Philanthropic Foodie is an innovative philanthropic think tank based in Sydney. They conjure creative ways to embrace inspired culture while raising awareness and funds for community minded projects. Their maiden voyage fuses Sydney's cult food personalities and establishments with Australian Of the Year nominee Father Chris Riley's Youth Off The Streets. The coolest gift this Summer, The Philanthropic Foodie's inimitable offering sources products from only award winning cult Sydney restaurants, delis and bakeries, not traditionally available in hamper format. These brands include Bourke Street Bakery, Christine Manfield, Gelato Messina, Simon Johnson, Campos and more. Their vision is to simply offer inspiring products, value for money and a karmic offset by donating all profits to Sydney charity Youth Off The Streets. What with Summer now here (almost!) and all the various outdoor Sydney Summer activities like the outdoor cinema, NYE picnics etc this is great, conscious-lead company to grab a hamper or picnic full of foodie goodies - starting from $75, they will also courier Nationwide.
I will end by wishing everyone a very, very Merry Christmas and wonderful New Year. Thank you again for all the amazing support over the past 12 months and for following of What Katie ate in 2012. I look forward to, and wish you all a jam-packed, super happy, prosperous, productive and successful 2012.
Katie :-) x