An exciting announcement - or two! :)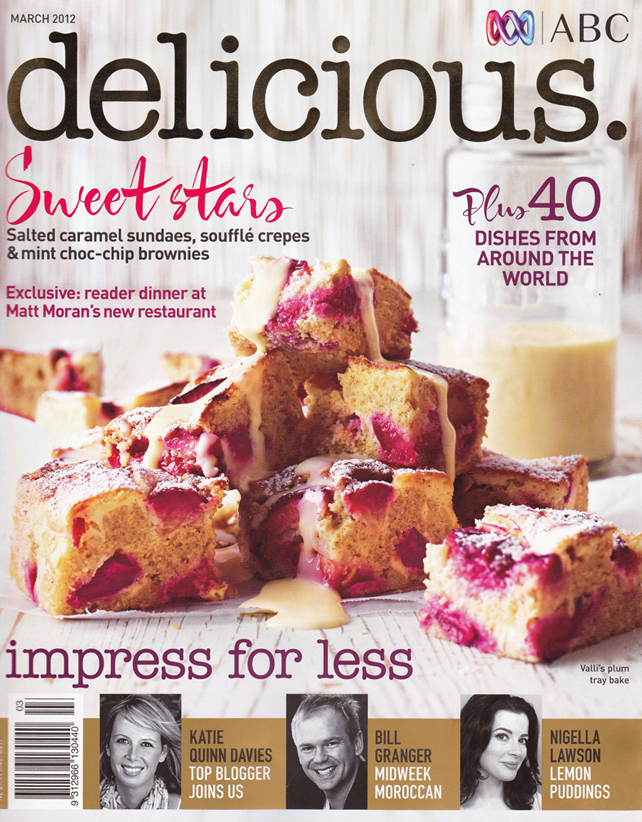 A few spreads from the first feature.
All images © Katie Quinn Davies and Delicious Magazines/New Life Media
Mum's old-fashioned lemon cheesecake with macerated strawberries
© Katie Quinn Davies
A quick little blog post today to make an exciting announcement, strike that actually it'll be two announcements, but I'll be back in the morning with the second, which is the winner of the Barbecue Book  (along with one or two extra goodies thrown in), I just need to print out all the amazing replies, cut them out and stick them in a hat!
On that note thanks so, so much for all the great comments, I found them very insightful to read through and was very touched at how much effort a lot of you put into each one. It's a particularly interesting read for me at the moment as I had the momentous occasion yesterday of taking the very last shot for my book. I shot most of them back in October last year, but over the past while I got to looking at one or two of them and decided to re-shoot about 10 shots (being the eternal (annoyingly) perfectionist that I am. Anyway they are now all shot (WooHoo!) and I am currently head down in the design stage which will last 2 weeks and I am back into 'normal' shooting again.
Which on that latter note leads me to the purpose of this post in the first place! **Drumroll** so I am thrilled to announce that last year I was asked by Valli Little – the one and only amazing food editor at Delicious Magazine, if I would like to become a regular monthly contributor to the magazine? and I said, well "Ahem… let me think about it… Yes!" So going forward as of this Wednesday (when the March edition officially goes one sale – contributors will have their copy by now) I'll be doing an eight page feature every month, featuring 5-7 recipes based around a specific theme. First off it's 'Brunch for Friends'. The magazine goes on sale this Wednesday (15th) but you can order copies of Delicious here and follow their Facebook page here. http://www.facebook.com/delicious magazine
Another thing I wanted to mention is thanks too for all the amazing image submissions I have and am currently receiving for my USA feature. It'll be going up around the end of March (sadly book and work commitments prevent me from getting it up any earlier) but please keep sending me images. I have a load of Coney Island ones so best off to maybe not send any with that subject matter, any West Coast or Mid West shots would be great or Southern ones would be fab too. Keep em' coming, deadline for submissions will be the end of Feb.
Finally the sun shone for a few hours in Sydney yesterday ~ we are having a DREADFUL Summer :( as part of the book re-shoots, I shot a pizza recipe I wasn't happy with first time round, so to celebrate the final shot being taken we decided to crack open a bottle of the good stuff and enjoy it over lunch in the sun whilst it hung around for about 2 hours before the rain came again. This is a very simple recipe for a Tomato Bruschetta I made using the remaining pizza dough I had left over. There is nothing nicer that beautiful, flavoursome ripe tomatoes salted, and served with good balsamic on a crispy, thin pizza base. A great simple Summer lunch.
Seeing as it's Valentines Day tomorrow (ahhhhhh smooch smooch xxxxx) I thought too I'd post up a recipe for my Mum's Lemon Cheesecake (I ate this by the bucket load when I was a kid). BTW you'll need to make it the night before impressing your loved one with your amazing baking skills ;)
I'll be back tomorrow with the book winner! :)
Cheers
K
Toot toot!!!! after lots of tearing up pieces of paper and scrunching them up before sticking them in a hat, my hubby Mick pulled out the winner tonight - which is: *Drumroll*.... Susan in the Boonies
Susan, please send me a mail with your details and I'll get the book and other goodies out to you asap.
Thanks again to everyone of the 100 comments, fab food for thought there, really wonderful feedback.
xx