Apple Cinnamon Buns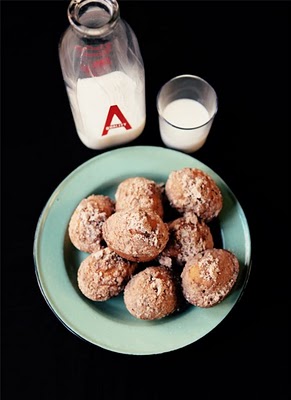 All Images © Katie Quinn Davies
This is a recipe for Apple Cinnamon Muffins which I came across last year from an Australian online site: http://allrecipes.com.au
I made these cakes back a few months ago and never did very much with the photos, I thought seeing as I am now out of photographic action this week due to having no main camera I thought I'd share this recipe. They are really tasty and very moreish, real comfort food, particularly good in this current, freeeezing Sydney weather.. Best served I think when slightly warm or straight out of the oven, although the apple inside can be very hot so be careful. I sprinkled mine with cinnamon sugar and I omitted the aniseed - only as because I personally don't like it. Very nice too served with a big steaming cup of tea :)
The ingredients are:
1 cup (140g) diced apple without peel
1/3 cup apple sauce
3/4 cup (190ml) milk
1/2 teaspoon salt
1 1/2 teaspoons baking powder
1/3 cup (75g) white sugar
1 3/4 cups (220g) plain flour
1/4 teaspoon ground ginger
1/2 teaspoon ground cinnamon
1/2 teaspoon aniseed
1. Combine the sugar, cinnamon, ginger and aniseed (if using the latter).
2. In a large bowl, mix flour, baking powder, sugar mixture, salt, milk and apple sauce. Do not overbeat.
3. Stir in diced apples. Spoon batter into 12 greased muffin cups.
4. Bake at 200 degrees C (390˚F) for 20 to 25 minutes.