Apple Tea Cake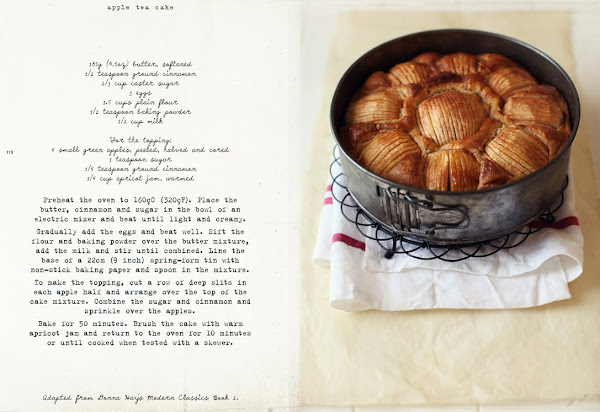 All Images © Katie Quinn Davies
Speaking of things I used to bake as a kid, a cake I used to make a lot of the time was an apple sponge cake, I can't remember the recipe for the life of me at this stage but I can across a very similar cake the other day in a Donna Hay cookbook I have - 'Modern Classics Book 2' - a fab book for all things sweet and desserts etc. The cake in question is Donna's; 'Apple and Cinnamon Tea Cake' and I can attest it's A: very easy and quick to make, B: fills the house with an amazing sweet cinnamon baking smell and C: is incredibly tasty and moist, not too sweet and a perfect pairing with a big cup of tea.
Adapted from Donna Hay's Modern Classics Book 2.
185g (6.5oz) butter, softened
1/2 teaspoon ground cinnamon
2/3 cup caster sugar
3 eggs
1.5 cups plain flour
1/2 teaspoon baking powder
1/2 cup milk
For the topping:
4 small green apples, peeled, halved and cored
1 teaspoon sugar
1/4 teaspoon ground cinnamon
1/4 cup apricot jam, warmed
1. Preheat the oven to 160°C (320°F). Place the butter, cinnamon and sugar in the bowl of an electric mixer and beat until light and creamy.
2. Gradually add the eggs and beat well. Sift the flour and baking powder over the butter mixture, add the milk and stir until combined. Line the base of a 22cm (9 inch) spring-form tin with non-stick baking paper and spoon in the mixture.
3. To make the topping, cut a row of deep slits in each apple half and arrange over the top of the cake mixture. Combine the sugar and cinnamon and sprinkle over the apples.
4. Bake for 50 minutes. Brush the cake with warm apricot jam and return to the oven for 10 minutes or until cooked when tested with a skewer.