BBQ sweetcorn, green chili and lime salad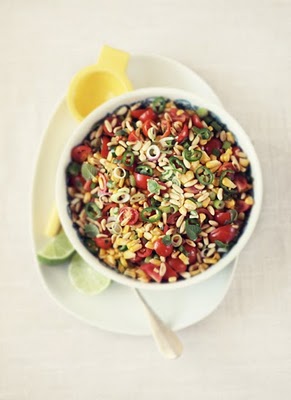 All Images © Katie Quinn Davies
I had some friends over for dinner recently and I was running around all day like a headless chicken with work stuff so I quickly decided to make marinated chicken (which I buy from my local organic supermarketpre-marinated - it's fantastic) and some easy salads. This salad I have made a few times as it's very easy to assemble and everyone (so far) raves about it once they try it. It goes really well with chicken or fish, it's very light and a perfect summer salad.
Ingredients are:
2-3 x fresh sweetcorn ears
1 box of cherry tomatoes
1 x fresh green chili, seeds removed, very thinly sliced or diced finely
Large handful pinenuts
Handful of fresh mint, roughly chopped
Olive oil
Juice of 1 large fresh lime
1. Wash and dry sweetcorn ears, place on a sheet of aluminum foil, season with salt and pepper, wrap corn in foil and BBQ until corn is cooked.
I like to take the corn out of the foil package when it's almost cooked and place directly onto BBQ surface - this give causes some of the corn to get chargrilled and I think adds to the flavour.
2. Whilst corn is cooling, slice tomatoes into halves and place in a bowl along with mint, also add the chili at this stage.
3. Place pinenuts into a frying pan and dry fry them for approx. 5 minutes over a medium heat, be careful as they can burn easily, keep an eye on them and toss them in the pan frequently to ensure even toasting. If they burn discard them and start afresh.
4, Once corn is cooled, using a sharp knife, cut all kernels away from ear (lay a clean tea towel out on your counter under your chopping board as this can be very messy, the kernels tend to fly everywhere...!)
5. Gather up all the corn and place into bowl with tomatoes, combine all ingredients together well.
6. Combine lime juice with a tablespoon of olive oil, season with freshly ground pepper and salt. Pour over salad and toss well. Serve.