Birthday recipes...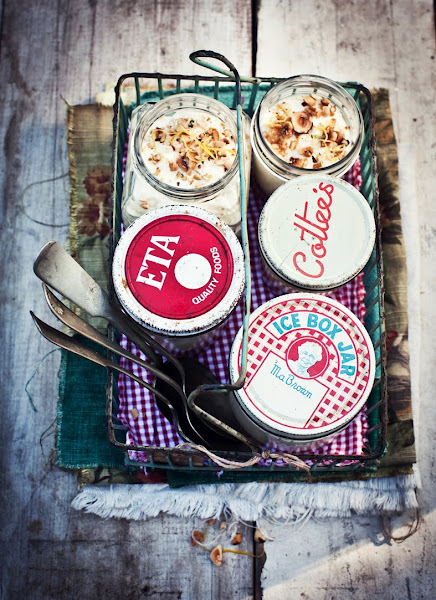 Remember to click on the pics to enlarge photos and recipes... ;)
LEMON, LIME AND GINGER HAZELNUT CRUNCH MOUSSE
WATERMELON, SALT AND CHILI GRANITA
GNOCCHI WITH PANCETTA, CAVOLO NERO, CHERRY TOMATOES AND SALTED PUMPKIN SEEDS
*Note: I meant to mention int he above recipe, add in the toasted pumpkin seeds at the end when adding the Parmesan - basically scatter them all over the dish just before serving.
CHOCOLATE TRUFFLE TARTS, HERSHEY'S CHOCOLATE SAUCE
This is a larger version of mini chocolate tartlet canapés which I served at the party last week. I'm not kidding when I say this recipe is a chocolic's idea of nirvana... everyone was raving about them on the night. Using Hersey's chocolate sauce as a topping is both quick and easy and cuts out the need to make an extra sauce for the tops. However, mini-canapé pastry shells are very time-consuming to make so I felt it a better idea to create a recipe for individual larger servings. These are great for a dinner party as they can be made the night before and left in the fridge until needed.
As per recipe, I used Careme Dark Chocolate Shortcrust Pastry - stockists here
An alternative is available here
I've followed this recipe before and it works excellently.
SLOW ROASTED TOMATO AND GOAT'S CHEESE BASIL PESTO TART
BEEF AND SHIRAZ TORTELLONI, ROASTED TOMATO SAUCE
KATIE'S MINI EGGS BENEDICT CANAPES
I used a packet (rather cool looking one at that - hence why I was drawn to it in the store) of William Sonoma Organic Buttermilk Biscuit Mix (again - I swear I'm not being sponsored by this firm, I just love a lot of their foodie products and packaging and can't get enough of them when I visit the US!) for the base of these canapés and it worked really well as it offers a good flavour balance with the salty pancetta and gooey quail's egg. However, I understand not everyone can get their hands on this item so have include a basic, soft scone recipe below which will work equally as well.
All images cooked, styled and photographed by © Katie Quinn Davies 2011
I was thrilled yesterday to receive a mail from the lovely Keiko ~ writer of the consistently stunning blog Nordljus who pointed out to me I had been listed in the U.K.'s Independent Newspaper's 50 Best Food Websites 2011. A great honour and am very chuffed to be noted alongside so many wonderful foodie sites. Many thanks to the panel at The Independent :)
Finally - a photo I took during a surprise birthday night stay at the gorgeous Shangri-La Hotel in Sydney's Circular Quay. Our room was on the 35th floor with views which are frankly (and no matter how often I see this view on a daily basis) simply breath-taking... We ate at the Altitude Restauranton the top floor (aka the floor above our room!) and it hands down has to be one of the best meals I have ever had in Sydney, if anyone who is reading this post is pondering a trip to Sydney (you know you want to...!) this is a MUST place to eat. Am seriously pondering a reservation for NYE 2011....
BTW this pic was taken on a new camera purchase - the fab Fuji X100 - I'll do a little review on it in the coming weeks, but for the moment I only have positive words for it, a superb little point and shoot camera, especially so for the pro. photograher looking for something more versatile from a P&S model.
* * * * * * * * *
Last weekend I threw a 'cocktail and canapés' party for a bunch of close mates to celebrate my birthday. I'd pondered what to do for a while – go out for a nice dinner or do something at home and the latter won out, mainly due to the fact I love throwing a good shin-dig. So I spent a few days in the run up to the weekend planning a selection of canapés and nibbles. I've always been one to go a bit mad making canapés and for me - the more intricate the better *control freak/perfectionist alert*.
I don't know what it is about these little miniature bundles of joy but I just adore making them. I realise there are few people in this world who are mad (sad) enough to spend 2 hours cutting 70 perfect segments away from the pith out of 10 slices of lemons, but I also realise being prepared to do this sort of thing is a benefit to my career in some sorts I guess, as this perfectionist attribute is one I think has helped me forge ahead in the styling area of my career.
My fascination with food styling began years ago back in my hometown of Dublin. When working as a Graphic Designer I often art directed photo shoots for various design clients at the design studios for whom I then worked. One in particular often sent me on shoots in a studio where a full time food photographer was also based. I would find it next to impossible not to veer away from my own work to stare in awe at the food stylist working her magic on whatever food items were on their shoot agenda for the day. I remember in particular one day she was styling sausage rolls for a mainstream Irish food company called Denny and she had about 7,894 frozen sausage rolls in front of her and a scalpel which she used to slice perfect little diagonal holes in the top of the pastry. I remember thinking it was far from the glamorous notions I had of working as a food stylist but she had me totally hooked.
I prepared about 12 different canapés for the party, some were my own recipes - see above Mini Eggs Benedict; some were from Pete Evans My Party book (fab book for such events, filled with amazing canapé and finger food ideas and some drool-worthy cocktail recipes) and one or two other ones I cooked over the years which I initially found on the BBC food website. Delia Smith's Mini Yorkshire Puddings with Rare Beef and Horseradish and Mustard Crème Fraiche Sauce is a hand's down winner. They are divine and don't last long at a party, being devoured always super quickly. Great thing too about them is you can cook the Yorkshire Puddings a few days in advance, freeze them once cooled, then turn them out onto a baking tray on the afternoon of the party to defrost and crisp up in the oven before serving. I have made these canapés about 6 times in the past 3 or so years and they are always a sure-fire success.
I also made three baby-sized sweet desert-style options; an incredibly decedent and addictive: Mini Chocolate Truffle Tartlets topped with Hershey's Chocolate Syrup (I use the latter for ease as when throwing cocktail parties the key is to make things simple, quick and as stress-free as possible - it also tastes amazing in contrast to the not-so-sweet chocolate pastry and filling); Mini Watermelon, Sea Salt and Chili Granita Cones* and finally Mini Lemon and Lime Tartlets with Orange Blossom Persian Fairy Floss. I have included the recipes above for the first two deserts, however I have written the chocolate tartlets as larger, individual portion servings and the granita is served too in individual serving glasses. For the Lemon and Lime Mini Tartlets, I have altered this idea to create a super-light and more user-friendly/less fiddly everyday dinner or dinner party mousse recipe, combining the citrus with some freshly grated ginger and a biscuit/toasted hazelnut base. All these desserts are well-worth a try, easy to prepare and all can be made easily in advance of serving. The granita will keep perfectly well in your freezer for 3 or 4 days, the chocolate tarts can be made a day in advance of serving and the lemon mousse the same. All providing great options for easy dinner-party dessert ideas.
The idea for the Mini Watermelon, Sea Salt and Chili Granita came from a packet of sweets/candy which was given to me by my friend Melina Hammer whilst I was in New York recently. Melina kindly gave me a few packets of candy which she had bought earlier that day during a tour she took at the amazing NYC-based candy firm Papabubble
I really wish I had known about this company sooner as I would have loved to have totally taken a tour there and seen first-hand the sweets being made during my trip. Their website is super quirky and now a definite on my list of places to visit when I am in NYC next summer. One of the bags of candy Melina gave me was their Watermelon, Chili and Salt variety and wow - what incredible taste combination! First you taste the sweet and fruity watermelon, then the chili lingers a tad before you get the salty after-kick, all in just the right overall balance. A really interesting flavour-combo and one which works really well in both the candy and the improvised granita which makes me yearn for the upcoming hot Sydney Summer days...
My husband Mike – as mentioned a few times before here on WKA is a total pasta making fanatic and he got the pasta maker out this weekend to make up a batch of fresh pasta for me to pair with a take on the ingredients I used in a mini pie canapé last weekend for the party. I made a few batches of a Mini Steak and Red Wine Mini Aussie Pies which I've cooked up in larger scale before over the years and over the past few days I felt the filling, if altered slightly would make for a fab ravioli or tortellini recipe - especially if cooked using a good, gutsy Shiraz-style red wine. On a side-note, I've always struggled a tad to get homemade tortelloni looking as good as I'd like but over the weekend I found a super helpful link on You Tube which really helps to get the shape just right – I'd explain it in the recipe word-for-word but find it's much easier just to follow the simple instructions as shown in the video here.
Tomatoes are in abundance at the moment here in Sydney – which is nothing new but I was pleasantly surprised to find a plethora of amazing Heirloom and other such more-unusual varieties at the Eveleigh Market last Saturday, as well as in a staple grocery store of mine Fratelli Fresh – where I found an abundance of sweet, flavoursome baby cherry tomatoes on the vine. So after completing an editorial shoot this week based around a theme of all things Italian, I felt it fitting to grab a good few handfuls of these gorgeous fruits and devise a few seasonal recipes around them - a super simple, Slow-Roasted Cherry and Heirloom Tomato Tart which is paired with a Homemade Basil Pesto and shavings of fresh Parmesan. Also a very quick Gnocchi recipe – the main basis of which was supplied to me by my good friend Simon who – whilst we were discussing our somewhat mutual dislike this week for the texture of Gnocchi (too gloopy and soft for my liking generally) – told me he has similar reservations about gnocchi but finds if you pan fry it after quick boiling can alter the texture considerably. And he was right, this simple combo of pan-crisped gnocchi, lemon, bacon and fantastically fresh, in-season Cavolo Nero Italian spinach was a total winner in my books and a perfect light Monday evening, quick dinner idea.
Finally am thrilled to report What Katie ate has been listed in The Independent Newspaper's 50 Best Food Websites – a total surprise but a rather good one at that! Woohoo - a great start to the week ahead. Thanks again Keiko for letting me know :)x