Candied Pancetta, Goats Cheese and Aged Balsamic Salad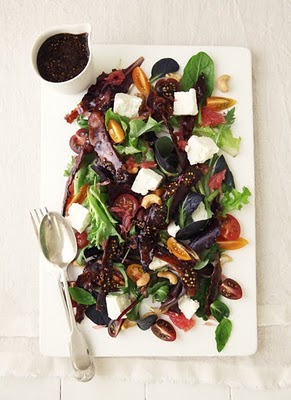 All Images © Katie Quinn Davies
Ever since I moved to Oz nearly 5 years ago, I've found myself eating a load more salad due to the warmer climate. I always ate it in Dublin but here I try to make ones which are a tad more imaginative to what I was used to churn out all the time back 'home'. This is also because we tend to eat outside a lot more too and I also break the rules of 'Aussie BBQ Etiquette' where as a women in Oz I am supposed to be nattering in the kitchen/garden with all the other women about make-up whilst their partners hog/dictate the BBQ in 'manly manner' and take charge - no women allowed!.. On the contrary, I am normally found, tongs in hand, fighting off the men, flipping in the grill what ever marinated meat I have concocted hours earlier. Therefore I am always looking for interesting salad recipes to pair with said meat and fish...
This is a great salad I've produced and served to much welcome adoration quite a few times now, it's ridiculously tasty and almost impossible not to eat all the pancetta after you've cooked it before getting in on the salad. It pairs well with marinated chicken or fish.
You'll need:
2 x bags 'leafy-style lettuce' aka not the stalky bitter stuff or such, try and get two or three different types (no iceberg!) Or as would be a more preferred option - one of two heads of fresh lettuce.
1 x punnet of cherry tomatoes sliced in half, I like to mix up whatever ones/colours are in season.
1 x bunch of spring onions/scallions, sliced (optional)
1 x large handful of cashew nuts
1 x ruby red grapefruit (Note: this variety is less sour, I wouldn't recommend using a reg. grapefruit if you can't find a ruby red one, omit is no ruby varieties are to be found).
1 x block of good goats cheese (or you can use Persian feta)
12 very thinly sliced, good quality pancetta
1 x tbsp runny honey or maple syrup
Method:
1. Wash and dry lettuce, slice tomatoes into halves or quarters, break feta or goats cheese into chunks (size is up to you)
2. Peel and de-pith your grapefruit, slice into segments.
3. Into a large serving bowl, place the lettuce, tomatoes, spring onions, cashews, grapefruit, goats/feta cheese (I normally do it in 2 or 3 layers so all the good stuff isn't just sitting on the top) and set aside.
4. Place the pancetta into a baking tray and drizzle a tablespoon or so of honey (or maple syrup if you prefer) over the meat.
5. Grill the pancetta (keeping a good eye on it as the honey can cause it to burn easier) and when cooked, cool slightly then crumble all over the salad.
For the dressing:
4-6 tbsp good aged balsamic vinegar
1 large dollop (large tbsp) wholegrain mustard
Combine and drizzle all over salad.