Cherry Tomato, Basil and Goats Cheese Canapés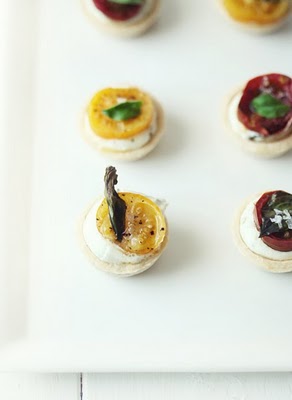 All Images © Katie Quinn Davies
Whilst I was shopping for ingredients this week for some recipes I'm planning to feature on the blog, I found my local grocery store had an abundance of beautiful, flavorsome cherry tomatoes. I thought a nice idea would be to quickly write up the recipe for a canapé item I often make for pre-dinner party drinks. Lots of people over the years have asked my for the recipe and they always go down a storm.
They're incredibly quick to make, only requiring a few ingredients and are like tiny explosions of flavour in your mouth. Nice thing is they're not too filling either so you don't spoil your appetite. I would aim for 4 pieces per person for pre-dinner nibbles. You can use a variety of bases - in the past I've used pre-bought mini-toasts/baby-sized bruschetta bread, mini basil crackers, and another nice idea is to cut out small 4CM rounds of puff pastry, cook slightly for 5 or so minutes, then remove from the oven and press down slightly before applying the topping. Today I used some pre-made, baby teeny tiny shortcrust pastry cases which I source from my mate Andy at The Gourmet Grocer in Balmain here in Sydney (I was so tempted to lie and say I made these myself - but life is seriously just to short to make these sort of tiny, individual pastry items - trust me, I know from experience....!)
To make the canapés you'll need:
24 x pre-made shortcrust pastry cases
12 x round cherry tomatoes
1 x packet of creamy/semi soft good quality goats cheese
2 x tbsp creme fraiche or sour cream
5 or 6 large basil leaves chopped up very finely OR you can just use a squeeze of pre-mixed basil herb paste
24 smaller fresh basil leaves
Extra virgin olive oil
Sea salt and freshly ground pepper
Preheat your oven to 180˚C (350˚F)
1. Cut cherry tomatoes in half and place into an over-proof dish.
2. Over the tomatoes drizzle a little bit of olive oil, and sprinkle lightly with salt and black pepper, place in oven for approx. 15-20 minutes.
If you want at this stage you can grab a few extra small basil leaves and sprinkle over the tomatoes.
3. Into a small bowl place the goats cheese, creme fraiche and finely chopped basil and again season with a small amount of black pepper, mix thoroughly.
4. Once combined, fill a small piping bag with the cheese mixture and pipe into pastry cases.
5. When tomatoes are cooked (softened and starting to caramelise), remove from oven, cool slightly and place one tomato onto each cheese-filled pasty case, top each with a baby basil leaf.
6. Place onto a serving platter and serve