Chili Macaroni Cheese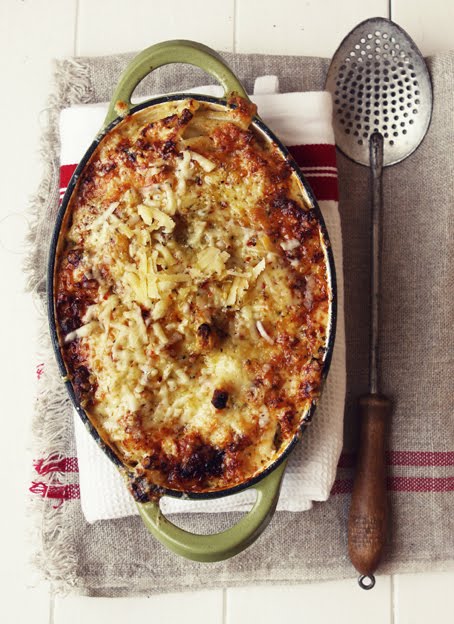 All Images © Katie Quinn Davies
Well, I still don't have my regular camera back and I am all but a fine line away from totally losing my cool with the camera-fixer-man who never calls me to tell me how progress is coming along... So to distract me from calling him and hurling obscenities down the line and seeing as I had the day off today after a hectic past few days work-wise, I decided to make some Macaroni Cheese for dinner of which I took some photos with my spare camera. I read a recent Gourmet Traveller similar recipe the other day so it must have been lingering quietly at the back of my mind...
We had a dinner party last Saturday here at the house for 12 people, it was a really good night ending at 5.30am after much, much, MUCH good Aussie red wine *ouch* and some hugely embarrassing dance moves at around the 3am mark *cringe* ...
As part of Saturday's cheese platter, I added one variety which my new friend; Andy - aka The Gourmet Grocer, now sells in the deli in Balmain. It's a cheddar style flavored with chili. It's really quite something, and gives a noticeable, yet subtle-ish kick. Sliced finely it adds a nice variety to the usual standard cheese options. I thought it might be interesting to add the leftovers into the Macaroni Cheese to add a bit of variety. I also added in the lump of Pecorino and Vintage Tasmanian Cheddar which were leftover. There really is nothing better in the comfort food department than a good MC. I find it impossible not to pick off all the chewy top bits of cheese which get caramelised at the end from being under the grill. The cheese combinations worked well and added just a little bit more flavour intensity than using straight cheddar.
The ingredients I used are:
1 1/4 cups macaroni pasta
1 1/2 cups milk
20g butter
1/4 cup cream
1.5 cups cheddar cheese (I like to use a good, bitey vintage cheddar)
1/2 cup Pecorino cheese
1/4 cup chili cheese
Salt & Freshly Ground Black Pepper
Olive Oil
Preheat your oven to 250˚C (480˚F)
1. Cook the macaroni pasta as per the packet instructions. I prefer to slightly undercook it by one or two minutes as I feel once fully baked, the texture is nicer. Drain and toss in a tablespoon or two of olive oil and keep warm.
2. In a saucepan, gently warm the milk, cream and butter and bring to a slow simmer, seasoning well with a good pinch of salt and pepper.
3. In a bowl, mix all cheese varieties together, then add half into the milk and butter mixture, combine well and add into the cooked pasta, making sure the pasta is well coated.
4. Grease the inside of a baking dish with butter and into which add the coated pasta, then pour in the remaining milky cheese mixture.
5. Sprinkle the top of the dish with the remaining cheese.
6. Bake for 10 to 15 minutes until browned and bubbling. I like to add a further handful of grated cheddar cheese and place under the grill for 5 minutes until crispy.
Tomorrow... Last Saturday's hand's down course winner - aka dessert; Julia Child's 'Perfect Chocolate Mousse'.