Chocolate Cherry Clafoutis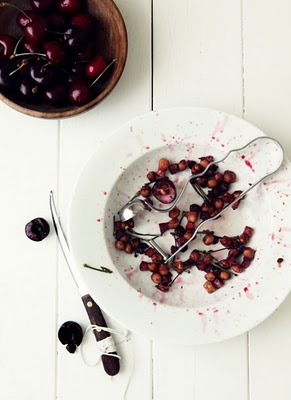 All Images © Katie Quinn Davies
This is a recipe for Chocolate Cherry Calfoutis which I found on the web, it's originally from a Julia Child cookbook (Mastering the Art of French Cooking, Vol. 1) and super easy to make, actually it's one of the quickest desserts I've ever made, you can literally throw it together in less than ten minutes... The weather here in Sydney at the moment is miserable, it's warm but doesn't seem to have stopped raining for days, this is a nice 'winter dish' - albeit cherries are usually not in season until the summer months so when they're not around or hard to get imported ones like I used, tinned or frozen ones can be substituted.
Firstly heat your oven to 180˚C/350˚F and grease either one single 10-inch flan/pie dish, heavy cast iron skillet/frying pan. Or six-eight individual flan dishes.
Pit, de-stem and halve approx. 3 large handful of cherries. If you prefer, keep the cherries whole but I find visually the dish looks better with the cherries halved. Arrange in the dish cut-side facing upwards. At this stage, an optional extra is to include a handful of chocolate chips in with the cherries.
Into a blender put the following, it doesn't matter in which order;
1/2 cup of plain flour, sifted
1/4 cup of good cocoa powder, sifted
A pinch of salt
2/3 cup of caster sugar
1.25 cups of milk
1 tsp vanilla extract
3 x room temp eggs
Whizz it all together and once thoroughly combined, pour carefully over the pitted cherries. Sprinkle a handful of caster sugar on top and bake in the oven for approx. 1 hour.
The clafoutis normally rises but I found with mine, it soon collapses once taken out of the oven after ten minutes or so (I really didn't know about this initially and was rather ticked off when this started to happen as I wanted to photograph the thing!). It's best to serve and eat the clafoutis warm with a little powdered sugar on top and cream on the side.
This can also be made with plums, pears, peaches or any stone fruit you like.