Chocolate Truffle Cake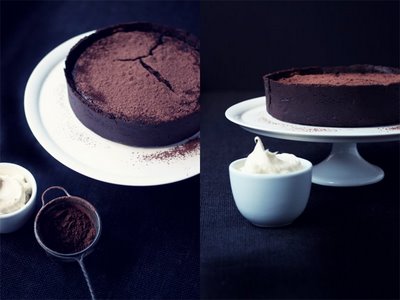 All images © Katie Quinn Davies
Having tried their 'All Butter Puff' and 'Vanilla Bean Sweet Shortcrust Pastry' ranges, I decided to give the Carême 'Dark Chocolate Shortcrust Pastry' a whirl and used it in a Chocolate Truffle Cake. Yet again and without fail the pastry was superb.. A rich, velvety, bittersweet chocolate taste and texture.
It was very easy to work with - albeit you do need to have it at a decent room temperature in order to roll it to fit a 20CM cake tin, the instructions on the pack to 'keep it chilled at all times' are unrealistic when it comes to rolling the pastry. Also, it can be somewhat delicate when rolled aka - it breaks very easily when trying to fit it into a pastry tin, but it is very soft and pliable to patch up areas of the pastry case which may have broken away in preparation. I tend to trim the pastry after blind baking and always chill the pastry case in the tin before blind baking so as to avoid shrinkage whilst cooking.
Recipe for Chocolate Truffle Cake
Ingredients
- - - - - - - - - - - - - -
1 Blind baked Carême Dark Chocolate Shortcrust Pastry 20CM shell.
Note: Remember to keep shell in it's loose-bottomed tin until cake is thoroughly cooked.
200g Good quality 75% cocoa chocolate such as Valhrona or Lindt
300ml Pouring Cream
50ml Milk
50g Caster Sugar
2 Eggs
Method
- - - - - - - - - - - - - -
Pre-heat oven to 160˚C or 320˚F and then turn down to 100˚C
1: Melt chocolate in a double boiler over simmering water - take care not to let top bowl touch the simmering water below.
2: In a separate saucepan, place cream and milk and gently bring to the boil.
3: When chocolate is melted, gradually pour cream and milk mixture in and gently combine to form a smooth mixture.
4: In a bowl, whisk together the eggs and sugar and add to chocolate, milk and cream - stir until combined.
5: Transfer to a heatproof jug and gently pour mixture into the pre-baked chocolate pastry shell.
6: Place in the oven and cook for approx. 1-1¼ hour or until the edges are set and centre of cake is ever so slightly 'wobbly'.
7: Remove from oven and cool. Taking care when removing it from the tin as the top can be prone to cracking. Best bet to avoid this is to wait until the cake is thoroughly cooled before removing to a wire rack or serving plate. The cake is rather rich so best served with whipped cream or simply with a light dusting of cocoa powder.