Echo's Wine Stewed Rhubarb with Vanilla Cream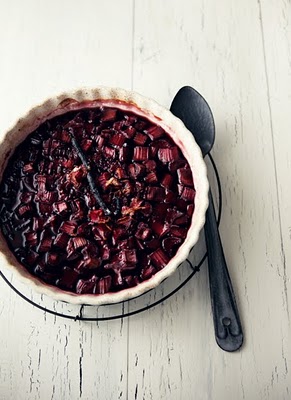 All Images © Katie Quinn Davies
Fellow blogger Echo Hopkins from Absolutely Swell sent me a recipe the other day for a dreamy sounding Wine Stewed Rhubarb with Vanilla Whipped Cream which I made today for dessert (am seriously going to have to up the exercise quota this week). I love a recipe which involves (almost) a bottle of wine as it means I can impersonate my all-time favourite chef; Keith Floyd (RIP) in the kitchen and glug a glass or two of red whilst making the recipe (you can take the girl out of Ireland...).
It took me 10 minutes to chop up the rhubarb, cover it in wine, sprinkle with sugar and orange zest and pop it in the oven for 25 or so minutes. Half this dessert got gobbled up whilst I was shooting it, all I can say is it's totally glorious a perfect combination of sweet and sour, the vanilla in the cream works exquisitely with the tart rhubarb.
The ingredients and recipe which Echo sent me are as follows:
7-8 stalks rhubarb
Red wine, most anything works
100g sugar
Vanilla pod
Orange zest
1 container double cream
1 tbsp. caster sugar
1 tsp. vanilla extract
Chop rhubarb into pieces and fill a baking dish. Cover with red wine then sprinkle with sugar. Place orange zest and vanilla pod on top. Bake at 180 degrees until rhubarb is tender, about 25-30 min. Cool slightly before serving.
While rhubarb is cooking combine cream, sugar and vanilla. Allow to sit for 15-20 minutes refrigerated. Whip until gentle peaks form and serve with warm rhubarb.