Hamilton Island's qualia 'Great Barrier Feast 2012' with Guillaume Brahimi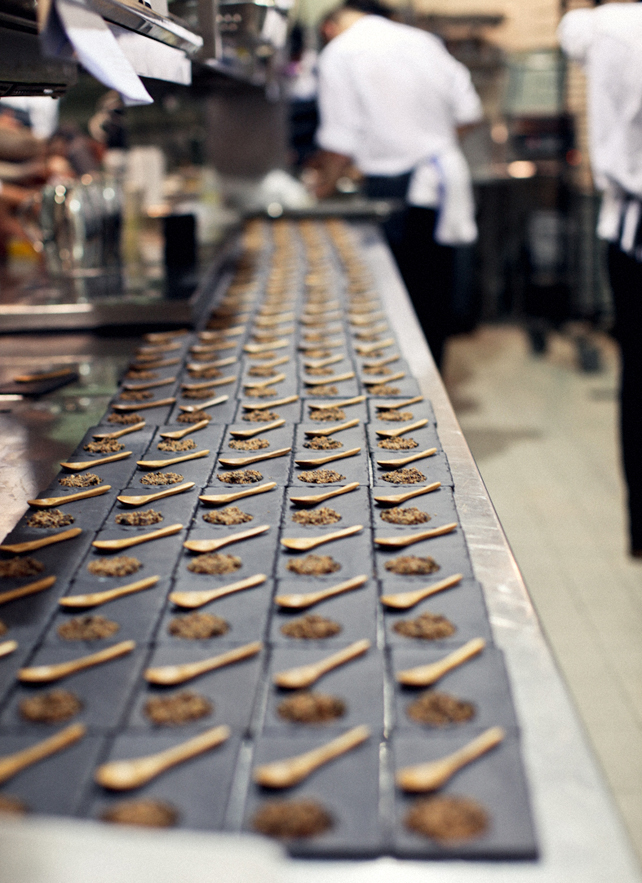 About two months ago, I got a call one morning from my agent Sophie who told me Hamilton Island wanted to know if I would be interested in attending their 'Great Barrier Feast 2012' at their prestigious resort, qualia in early July? I thought about it for 0.000002 seconds and replied with an enthusiastic "Hmmmmm let me see.... eh YES PLEASE!"... I had never stayed at qualia before, actually I hadn't even been as far north to Hamilton Island itself, but I had on numerous occasions over the past three or four years gazed lovingly at the qualia website with sighs in my head and thought "someday... someday..." You see qualia is quite simply the most stunning place in the planet. Honestly, throughout my stay I was left slack-jawed on numerous occasions whilst admiring the view; lazing in the breath-taking Windward pavilion I stayed in; enjoying the incredible food and wines; lazing on a totally private beach etc. etc.  I had an inkling I was going to be blown away by qualia beauty so I decided the only really sensible thing to do was book in for an extra two nights before the feast to chill out, relax and soak up all this incredible location has to offer. I thought too, there was no point going to Nirvana on my own, so I brought along the hubby as when you do 2 years worth of washing up for my blog posts and continual supermarket pit stops when your blogger wife keeps running out of paper towel or butter, he deserved a good few days away in the most relaxing spot on earth as a small start to saying thank you.
Now in it's third year, The Great Barrier Feast is a gourmet culinary weekend held at qualia twice a year. At each Feast Qualia welcomes a top guest chef to attend, present a showcase degustation dinner on the Saturday night and in anticipation of this, host two Masterclasses on the Saturday morning and afternoon. The weekend kicks off in style with a Friday night degustation welcome dinner presented by Qualia's own executive chef Alastair Waddell. A proud Scotsman, Alastair is one of the nicest guys I've met in the business. He was incredibly welcoming to me as were his strong team of chefs. Prior to qualia, Waddell was chef de partie at the 2 hatted Bistro Guillaume in Melbourne. Classically trained, Waddell's cooking is motivated by modern influences including the "multicultural cuisine in Australia and this country's world class produce including cheeses that rival some of the best in Europe." He's passionate about the 'nature cuisine' movement led by Noma restaurant in Denmark and believes in giving the greatest respect to nature in his cooking, always using local produce when possible and recognising the importance of flavour, texture and presentation. At qualia, Waddell's cuisine is inspired by the resort's stunning island vistas, creating menus that are light, fresh and healthy. As only a true Scotsman would he's also introduced black pudding to the menu at Qualia which has become one of their most popular dishes.
For the first of this year's Feasts, the very notable and award-winning Guillaume Brahimi who runs the prestigious Guillaume at Bennelong restaurant at the Sydney Opera House and Bistro Guillaume in Melbourne. I found Guillaume to be a super guy, very witty, incredibly passionate about his restaurants and food and most importantly his beautiful wife Sanchia and their four children; three daughters and one little boy. Guillaume is also an avid rugby fan who often cooks for the French National Rugby Team whenever he returns to France. On September 6th Guillaume will open his third restaurant ~ this time in Perth; an area Guillaume said he is most excited to be located in in part due to the abundance of amazingly fresh, seasonal produce. Bistro Guillaume will be located in the Crown Metropol hotel alongside the likes of Nobu and Neil Perry's Rockpool. The restaurant will have a slightly more casual feel to that of Bennelong and Guillaume told me his vision for the restaurant is one of encouraging diners to share courses to promote a more engaging and interactive experience. Starters will be will be presented as each dish is ready allowing the food to flow and diners can pace themselves as they wish. I personally adore this kind of eating; plates of varying flavours and sizes coming as they are ready and often, and then possibly sharing a superbly simple roasted chicken or slow roasted piece of lamb which is carved at the table and everyone gets to dig in and share. Guillaume said the food will be real, authentic, simple and honest. I think the vision is a great one and can't wait to eat there in the hopefully near future.
To kick off the whole weekend, as a media guest I was invited to a welcome lunch at the qualias Pebble Beach waterfront restaurant where I joined 14 guests including amongst others, Guillaume Brahimi himself, restaurant critic and returning MC for the Feast; Simon Thomsen, wine aficionado Darren Jahn (see below) and the gorgeous Michelle Rowe who writes her weekly 'Food Detective' column for The Australian (you can read Michelle's excellent review of the Feast here). At the lunch we got a good run down of what we were going to experience over the coming two days and enjoyed a mouthwatering four course menu: Oyster, cucumber and sesame; Scampi tartare with pumpkin and sweetcorn ice cream; Pyrenees lamb belly with beetroot and elderflower dressing; Compressed strawberry with lemongrass and ginger marshmallow and cucumber and lime sorbet, all enjoyed alongside stunning views of Whitsunday Island and surrounding crystal blue sea. Darren Jahn who is the communication and education manager for Robert Oately vineyards (a super guy, great fun and really knows his stuff), introduced us to two ranges of Robert Oatley wines; the first I drank at the media welcome lunch, where we were given the opportunity to experience and taste the new Finisterre range from Robert Oatley wines. For me the pinot noir was the stand out and I loved the Chardonnay from Oatley's Signature Series which was served the same evening at Alastair Waddell's degustation dinner at the Long Pavillion. I too really enjoyed the sauvignon blanc from the same signature range.
On both Friday and Saturday night for Alastair and Guillaume's dinners respectively, I was able to get into the kitchen for a bit. Obviously when a staff of 14 or so are cooking and plating for 120-150 guests, things can get a tad hectic, so I positioned myself out of the way and tried to get a decent amount of shots to show you all the goings-on behind the scenes. It was a little more difficult on the Saturday night as Guillaume's dinner was broadcast live to the all the guests in the main dining room, by way of a live video link-up, so not wanting to be the photographer in the heels and dress entangling herself in the video electrical cord and slipping on a busy kitchen floor (!) I only got a few quick opportunities to snap a few shots of the action on the Saturday night. Shooting in kitchens is one of my favourite subjects, I find it fascinating watching a team of cooks work their magic and make the evening flow like a ballet, which is what all the guys in the kitchen at the Feast did. I was blown away at their seamless efforts and calm demeanour.
Alastair putting the final touches to his dish on the pass:
Gazpacho sorbet, caper crumb
Cobia and red claw yabbie tail
Spiced fish broth, truffle, quail egg
Gippsland Tarago shadows of blue
Heirloom beetroot, gingerbread
Qualia Executive chef Alastair (or Ali as he's known to his staff) Waddell with his amazing pastry chef; Shelly Beer
Chocolate and chestnut
Chocolate mousse, chestnut cream, mandarin sorbet, olive and tarragon
Banana and rum cola
Presented in the cutest-ever miniature Coca Cola bottles...
Tables ready for Guillaume's Brahimi's Showpiece Dinner ~ Saturday July 7th
Frenchman Guillaume suddenly finds out Queensland has run out of butter...
Garnishing the Marron with fresh black truffle
Showpiece dinner, course 3 ~
Marron with duck consommé, foie gras, horseradish, truffle and shiso
The two hero chefs and their talented team at the end of two amazing nights
* * * * * * *
Guillaume's Master Class 10am and 2pm ~ Saturday July 7th
From top to bottom:
1. Basil-infused Tuna
2. Crispy skin Barramundi with carrot and ginger puree and coriander butter, pomme allumette
3. Oxtail with celeriac velouté and fresh manjimup truffle
4. Peanut caramel nougat with caramelised banana
Guillaume with his head chef and right-hand man on the day: Graeme McLaughlin
Apart from showing the audience how to cook 5 superb dishes (4 of those 5 recipes all below ~ the; Peanut caramel nougat with caramelised banana, was particularly good) During the masterclasses Guillaume today some humorous stories for how inadvertently on TV one day whilst cooking a recipe, mentioned the term 'Glad Wrap', instead of cling film and woke the following day to find boxes and boxes of Glad Wrap delivered to his restaurant from - you guessed it; Glad Wrap! He is mindful these days to avoid mentioning brand names on live TV so as to avoid being inundated with copious amounts of free merchandise. He also told a story of how he received a phone call a few years back asking is he'd be interested in presenting a new Aussie cooking show called 'Masterchef'? He quickly declined and to this day his wife Sanchia is still reminding him never to make a career decision without consulting her first! :) George Calombaris ended up taking on the role Guillaume turned down.
More Veuve Clicquot ~ Qualia is one the biggest users of Clicquot in Australia, if you stay here be prepared to drink a lot of it! From the first glass you are offered as you walk into Qualia to a bottle in your hamper on a deserted island drop off, be prepared to drink a lot of bubbles! :)
Another bottle of Clicquot, this time in on arrival into our Windward Pavillion ~ and yes, our jaws did nearly hit the ground when we were brough to the pavilion for the first time. it was out-of-this-world stunning, wait for the private plunge pool... sheer bliss!
These little guys stopped by regularly to say hello, I have to be honest, for an Irish woman, it's rather surreal to get up at 8am, have the sun beaming down on you (even in July - aka mid-winter here in Oz, the temp during the day was around 22˚C but with the Queensland humidity that will feel more like 24 or 25 with is just perfect for lazing around in) getting into your own totally private plunge pool and having cockatoos surround you on the railings. They are quite confident little (big) fellas and very friendly.
Did someone say 'pool' .... yep another mouth hit the floor moment for us both. I did swim in it, I just had to and it was sublime. This is the main pool located down at Pebble beach restaurant. Looking at these photos now just makes me want to go back immediately.
The Beach House. This property is totally breath-taking. I really wanted to get some shots of this house whilst at Qualia. Little secret *this is where Oprah stayed during her 2011 visit to Qualia*. The infinity pool is to-die-for, the whole property is totally private and I'll warn you with all the above and spectacular ocean views; it'll be pretty hard to return to normal life should you decide to stay here for a few nights.
A secluded beach drop off anyone? This was probably the most incredible experience I had in the first two days of our stay at Qualia (we were up there for 4 in total), we pottered down to Pebble Beach on Thursday morning and were escorted to a speedboat along with a magnificent gourmet picnic (which we selected from a good menu the evening before) then we were off and whisked out to Hemming Island where we were the only people on the island !! It was unbelievable! More-so, the staff at Qualia secretly scoot out a few hours before they drop you out and pre-set up an umbrella, towels, sun-loungers and a Qualia tub filled with fly spray, insect repellant and a mobile phone should you wish to be collected earlier or later than pre-arranged ~ or possibly require yet another bottle of Veuve Clicquot delivered from the mainland ;)
I was completely impressed at the level of detail Qualia's staff go to in order to make every aspect of your stay as easy and relaxing as possible. We pottered about the beach in continual awe of the turquoise ocean; stunning views of Whitsunday island; beautiful light golden soft sand and fact we were there totally on our own... Out-and-out Paradise! Our gourmet hamper included incredibly fresh Queensland King prawns and superb smoked salmon (I couldn't get enough of these two in particular); a selection of gourmet cheeses with accompanying breads and lavosh; a delish chicken Caesar salad and a huge box of the most incredibly fresh local tropical fruit. Initially we thought we had ordered too much but we managed to polish it all off (bringing the cheeses back to our pavillion to enjoy a little later on).
The spa at Qualia was heavenly and yet again, filled with the friendliest, most attentive, warm and welcoming staff. I opted to have a manicure and pedicure in preparation for the following two nights dinners and found the 1.5 hour experience utterly heavenly. To be honest I find it almost impossible to switch off, my mind is constantly going at a million miles per hour thinking of this and that, X, Y, and Z etc etc., but in that hour and a half spent lazing on a bed at the spa, I really zoned out.
I was greeted by a gorgeous girl Rachel who ironically was from Northern Ireland (so we had a good natter about 'back home') then I was passed into the caring and capable hands of a great girl called Lucy who did an amazing job. It was bliss lying on the bed kicking back, often at times glancing out the open window at the stunning, cloud-free azure blue sky and palm trees gently drifting back and forth in the warm Queensland sun. I had to keep reminding myself it was ok to forget about work, I was in one of the most incredible places in the world and this was my time to forget about all the stresses and weight of work life, now was my time to chill. It really was fantastic...
Ginger and elderflower tea at Qualia's spa. This is something I am going to have to try and replicate. It was superb.
His long-awaited debut cookbook features exceptional food created by Guillaume for his friends in some of Australia's most beautiful houses. Guillaume opens the doors of seven private homes and his two internationally acclaimed restaurants; Guillaume at Bennelong at the Sydney Opera House and Bistro Guillaume in Melbourne. There are menus and recipes to suit every style of entertaining, from a formal dinner in Leo Schofield's heritage manor in Tasmania to a laidback lunch in the Pittwater home of Heidi Middleton of Sass and Bide. Witness the high theatre of the professional kitchen as Guillaume shows how to master his signature restaurant dishes, such as; steak frites, basil-infused tuna and his legendary Paris mash. Then discover Guillaume's favourite recipes to cook at home, from beef daube and gnocchi with beetroot, pumpkin and prawns to dark chocolate mousse and vanilla bean crème brûlée. The book is packed fill of stunning photography by Anson Smart which captures the individual style and essence of each occasion and reminds us that the secret of a great meal owes as much to the people, the place and the spirit of the event as it does the food. Author royalties from the book will support the late Professor Chris O'Brien's Lifehouse at the Royal Prince Alfred Hospital in Sydney.
Guillaume Book Giveaway
At the Feast, guests were able to purchase a copy of Guillaume's stunning debut book; "Guillaume - Food for Friends" which Guillaume personally singed for everyone. I have arranged with Lantern Books that this July's WKA book giveaway will be a copy of Guillaume's book and Guillaume has signed it too. To be in with a chance to win, simply leave a comment below mentioning your favourite French dish and your favourite photo from this post. I'll pick a winner in mid August and post the book out. Bonne chance! P.S. if you want to buy a copy of the book, it's available to buy via Penguin Books.
All above excepts © Lantern Books and Guillaume Brahimi  |  Photography © Anson Smart
On an end note, the second Great Barrier Feast for 2012 will take place at qualia on September 14-16th when this time Longrain's Executive Chef, Martin Boetz, delicately blends Thai and Southern Chinese influences to form a balance of textures, flavours and aromas that create the perfect Asian menu.
To join qualia on this Asian-infused culinary journey details of packages can be found here on the qualia website. There are daily flights direct to Hamilton Island with Virgin Australia and Jet Star. We flew up with Virgin Australia and found it a very quick flight from Sydney, we were there within less than 2 hours.
I want to sincerely thank all the girls at Hamilton Island for inviting me to the Great Barrier Feast: Sophie, Michelle, Katie and Nicky and for welcoming my husband Mick too.
Also to qualia and Hamilton Island for their incredible generosity and for looking after us so well. I was blown away at how professionally run qualia is. For a hotel of this level one might expect a level of slight pretentiousness but honestly we found it totally a very friendly, welcoming, warm and immensely relaxing spot. From the second you step off the plane onto the island and the friendly guys from qualia greet you in the airport, collect your bags for you then whisk you off in a private car for the 5 minute drive where you reach the gates of qualia and are greeted with a glass of champagne, you've already left all your daily stresses behind.
Michael Shah who is the accommodating and friendly General Manager at qualia, along with Nick Lee, the wonderfully bubbly and welcoming Executive Assistant Manager, Shannon Stickells, a fabulous Food and Beverage Manager who was on his game 100% for every second of the Feast ~ they all made our stay so wonderful.
And of course Alistair Waddell, Executive Chef who runs an incredible team of chefs, in all my time shooting in restaurants to date, I have never seen such a good team working together. The guys in the kitchen on the two Feast nights (who deserved all the applause the received) were: Kurtis Lovell (executive sous chef); Craig Knudsen – Jnr sous; Bradley Jenkins – Jnr Sous; Shelly Beer – Pastry chef; James Douglas – chef de partie (a very funny Scottish lad who was rather partial to having his photo taken ;) Luke Smith – chef de partie; Scott O'Driscoll -chef de partie; Andy Ashby – chef de partie; Martin Lowry – Demi chef; Rommel Borda – demi chef and last but not least; Rommesh Dissanayake – demi chef.
As Guillaume himself mentioned at the first of his Saturday Master classes, 'Value for money' doesn't equate to something being cheap, it's about the level of quality and personal satisfaction you receive for paying what you have. I found qualia, whilst a very premium property, the return in relaxation and sheer pleasure for the money you pay is 100-fold. I am already planning a return visit over Christmas this year, but this time I think I'll be staying just a little bit longer, that deserted beach at Henning Island has my name all over it...
Small p.s. too, check out this great taster of a brilliant food show here in Oz; Food Safari. In this one Guillaume features and it is one of the best in their series. Guillaume's recipe for Beef Bourguignon is the staple I have been using for the past 4 or so years. He adds a silky carrot puree to the recipe to thicken the casserole as it's a much nicer alternative to claggy cornflour. Once you make BB using this method, you won't look back. His recipe is featured here.