Holy Moly - TWO posts in less than THREE days! ;)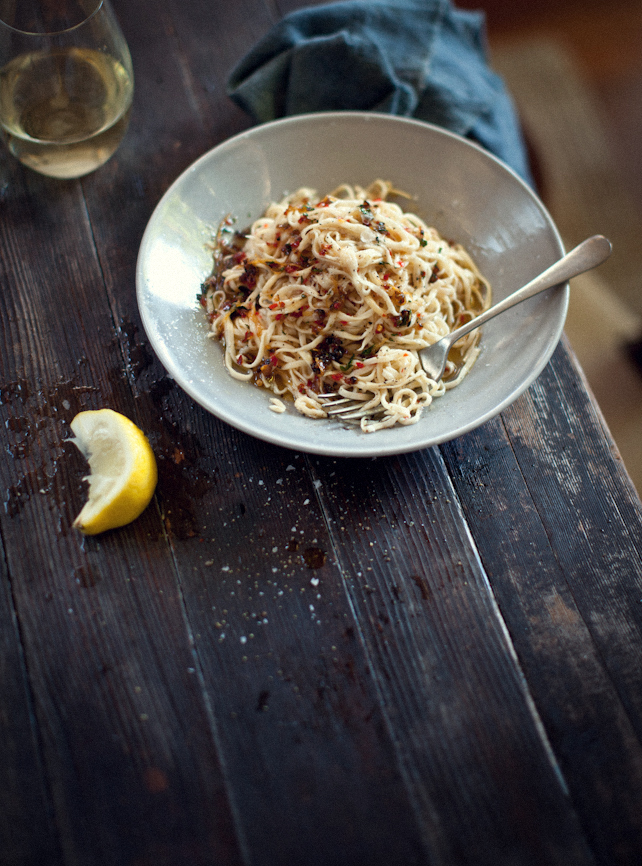 Homemade Spaghetti with Lemon, Garlic, Chilli and Mint
Images © Katie Quinn Davies 2012
(Note ~ this above pasta in the bottom pic only has a few leaves of fresh basil through it, to do this just add it to the eggs and flour in the processor. I will feature a recipe later this week using this flavoured pasta along with some other flavouring ideas).
Today I finished shooting my feature for Delicious Magazine's August issue (we shoot 3 months in advance, which is the norm for most editorials) anyway I was going through my fridge and cleaning out all the bits and pieces left over from the shoot ~ herbs, veggies etc etc.., last night on Masterchef Australia (yes, I've become hooked on it again ~ that's the problem when you look at the first episode!) one of the guest chefs made an amazing looking pasta dish which had been stuck in my head all morning, so I decided it was pasta for dinner and confirmed it so upon spying I had all the ingredients left over in the fridge for my favourite, quick and easy, super-duper, uber-flavoursome home made pasta dish; Spaghetti with Lemon, Garlic, Chilli and Mint.
I hoped to get a few more recipes shot but alas the days are shorter here now and my light disappears, so I'll try to get them shot over the coming days...
Until then, this is what I'm eating tonight with the better half and I thought you guys might like to do the same... :) x
Book Giveaway
I quickly wanted to update this post to let you all know the winner of the Kylie Kwong Book Giveaway is...Kari Crowe.Kari runs a blog too called Fork, Meat and Spoon. Kari, big congrats, I'll get onto posting your book to you ASAP.To win the latest cookbook as mentioned in my last post (see here) aka Maggie Beer's 'Maggie's Verjuice Cookbook', simply leave a comment below on this post or the last mentioning the title of a recipe you often make yourself and one which you'd like to see me cook, style and shoot for inclusion in a post all about 'My Top 6 Favourite Reader's Recipes' which I'll feature in the coming months. The recipe which receives the best feedback from the feature will win Maggie's book!Note: Please keep in mind though I would prefer if the recipes are your own and not taken directly from a cookbook. Also I just need the title for now, if I think it's a good fit, I'll contact you directly for the recipe.