Homemade Pasta Dishes - Cannelloni & Fettuccini; Chocolate Ganache Pancake Dessert & Chocolate Salted Caramel Hazelnut Pie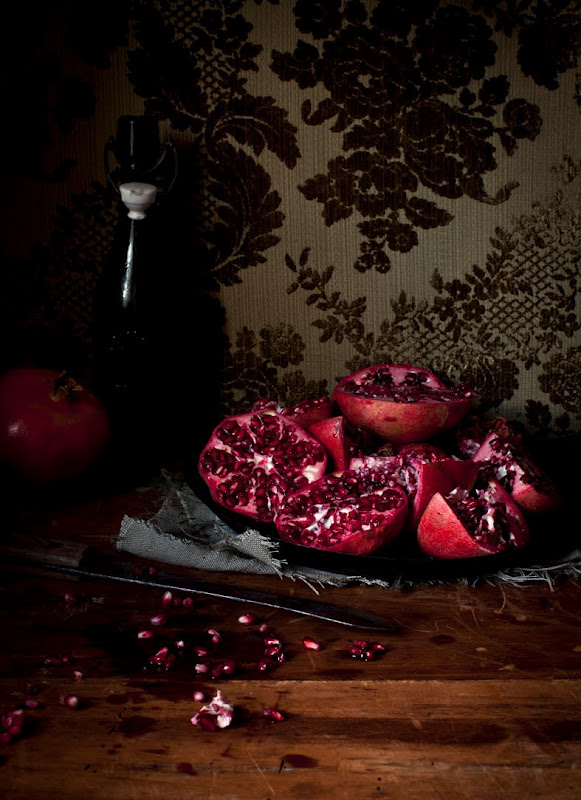 Aussie pomegranates are currently in/coming into season and I ordered myself a bottle of pomegranate syrup from my local grocery store today (it's amazing stuff ~ fruity, sour, and slightly bitter tastes but they're currently out of stock so i have to wait a few days) I think it will make for the most incredible pairing as a glaze and sauce with a belly of pork I am cooking later this week - I will post results and recipe when I shoot it.
Chocolate Salted Caramel Hazelnut Pie
All Images © Katie Quinn Davies 2011
Recipe up now guys for choco pie, sorry it got delayed by a day or so, was up to tonsils yesterday working on a great editorial mag food shoot with my mates Nat and Simon from the Sydney Picnic Co. who helped me cook and style to shots, they turned out fantastic and I look forward to putting a few up here in a month or two when they are published.
I still need to do a proper little update on the goings on here which I hope to get round to in the next day or two when things are a tad less manic for me. Am super excited to be shooting one, if not THE best Aussie fashion designers tomorrow (I simple ADORE her clothes); the one and only Lee Mathews. So hopefully I'll have a few little out-takes of the shop to post up on the blog.
Also on a side note, I have been nominated for Cosmopolitan Magazines 'Fun, Fearless Female' Award 2011 (!) in the Blogger category, so if you have a spare second I'd be ever so grateful if you'd click on the above right big pink dot (hard to miss!) and give me your vote - Tks xxx ;-)
Plus too if you can, (sorry I know I'm pushing it now!) but if anyone would like to nominate me for the Saveur Best Blog awards 2011 in the Food photography category: http://www.saveur.com/2011-best-food-blog-nominations.jsp I would be super, super thrilled :-)
Last week I was contacted by Ben & Jerry's Ice Cream and asked if I'd like to be involved in their Flavour Election campaign - I don't normally get involved in too many external promotional pieces in regards to my blog, but I knew my husband would divorce me if I said no to receiving 4 free tubs of ice cream - including one which included copious amounts of chocolate! So I said yes and over the past week he and I, and some of our mates have had the joys of tasting some really yummy ice-cream (there isn't a lot of good quality gourmet ice-cream brands in Australia - something with always, and still does surprise me given the climate. Anyway, after careful consideration, we all found our No.1 vote went to the Vanilla which is a super creamy, very decent tasting product. You can read more about this competition - where you can seemingly win a year's supply of ice-cream (!) here at their site.
Thanks all xx