Individual Chocolate Mud Cakes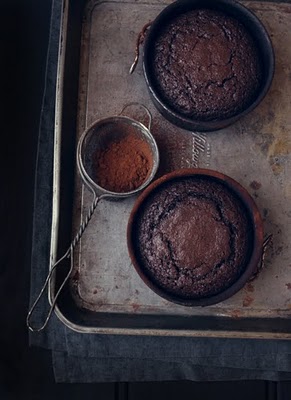 All Images © Katie Quinn Davies
The Julia Child Perfect Chocolate Mousse I mentioned I was planning to make today, didn't happen as I never got my (lazy ass) bum to the supermarket last night to buy the ingredients.. *~* I will definitely make them, as they are totally outstanding, when I get myself sorted on the grocery shopping front.
Instead today it's; Individual Chocolate Fudge/Mud Cakes with Chocolate Ganache. The recipe is from a recent Donna Hay magazine - actually it was the 50th special edition one, in which she included an incredible feature on all things chocolate cakes/desserts - the pics were to-die-for. I'll type out the recipe a little later on and add to this post ~ kitchen is currently a total bombsite and must super duper quickly clean before husband comes home in literally 30 minutes as the cakes are supposed to be a surprise *eeek*.
Until then, some photos... :)
*Updated*
The ingredients for the cake are:
*taken from Donna Hay Magazine, '50th Issue Birthday' edition*
400g butter, chopped
400g dark chocolate, chopped
1/3 cup (15g) instant coffee powder
2 teaspoons vanilla extract
1/4 cup (60ml) water
6 eggs
2 cups (440g) caster (superfine) sugar
1 1/2 (225g) self-raising flour, sifted
1/2 cup (25g) cocoa, sifted
for the ganache:
1 cup (250ml) single pouring cream
300g dark chocolate, chopped
1. Heat the oven to 160˚C (325˚F)
2. Place butter, chocolate, coffee, vanilla and water into a saucepan and warm over a low heat, stirring until melted.
3. Set aside and allow to cool to room temperature.
4. Place eggs and sugar into a bowl and whisk - using an electric beater until pale and thick in consistency.
5. Add the chocolate mixture and beat until combined.
6. Fold through the sifted flour and cocoa.
7. Pour into a lightly greased, lined 24cm round cake tin. (I used individual springform tins rather than one large one)
8. Bake for 1 hour and 30 mins, or again with individual ones - I found give them about an hour and they were cooked. Test with a skewer - it should come out fairly dry. Leave to cool on a wire rack.
For the ganache...
I'm not going to post the recipe instruction from the magazine as I used my standard ganache and I have found - like with my previous Masterchef Black Forest Gateau (bad) experience - it's best to stick to the sure-fire method you know... (The quantities for the ganache as the same as per the recipe/ingredient list above). And that is; I warm the cream to almost boiling or a slow simmer (I tend to let it boil just a teeny bit then take it straight off the heat) then pour onto the cold chopped up chocolate. Then the key bit; leave it standing for about a minute or two before stirring. I have made ganache so many times and failed miserably on many an occasion - wasting some very expensive chocolate in the process..., I have found this method I now always use, produces a smooth, split-free consistency.
Pour ganache over cooled cake/s. Serve with vanilla ice cream or cream if preferred. I think it's pretty good slightly warmed in the microwave too.