Irish Soda Bread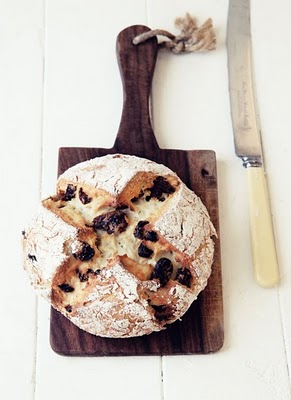 Well after a good day yesterday, I had an utterly rotten one today... :(
Beginning with waking with the start of what seems to be the mother of all colds..., then making my Rack of lamb with mint, lemon, herb and pine nut crust only to have a woeful day behind the camera and the results of which are now annoyingly in my computer's trash can *Grumble*... It's a shame as it's a great recipe which I'll have to shelve for another time. The light in Sydney at my house today too was brutal so a rather crappy day all round for any constructive work to eventuate...
I did have one small success today (in what seemed like a never ending series of flops...), a few weeks ago I made Paul Tuorto's Nan's Lemon Chicken and promised to make her version of Irish Soda Bread for curiosity's sake. At the time I went to make it before, I realised as I started to get the ingredients together that I had left the buttermilk at the grocery store, so yesterday I grabbed some. All I can say is; there is quite frankly nothing better on this planet (esp. when you're feeling fed up and blue) than a big mug of tea and a few slices of warm Irish soda bread. It's incredibly tasty and very comforting.
I tend to not usually use a lot of butter on my food, but good soda bread must be slathered in butter, Kerrygold Irish brand if you can get your hands on it.