Jennifer's Onion Soup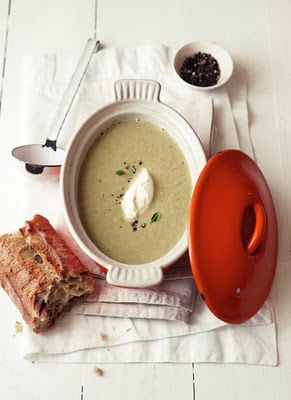 All Images © Katie Quinn Davies
On Thursday, I launched a new idea on What Katie Ate called Your Recipes, I asked (and still will, on an ongoing basis) all you fabulous readers of What Katie Ate to submit your favourite dishes so I can make and sample them myself.
Thank you to all who have already sent me ideas, I have them all on a list and I'll do my best to make all recipes I am sent - which will most likely (due to ongoing work-load commitments) equate to one or two per month.
To start the ball rolling, this weekend I made Jennifer Adam's (creator of the blog Palate to Pen); Creamy Five Onion Soup.
Soup I find is always an enjoyable, stress-free item to make; chopping all the veggies, mixing over the stove then simply whizzing it all up in a blender and enjoying with some warmed crusty bread in front of a fire and a glass of red. Most soups are quick and easy to make and as an added bonus - normally don't cost a fortune either.
I was a little concerned when I was preparing this soup that it may taste a tad too 'celery-ish'. But when it was blended I was very pleasantly surprised with the end result. It's a delicious, incredibly light soup with subtle flavours from the onion, celery and leek. Even though it's winter here in Sydney I would happily serve this in the summer months. I also expected the soup to be a little heavy but it's the total opposite. Just before serving I added a decent dessert-spoonful of sour cream as opposed Greek yoghurt as my local grocery store had run out of the latter, I found this added an extra level of flavour but still kept the texture light and airy.
The full recipe and other great recipe finds can be found on Jennifer's Blog; Palate to Pen.
The next recipes on the 'to-do' list are from Paul Tuorto of GiustoGusto; Julia Demasi who sent me in a great little recipe all the way from Uruguay; and Echo Hopkin's (from Absolutely Swell) Wine Stewed Rhubarb with Vanilla Whipped Cream.