Julia Demasi's Ham and Cheese Pie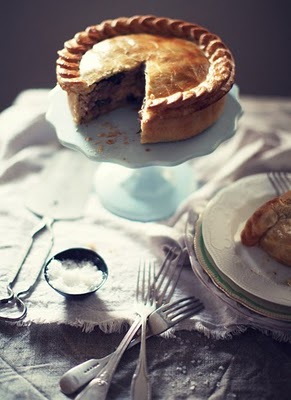 All Images © Katie Quinn Davies
A few weeks ago when I posted up the What Katie Ate Your Recipes section, one of the first people to contact me was Julia Demasi, who wrote all the way from Uruguay (!). Julia sent me a recipe for a simple, home-style, no-fuss 'Ham and Cheese Pie' and I have been planning to make this now for quite a few weeks. When I was food shopping the other day my grocery store had a wonderful selection of organic Chestnut mushrooms, so it seemed like a good idea to grab some and include them in Julia's pie, I also included red capsicum, vintage Tasmanian cheddar cheese and shaved Virginia Ham. It's very similar to a quiche but with a pastry lid on top and as Julie puts it the pie is:
"Perfect for lunchboxes and snacks, goes well hot, warm, room tempered or cold (also depends on how hungry you are".
Apologies for taking a while to add the recipe - here it is - this is pretty much exactly as per Julia's mail:
For the filling:
250g sliced ham - use the cheapest please, don't make it salami but every pork stuff I've tried worked well.
200g sliced cheese (we combine 100 mozzarella and 100 sandwich cheese)
2 eggs
Dash of oregano, pepper, paprika, full or sliced olives, small pieces of bell-peppers, sun dried tomatoes or anything you'd like to find in your ham and cheese
For the dough:
1.5 cups all purpose flour
1/3 cups hot milk or water
1/3 olive oil
1 teaspoon of baking powder
A pinch of salt (optional, forget it if the ham tastes salty)
A spoonful of sesame seeds, optional
Try to have everything at hand, as it's quick to make and best to have all nearby.
1. Heat the milk and add the oil, flour, baking powder and optional pinch of salt, combine until evenly mixed.
2. Dust a clean surface with some flour and using approx. 2/3 of the dough roll out the pastry to cover the bottom and side of your pie tin.
3. There is no need to grease the tie as the pastry is oily enough. Lie pastry into tin and fit to shape.
4. Lay the slices of ham and cheese on the dough. Pile them as you want (only ham on the bottom, only cheese on the top, or one and one)
5. Mix the eggs, add a spoonful or two of water (if you like).
6. Pour in the mixture, saving a little for later
7. Add the spices.
8. Roll out the remaining 1/3 of the dough and lie on top of the pie.
9. Using your fingers or a fork seal the edge of the pie top.
10. Brush with egg wash and sprinkle with some sesame seeds (optional)
11. Bake in the oven 180˚C (350˚F) for 30 - 40 minutes until the pie is golden.
12. Serve with a salad of tomatoes and greens.
(Note - For the pastry in the pie pictured, I actually used pre-rolled shortcrust pastry I had to hand).