Katie's 'All America' Post 2012. Yee-Harr!! :)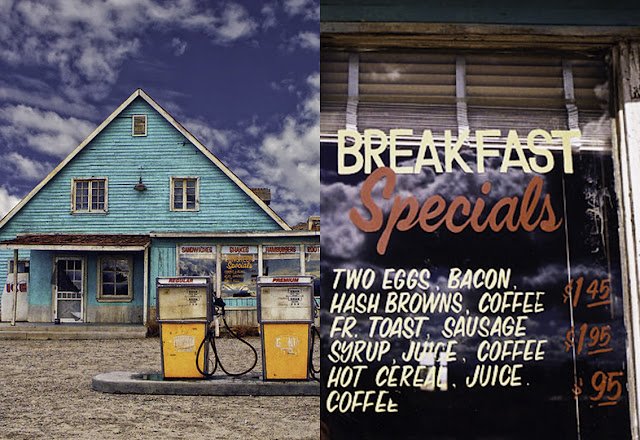 I should probably start by explaining why I decided to do a big USA post on the blog a few months ago, especially when I sort of did a similar thing almost exactly 12 months previous by way of highlighting a 5 week trip I did to the US in May-June 2011. Aside from working in the photography industry and apart from having a massive interest and love for all things design and such, I am also a massive 'music head'. Long story short, one of my favourite bands is Oasis ~ or should I say more correctly; "was Oasis" as they are sadly no more. I've always respected that the soul behind this band was the main song-writer; Noel and herein where I come to my point re. this post... Noel Gallagher released a song and accompanying video last year which I love and which was shot at a location 1 hour north of Los Angeles called; 'Club Ed'.
'Club Ed' is an old movie set which, if I cut to the chase, was considered to be too 'cool and valuable' a location to tear down, so it is now rented out for movies, adverts, music videos etc... To be totally honest, very rarely does something inspire me as much as Club Ed did/does. I was utterly and fully smitten when I saw it, gobsmacked almost. (Obviously) I am a huge fan of all things 'Americana/Retro/Californian', one of my favourite areas of the U.S. is the Californian desert and the the whole feel and atmosphere of this location just knocked me for 6. It covers everything I am inspired by.
I decided to rent Club Ed and go over to the U.S. to shoot at it (note this is not a cheap place to rent for shoots especially when they are not commercial and being paid for by a client ~ you're looking at $$$$ to be allowed to take any shots full stop). Without waffling on too much, all I can say is that because of a few different factors due to work and some personal stuff, sadly, this time it didn't eventuate ~ I was utterly gutted ~ beyond belief and I still am a tad. But I do however see it as a mission of mine to shoot it in the coming 12 months. So watch this space as without a doubt I will organise this shoot in the next year. You can't let things which inspire you as much as this place does for me, pass you by.
Wonderfully I came across these initial, 6 post opener (stunning) shots by photographer Jill Odice. to me at least, they are outstanding and I had to share. Jill has captured Club Ed next to exactly as I hoped I would. Check out her site, she has some incredible photography on there.
Please note ~ All the above 6 photos are taken by photographer Jill Odice.
Jill kindly agreed to these above photos to being used on the blog (for gratis), for which I am very grateful.
The original Noel Gallagher song which inspired this post... I guess you could call it the 'soundtrack to this post...'
So Club Ed and lads from Manchester aside, here we go guys, I won't lie, this one was a tad 'mammoth' in its execution ~ hence why it took me so long to get it up on the blog, but eventually I got there with the recipes and shots all taken in-between work shoots and over the odd weekend over the past 4 weeks, then putting it all together. And how amazing to have so many shots from all your contributions (!) I loved putting them all together. I hope this post offers a good feel for the U.S. as shown by various different readers of What Katie Ate. It's so great from my point-of-view to be able to showcase all this work by people who follow the blog. and I am chuffed to have so many of you included in this post.
I thank everyone - all 200+ of you, who sent me emails with photos. I am so sorry I could not include them all, my selection was based on various different factors when meant some couldn't get included but I am truly so grateful to all you took the time to send me shots.
All the following recipes in my 'American Retro Food Special', have come about via meals I had during my recent trip to the US and before. My aim was to take the great food experiences I had and replicate them in my own style or combine 2 meals to produce a new one. Either way it's my take on fantastic, honest American food ~ savoured either in all-authentic diners; bars; top notch restaurants; NYC cheap and cheerful pizza joints or at the local Mexican or Italian family restaurant... I hope you enjoy and give some of the recipes a bash! If you do let me know how you go :)
I will work over the following 2-3 weeks to put this whole post into a downloadable document. At present time constraints are meaning I can't do it quite yet, but I will for sure.
Also on a last note, my good friend Andy at The Gourmet Grocer (whom I have mentioned many a time here on WKA, has very kindly offered to give away a hamper of amazing American food products to one lucky reader. This will consist of a fantastic array of American sauces, rubs and marinades. I sourced a lot of my U.S. ingredients and condiments from Andy for this shoot along with some I brought back to Aus from the US in May (much to the dismay of that lovely customs official at Sydney airport...!)..
Anyway to win this hamper - note it's only open to Aussie residents (which is sort of fair enough as it's all stuff which is hard to buy here in Australia), just leave a comment below with your name and state and Andy and I will pick a random winner out of a hat at the end of June.
Thanks and I hope you enjoy the post, the recipes and all the incredible guest photos :)
x
P.S. To all the contributors whose photos are featured below, if you want to send me higher res shots to replace the ones in situ below, please do so to my usual email address. Thanks.
Pork and apple, nutty hot dog subs
Smokey Bacon 'n Chicken Mac 'n Cheese
Chocolate, Caramel and Hazelnut Praline Ice Cream
Peanut Butter Chocolate Melting Moment Cookies
Raspberry Pomegranate Cocktail
Sour Apple and Green Chilli Margarita