Katie's Rhubarb Tart...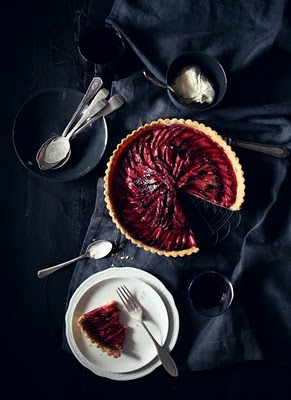 Image © Katie Quinn Davies
Rhubarb is the flavour of the week here in my house and this is a Rhubarb tart which I made for a lunch I'm having tomorrow as it keeps well over-night. The lunch is for a close girlfriend who lucky for me is the sort of girl who understands totally why there's a piece missing when cakes and puddings are put down in front of her and our get-togethers ;)
Rachel Allen is an Irish cook whom, I'll be honest, I've never been the fondest of, but over the years she's grown on me somewhat. For this pie I decided to give one of her most basic recipes a whirl and used her shortcrust pastry recipe for the tart. The recipe for which can be found here.
After I've lined the tin with pastry, I always leave it in the fridge overnight as this ensures the pastry doesn't shrink when cooked. When I am ready to cook the pie case, I prick the base of the pastry a few times with a fork then I blind bake it (180˚C/350˚F). To do this scrunch up some greaseproof/baking paper, flatten out again (it's easier to work with if you do this first), then place on top of pastry in tin, smoothing it into all the nooks and crannies. Then fill with baking beans or, like I use a lot - rice. Pat down well ensuring the case is evenly filled. Bake the case for 15 minutes until slightly golden. You can have a peek at the base inside the tin by pulling back the baking paper, if the pastry still looks raw, return to oven for a few more minutes.
For the filling you'll need:
1 x bunch rhubarb
1 x tbsp sour cream
1 x tsp caster sugar
Extra caster sugar for sprinkling
To assemble the pie:
1. Cut the rhubarb into 1cm pieces on an angle.
2. Combine sour cream and sugar in a small bowl and set aside.
3. Spread a thin layer of the cream/sugar mixture over the base of the pie case. Then on top, arrange the rhubarb pieces in a circular pattern over-lapping slightly as you go. Repeat until you reach the centre. When finished, sprinkle with a tsp of caster sugar.
4. Bake in the oven at 180˚C/350˚F for approx. 30-40 minutes.