Katie's Sticky Chicken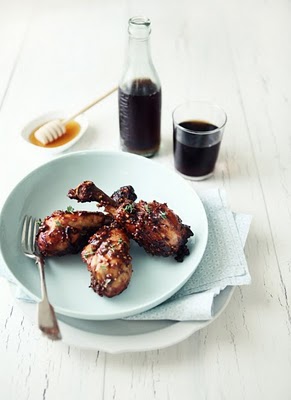 All Images © Katie Quinn Davies
Whilst I was making Paul's Nan's lemon chicken this afternoon for dinner, I had extra chicken legs left over and thought I may as well throw them in a baking tray and quickly make up the recipe - which I haven't made in many months - for my 'Sticky Chicken'. I came up with this recipe about 6 years ago whilst living in Dublin, most of the time I prefer not working to a recipe (other than with baking as it's crucial you do or 9 times out of 10 your wonderful creations will be a flop) preferring sometimes to just lug a glug of this or that in and measure ingredients by my own judgement. 60% of the time this ends in disaster or at least with me making a mental note to myself not to do it again (!), but 40% on average normally works out A-Okay :)
Whilst this recipe isn't going to win any awards for the healthiest, low-cal food of the year, it's a super quick and easy one to make and great for days when you're feeling particularly lazy, have nothing in the fridge other than some chicken wings or legs, have a pantry-full of the bog-standard condiments and don't give a fiddlers about the diet... It takes about 5 minutes to prepare and really tastes very tasty with a sticky/sweet/gooey/chewy texture.
You will need:
12-16 chicken legs
10 tbsp tomato ketchup
10 tbsp barbeque sauce (aka barbeque ketchup)
6 tbsp whole-grain mustard
4 tbsp balsamic vinegar
6 tbsp honey
To make;
1. Skin chicken legs and place in an oven-proof tray or dish. Leave aside.
2. Mix all ingredients together evenly in a bowl and pour over chicken legs. Using your hands, massage all over chicken legs making sure they are well coated. (Note there will be loads of sauce left-over in the tray).
3. Place in oven @ 180˚C (350˚F) and cook for approx. 1.5 hours.
Approximately every 20 minutes or so, baste chicken with the sauce turning the chicken legs frequently. This will ensure they get evenly caramelised and sticky all over.