Lamb Shank Pie with Rosemary and Red Wine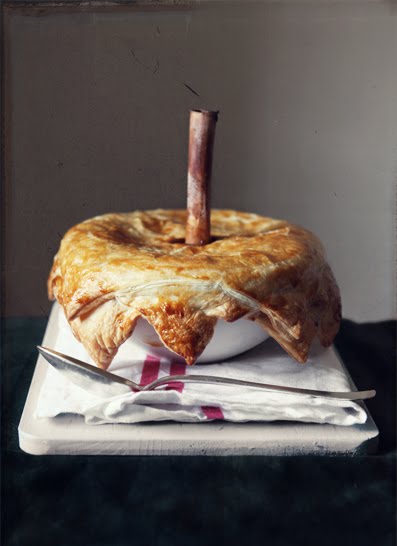 Last weekend we had some friends stay with us from Melbourne and seeing as it's rather chilly here in Sydney at the moment, I thought it might be a nice idea to make a particular pie which I've wanted to try my hand at for ages but I've never got round to it. I think after seeing Donna Hay's Lamb Shank Pies in one of her cookery books years ago - the presentation was so beautiful I've hankered to make one ever since.
So I grabbed myself 6 lamb shanks in my local butcher, a big handful of gorgeous, fresh rosemary and a good bottle of gutsy Aussie red and made Anna Gare's Lamb Shank Red Wine and Rosemary Pie. The result was superb and everyone raved about how tasty and successful it was, so much so when we had other friends for dinner on Monday night I made it again. Mainly out of ease but also due to my husband's insistence I make it again. I will admit I added a few extra ingredients into the mix - at stage 6 in the recipe I included a good glug of Worcester Sauce, 2 tablespoons of good quality balsamic and rather than add 5 fresh tomatoes, I used 2 large fresh and a tin of chopped tomatoes. I also added a whole bottle of red instead of just 3 cups.
I love making food like this - chopping up all the veg and sautéing in a big casserole pot then adding all the meat and a big bottle of wine and simmering to get all the juices from the bottom of the pan, before slow cooking for hours in the oven. It's real comfort cooking and as an extra bonus it fills the house with amazing, home-style cooking aromas :)
I served the pie with creamy mash along with minted peas and broad beans.