Love.fish.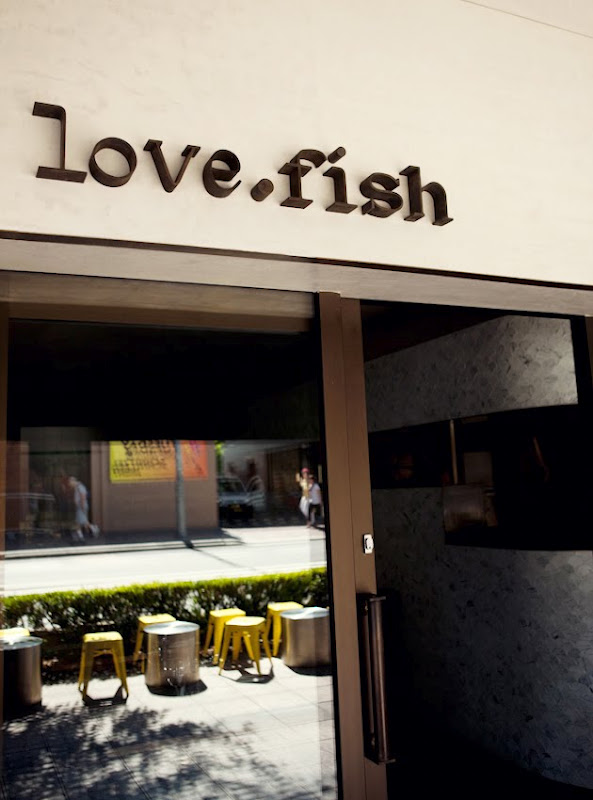 All images © Katie Quinn Davies
Woweeeeeeeeeeeeeeeeeeeeeeeeee, it's HOT here in Sydney this week. All week we're in the mid to high 30's and what with the humidity in the evenings hitting 85-90%, as an Irish-woman it's a serious tester of my abilities (or lack there-of) to keep my cool in such sticky, humid and hot conditions.
Work-wise this week for me it's week two of the cookbook shoot I am working on, due to this week being as busy as it is, I'm leaving 2 or 3 new recipes I want to feature on the blog until this weekend coming when I have set aside Saturday to cook and shoot some new dishes, but until then I wanted to upload some shots I did last week for a new local restaurant.
About 4 weeks ago, just after NYE, a new restaurant opened up in Rozelle village, in a spot literally just around the corner from our house called; Love.fish. It was a huge welcome arrival to myself and my husband, especially as we felt the area was crying out for an evening restaurant which offered seriously healthy, super-tasty, eco-friendly fare. Since the restaurant's opening, myself and the better half have been regulars, dining at least once or twice a week. I constantly wax lyrical to family and friends about this "amazing new eatery - literally a stones throw from our house, which offers the freshest, tastiest fish and stunning, healthy sides". To me, there is nothing better than receiving a beautifully simple piece of cooked fish, minimally presented on a stylish plate with a chargrilled lemon wedge and then a bounty of stunning side salads and crusty bread to accompany a crisp, cold Aussie white - especially in this full-on Sydney summer heat. An additional bonus for me and what I first noticed about Love.fish during my first visit 4 days after their official opening, was the incredible attention to detail from a design point-of-view.
As an ex-graphic designer, from my angle it's always extra special to see a new business embracing and following through their brand and identity to a level of design sleekness that Love.fish have. From the simple white/grey/dark wood colour-scheme featuring classic Bentwood chairs to the graphic blackboard, ambient lighting and - my fave; the fish scale inspired tiles on the walls of the restaurant (latter are a gorgeous touch). All together the atmospehere in the restaurant - added to the super friendly and welcoming staff, is polished, sleek yet simple, un-intimidating and totally unpretentious.
The Northern Territory Humpty Doo barramundi is my fave at the moment (when I saw the 'Humpty Doo' name first, there was no way I couldn't give it a try), which pairs perfectly with a side of their pickled radish, green bean, apple and watercress and a portion of the twice cooked hand-cut sebago chips (THE best chips I have ever tasted here in Oz and the sort you get cravings for at really odd times of the day!)
The 'Fish bar with a green heart' is a family operation, run primarily by owners Michael (head chef) and Michelle Grand-Milkovic (Maître d') - a gorgeous couple who put their total heart and soul into this restaurant which sells only sustainable fish and promotes recycling - so much so on the latter that all their used cooking oil is collected and turned into Biodiesel along with using 100% post consumer recycled paper on all their menus and company stationery and all their food waste is sent to Earth Power, where it is converted into green energy and organic fertilisers. It's wonderful to see such a massive effort from such a young and small operation. A fantastic effort guys.
Michael and Michelle describe their restaurant as:
"The love.fish philosophy is simple – serve great food and support a more sustainable future. love.fish offers the best possible seafood from ethical & sustainable sources and lightens its footprint through green initiatives. We may be small but we can still do our bit to protect this beautiful planet of ours. Whether you dine in or take away, we welcome you to share the love.fish difference. Sustainability is not just an ideal, but small collective steps to a greener future".
More details about this wonderful new venture can be found at the restaurant's website Love.fish.
Love.fish is located at 580 Darling Street, Rozelle, Sydney 2039. It's open every day 5pm – late, fantastically too it's B.Y.O - with an off-licence/bottle shop straight across the street.
On an end note, and as briefly mentioned this week on the WKA Facebook page and Twitter, I am planning a 3.5 week holiday in the US between Mid-May and Mid June after spending 2 weeks at home in Ireland. I will be spending a week in NYC to catch up with friends and in particular Nicole, Melina and Jim - all of which contributed to the WKA Christmas edition, but will also be travelling to 3 or 4 other states in the US to capture some great photos and to get some interesting foodie stories for part of a special What Katie Ate project which is kicking off in the coming months.
At present the definites on the 'WKA USA 2011 Tour' (think National Lampoon's 2011 US Summer Vacation...) after the week in NYC are: New England & Boston -> Austin -> Phonenix (flying in here to pick up a hire car to drive a small part of the old Route 66) to Santa Barbara (hoping to get some great old diner/retro signage/desert style pics on this start to mid part of this section of the journey, then after a night in SB we'll head back to LA for a night or two, grab a flight to Seattle or Portland, then fly home out of San Fran so we can spend a day or two in the Napa drinking gorgeous American wine and yummy cheeses. Nyom, nyom. :)
If anyone has any 'must see' foodie ideas for any of these areas mentioned or 'off-the-beaten-track' style ideas please send them my way - much appreciated. I'll be making a photo diary of the trip for the blog so all of the ideas/places/people I see and meet will get a look in on the blog after the trip.
Cannot wait!!!! x