Masterchef Black Forest Gateau Part 2.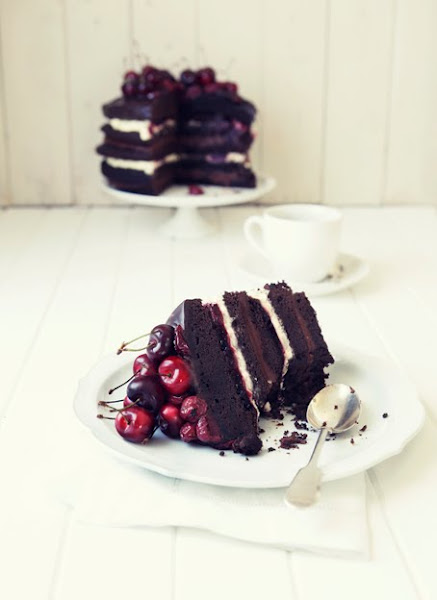 Candied Cherries
Cherry Compote
Hazelnut Praline
All Images © Katie Quinn Davies
Finally (!) I managed to find some time today to make the Masterchef Black Forest GateauI've been rambling on about for the past few weeks... and I have to say, with much, much regret...
Holy Cow, what an utter NIGHTMare!! :(
This cake was a killer to make. I initially decided to make it today as I was planning a dinner party tonight, and thankfully (due to a re-schedule) I didn't find out how painstakingly long it would take to complete this cake 2 hours before my guests arrived...
Honestly I cannot fathom how complicated and far-fetched this recipe was to work with. I really feel for the 3 contestants on the actual show who had to make this totally over-the-top (and utterly pretentious) recipe, in such a short time-frame. If I were in their shoes, I'd probably have been found in the corner of the show's set, covered in chocolate ganache and candied cherries bawling crying whilst subsequently having a nervous breakdown...
I'd consider myself a competent baker but I really didn't enjoy making this recipe, it had about 13,789 parts to it, all which seem to involve standing over a double-boiler of water either melting chocolate or sugar. The amount of washing up was chronic. I actually had to rope in my husband to help as I started baking the cake at around 11.00am and I was still going at 3.45pm - leaving me little or no light to work with photography-wise (my light starts to diminish around 4pm here in Sydney in the Winter months).
I will admit when I read the reviews on the actual Masterchef Australia forum, the sponge itself seems to have caused a plethora of problems for a lot of Masterchef followers who have attempted this cake before me, so in order to save myself time and hedge my bets, I decided to use a shop bought chocolate cake mix for the actual sponge - I find a lot of these pre-mixes can be hugely successful, in particular this Australian onewhich as an added bonus is gluten-free too. However even by saving myself the hassle of making the actual cake sponge, this recipe really was just too much for me (and I've seriously considered studying to become a professional pâtissier). The complexity involved to make what, quintessentially should be a much more straight-forward recipe ruined the enjoyment of baking process.
Without a doubt and in fairness to the recipe, it does taste amazing, incredibly rich and the combination of the cherry compote, chocolate sponge, mascarpone cream and sour candied cherries is really incredible, but I found a few flaws in the recipe too, i.e.: when I followed the instructions for the chocolate ganache it split almost instantly (and in the process I wasted a very expensive bar of chocolate)... The recipe instructs that the chocolate be melted and cream heated then combined, in all my years of making ganache, this has been a sure-fire way for the mixture to split. I had to remake the ganache and followed my normal procedure of warming the cream and pouring on-top of the cold, chopped chocolate, then waiting a minute or two and stirring to combine.
All in all a very elaborate, indulgent cake, but in my opinion a waste of 4-5 hours slaving over a stove...