Mocha Chocolate Mousse with Bushmills 16 Year Irish Whiskey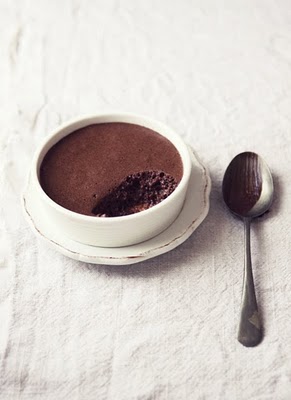 All Images © Katie Quinn Davies
I mentioned I was going to feature a recipe for the chocolate mousse I made last weekend and thankfully I managed to get round to making them again last night. My mum used to be a great baker and she frequently made chocolate mousse, I wish I had her exact recipe as it was really stunning and produced a beautiful chewy, gooey chocolate mousse texture, I'll never forget it. I've been searching around cookbooks and the web for a similar recipe, testing out a few over the last few months and after some experimentation, this is the closest I've come to my mum's 'famous' recipe.
At the dinner party these went down a storm, it's a basic dessert in some sense but so easy to prepare the night in advance and then you can forget about them until you serve them up the following night straight from the fridge. As one who adores throwing dinner parties, I am now on a mission to only cook foods for such events which do not equate to me standing over a stove all night away from my friends. I find using the best chocolate you can get your hands on is the key and also very fresh, free-range, organic eggs.
When I made this batch last night I substituted the rum for a good Irish whiskey (Bushmills 16 Year) and I also in this instance used instant coffee as opposed to percolator - I was flabbergasted at how much better the taste is. It turns them into more of a mocha style mousse but I think so much more interesting and complex flavour-wise. I have to admit, I am not a huge chocolate fan - I do like it, but generally more-so in smaller amounts, with these mousses two of them got gobbled up the second they were chilled enough in the fridge and the bowls almost licked clean. It's a definite winner for me :)
Ingredients are:
170g good quality dark chocolate, broken into pieces
170g butter
1/4 cup strong coffee (I find instant in this case works best)
4 eggs separated
2/3 cup caster (superfine) sugar, plus an extra tbsp which you'll use later in recipe.
2 tablespoons of dark rum or Irish whiskey
1 tbsp water
A pinch of salt
1/2 tsp vanilla extract
1. Heat a saucepan of water and set a heatproof bowl on top - be sure that the water does not touch the actual bowl.
2. Into the bowl add the coffee, chocolate and butter, warm slowly over simmering water until melted, stirring occasionally. Once melted, set aside.
3. Into a new large bowl add a few handfuls of ice and fill halfway with water. Set aside nearby.
4. Using the same saucepan of water, continue to simmer and place a new bowl on top into which; add the 4 egg yolks, caster sugar, water and rum/whisky. Using a balloon whisk or what I find (much) easier - a hand-held electric beater - whisk for about 3 minutes until the mixture thickens, pales in colour and has a similar consistency to runny mayonnaise.
5. Remove from heat and place bowl into the larger bowl of iced water. Be careful not to let any water into the smaller bowl.
6. Continue to whisk for a further few minutes until the mixture thickens considerably and is cooled.
7. Add the chocolate mixture into the beaten eggs and stir to combine.
8. In an electric mixer whip up the egg whites along with pinch of salt until almost stiff and frothy. At this stage add in one tablespoon of extra caster sugar and beat again until almost glossy.
9. Using a large mixing spoon, add one spoonful of egg whites into the chocolate mix, fold in gently then add the remaining egg whites, folding in until almost fully combined. Be careful at this stage not to over whip as you'll lose all the air which is needed to be present to produce a light mousse.
10. Pour mixture into a jug and in turn into individual serving bowls/glasses.
11. Place in fridge and chill for approx. 3-4 hours and serve. They will keep in the fridge for up to 4 days.