Nick Malgieri Cookies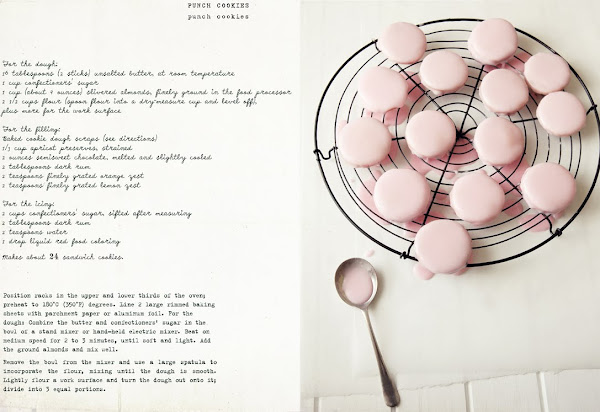 All Images © Katie Quinn Davies
Nick Malgieri is a chef I hadn't heard of until I purchased a copy of his Modern Baker a year or so ago. I've flicked through the pages of this mouth-watering baking book many a time and whilst musing over the amazing cake and bread recipes, one item which has kept me intrigued in particular are his; 'Viennese Punch Cookies' mainly I would imagine as they're very similar in style to the sort of cookies or biscuits I used to make as a kid.
My mum was an amazing baker and pastry cook and I would often come home from junior school and spend my afternoons mixing up all sorts of sweet concoctions from her 'Woman's Weekly' cookbooks and such. I also had a - now rather hilarious/mortifying habit when looking back - of pretending I was presenting a cooking show on TV whilst I made said cookies and cakes, complete with talking to the kitchen window - aka the TV camera... *cringe*... I told my husband this unknown-to-anyone-other-than-me-fact a week ago and he found it rather (OK totally OTT) amusing...
The great thing I found about the filling for these cookies is it would make a fantastic base for a cheesecake, it was a real challenge not to munch the entire lot from the bowl as I was mixing it up. It's like a finer version of chocolate biscuit cake, very, very yummy. I kept a bit aside and now have it chilling in a small cake tin in the fridge, I'm planning to try out a baked rum and chocolate cheesecake with it... Watch this space...
For the Viennese Punch Cookies you will need:
Adapted from The Modern Baker by Nick Malgieri (DK Publishing, 2008). Makes about 24 sandwich cookies.
For the dough:
16 tablespoons (2 sticks) unsalted butter, at room temperature
1 cup confectioners' sugar
1 cup (about 4 ounces) slivered almonds, finely ground in the food processor
2 1/2 cups flour (spoon flour into a dry-measure cup and level off), plus more for the work surface
For the filling:
Baked cookie dough scraps (see directions)
1/3 cup apricot preserves, strained
2 ounces semisweet chocolate, melted and slightly cooled
2 tablespoons dark rum (may substitute strained apricot preserves; see headnote)
2 teaspoons finely grated orange zest
2 teaspoons finely grated lemon zest
For the icing:
2 cups confectioners' sugar, sifted after measuring
2 tablespoons dark rum (may substitute strained apricot preserves; see headnote)
2 teaspoons water
1 drop liquid red food coloring
1. Position racks in the upper and lower thirds of the oven; preheat to 180˚C (350˚F) degrees. Line 2 large rimmed baking sheets with parchment paper or aluminum foil.
2. For the dough: Combine the butter and confectioners' sugar in the bowl of a stand mixer or hand-held electric mixer. Beat on medium speed for 2 to 3 minutes, until soft and light. Add the ground almonds and mix well.
3. Remove the bowl from the mixer and use a large spatula to incorporate the flour, mixing until the dough is smooth. Lightly flour a work surface and turn the dough out onto it; divide into 3 equal portions.
4. Lightly flour the dough, then gently roll it to about 3/8-inch thick. Use a plain round cookie cutter to cut out 2- to 2 1/2-inch cookies and place them, spaced 1 inch apart, on the prepared pans. Reserve the scraps from cutting the cookies in a bowl.
5. Roll and cut the remaining 2 pieces of dough, reserving the scraps from the rolling and cutting with the others. There should be 48 cookie rounds.
6. Bake the cookies for 7 to 8 minutes, until they are firm and dull-looking, then rotate the baking sheets top to bottom and front to back. (If you know that your oven gives strong bottom heat, use a third baking sheet to insulate the one on the lower rack.) Slide the parchment papers off the baking sheets to cool the cookies.
7. Arrange the dough scraps in a single layer on a parchment- or foil-lined baking sheet. While the cookie rounds are cooling, bake on the middle rack for 15 to 20 minutes, until firm, then cool the scraps on a wire rack.
8. For the filling: Break up the cooled scraps and place them in the bowl of a food processor. Pulse to grind coarsely. Add the preserves, melted chocolate, rum, and orange and lemon zests; pulse until the filling holds a soft shape.
9. To fill the cookies, turn 24 of the cookies over so that the flattest (bottom) sides are facing up. Spread a little less than 1 tablespoon of the filling on each cookie to within 1/8 inch of the edge. Top with the remaining cookies, placing them bottom side down on the filling and gently pressing the two cookies together.
10. For the icing: Combine the confectioners' sugar, rum, water and food coloring in a medium saucepan; stir until smooth. Place over low heat and cook for several minutes, until it is just lukewarm (about 110 degrees measured on an instant-read thermometer). Use a small offset spatula to spread a thin coat of the icing on top of each cookie. Let set completely before storing or serving.
MAKE AHEAD: Store in a cool place in an airtight container, with the cookies between layers of wax paper, for up to 5 days. Freeze the un-iced, unfilled cookies for up to 2 months.