Olive Oil Schiacciata Dough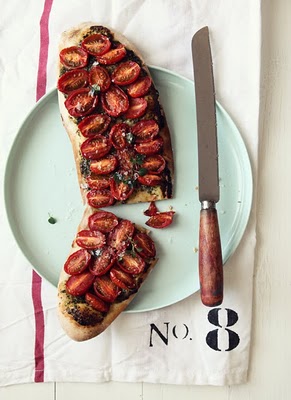 Garlic Schiacciata with Cherry Roma Tomatoes
Pesto Schiacciata with Goats Cheese and Balsamic Caramelised Red Onion
Tomato Schiacciata with Basil, Oregano and Sea Salt
Potato Schiacciata with Proscuitto and Rosemary
All Images © Katie Quinn Davies
My new favourite cookbook at the moment is the 'Bourke Street Bakery - The Ultimate Baking Companion'. I bought it a month or two ago as I had heard over and over from many Sydneysider friends just how unbelievably fantastic this bakery's bread and pastries are. I have yet to actually visit the bakery itself, but it's on my 'must-do' list and hope to pop over this Saturday coming to pick up some bread and baked goodies. The book is an incredible read with stunning photography all of which instills a strong urge to get baking, only problem is there are so many glorious recipes to make it's virtually impossible to choose one. I am now determined to have a go at making my own croissants from scratch as the book's photos make them look way too tempting not to try.
Yesterday after much deliberation over what to attempt to make first, I settled on the recipe for the bakery's Olive Bread and in particular with that, their 'Potato Schiacciata' (bottom pic). The bread I mixed together in a bread maker (one of the best purchases I have ever made as it speeds up the bread making process to no end), and I found the recipe to be a total success, the dough was light and airy, velvety and soft. It was very easy to work with and rolled out effortlessly.
To make the dough using a breadmaker the ingredients are as follows:
600g (1lb 5 oz) strong flour - I used basic plain four and the results were great.
13g (1/2 oz) fresh yeast - I used 1.5 tsp dried packet, ready-to-use yeast.
400ml (14 fl oz) water
20ml (1 fl oz) extra virgin olive oil (20ml = 4 tsp)
20ml (1 fl oz) milk (20ml = 4 tsp)
15g (1/2 oz or 1.5 tbsp) sea salt
Place all ingredients into a breadmaker in the following order: liquids, oils, dry ingredients, yeast. Therefore place water, milk, oil followed by flour, salt and finally yeast. Mix as per your machines instructions to dough only stage.
I use a Breville breadmaker and I set the machine to setting 7 - aka dough only, which takes 1.5 hours. After this time the dough is ready to use although I like to knead it a little then let sit in a warm area for a further 20-30 mins before using.
To make the Potato Schiacciata in addition to 400g of the above olive oil dough, you will need the following ingredients:
1 cup of caramelised onions
2 medium sized desiree potatoes (redskin potatoes will do just as well)
10 prosciutto slices
2 rosemary sprigs.
Preheat oven to 220˚C (425F)
1. Using a mandolin, slice the potatoes into 1.5mm thick slices, place into cold water and then drain well.
2. Place the potatoes into a saucepan and fill with cold water, bring to a simmer for 3-5 minutes max, being careful not to overcook them.
3. Drain the potato slices and plunge into cold water until needed.
4. Roll out the olive oil dough into a rectangular shape measuring roughly 30 x 15cm (12 x 16 inches), about 5mm thick (1/4 inch) all over.
5. Gently transfer the dough onto a baking tray lined with non-stick baking parchment.
6. Onto the dough spread a thin layer of the caramelised onions leaving a 1cm border (1/2 inch) around the edge.
7. Arrange the potato slices on top letting them slightly overlap each other.
8. Lay the slices of prosciutto over the potato slices and sprinkle with some rosemary leaves.
9. Drizzle with some olive oil and season with a little sea salt (don't add much as the prosciutto is very salty as is).
10. Reduce the temperature of the oven to 200˚C (400˚F) and bake the schiacciata for 25 minutes, turning the tray around after 10 mins.
The schiacciata is cooked when the edges and base are browned and the prosciutto crisp.