One Ingredient Ice Cream Update - The Result...! :)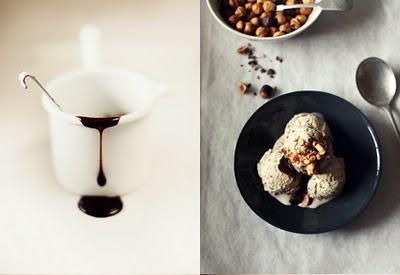 All Images © Katie Quinn Davies
Last week on my Facebook 'What Katie Ate' page, I posted this link. I was a tad dubious I have to admit as to whether it would taste as similar to real home-made ice cream as the article stated, but going off the reviews it seemed to be a winner. So I walked in my front door yesterday evening with 5 kilos of bananas ready to give the recipe a good run for it's money...
It works, it's nuts! When you try it from the blender whilst it's cold and creamy, it really does taste and texturally resemble 'proper' ice-cream.
I chose to chop up and freeze my bananas in plastic bags last night and this morning I whizzed them up in the food processor. I did add a little bit of milk to the frozen bananas to give them a helping hand in the blender. It takes about 10 minutes of setting them on high speed and you have to stop the machine a few times to scrape the mixture away from the sides and down towards the blade, but the consistency and taste really is very similar to good, gourmet ice-cream. I will admit, the mixture does still taste a bit 'banana-y', so I chose to experiment with a few flavours.
I divided the mixture up into four leaving one batch plain - mainly as a placebo to compare, to the second I added a glug of bourbon and a dollop of cream, the third I added chopped hazelnuts (which I toasted in the oven first) and squirted in some chocolate fudge sauce (I served this flavour option with hot chocolate sauce and chopped nuts *drool*), finally with the fourth batch I added a tablespoonful of smooth peanut butter and tossed in a small handful of chopped roasted peanuts.
Overall I found each flavouring to be really very tasty albeit, you'd have to like bananas to enjoy this concept, I found there is a lingering sweetness from the bananas which over-rides a lot of the additional flavours. However, as a low fat compromise to calorific full-fat dairy ice-cream, it's a great, satisfying alternative.