Parmesan Breadsticks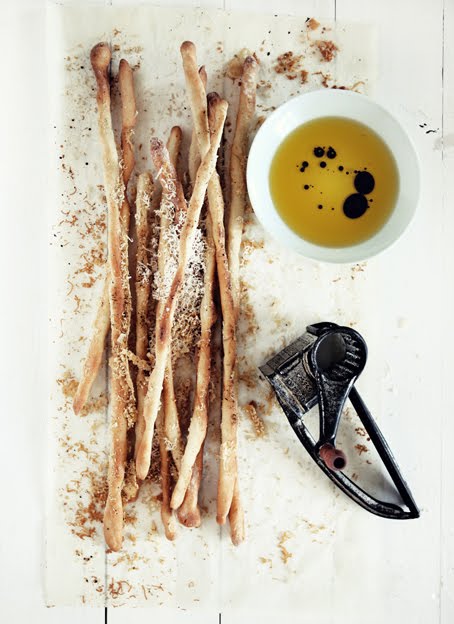 Image © Katie Quinn Davies
On Saturday I headed over to the Bourke Street Bakery in Sydney's Surry Hills to sample first-hand some of the delights I have read about in my aforementionedBourke Street Bakery cookbook. But as I expected due to reports in many online reviews, outside waiting there was a huge queue of people stretching around the corner and up the side street. I'm all up for tasting a great pastry or pie and call me a philistine but I refuse to queue for things like this as I don't succumb to spending 2 hours of my life standing on a road wasting my Saturday away purely to eat a cake..!
I was a little disappointed but c'est la vie... Hopefully they'll start doing online delivery or something soon. I had some of the Olive Oil dough left over which I wrote about last week so decided to use it up by making a few improvised breadsticks. They're super simple, take only a few minutes to prepare and are really tasty served with some homemade hummus or with a little good quality extra virgin olive oil and some aged balsamic.
Once you've made up the olive oil dough as per the initial recipe
1. Divide the dough into 3 pieces, place one piece onto a floured surface and cover the remaining two with a dampened paper towel ~ this prevents the dough from forming a crust as it sits.
2. Roll out the dough to a thickness of about 1cm or so to form a rectangular shape, lay the dough with the longer side horizontal to your work surface, lightly score the dough with your hand vertically down the middle and onto the left-hand side, sprinkle a decent handful of good quality, grated Parmesan cheese.
3. Fold the right-hand side over on top of the left, pressing down lightly to secure and then fold the dough in half again, bringing the top end down towards you. Re-roll the dough again (this incorporated the cheese into the dough) and repeat steps 2 and 3 again.
4. Cut the cheesy dough into 12 pieces and roll in between your hands to form long, skinny breadsticks.
5. Line a baking sheet with non-stick parchment and onto which place the breadsticks.
6. Sprinkle with more grated Parmesan, freshly ground black pepper and some sesame seeds.
7. Bake in the oven for approx. 30 minutes until golden. If you want you can open the oven mid-way through and add a bit more Parmesan to taste.