Pasta Tritato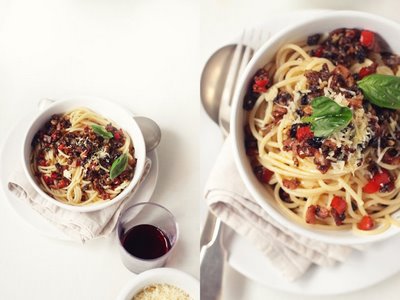 This is a pasta dish I made up one Sunday afternoon when we had practically nothing in the fridge and I was too shattered (OK hungover) to walk up to the shops...
From our fridge, I grabbed the handful of mushrooms, half a red bell pepper, a somewhat shriveled onion, packet of bacon and the remainder of a pot of basil dip which was a left-over from the Saturday night before drinks and nibbles.
I don't really know what to call this pasta but needless to say, it is one of the best left-over meal successes I have ever had. It's a real winner flavour-wise and has received rave reviews from everyone I have cooked it for (including the In-Laws so that's gotta be a good sign right?) It's super easy to make, the only prep required is to finely chop all the ingredients before cooking - hence why I have decided to call it, for the sake of this blog; 'Pasta Tritato', which I believe in Italian this means; 'chopped' or 'minced'.
It combines great textures; the crispy bacon, earthy flavours of the portobello mushrooms, crunch of the red peppers and nutty consistency from the basil/pesto dip. I also add in some dried chili flakes to add a little little kick. All the above elements work really well together.
Ingredients
- - - - - - - - - - - - - -
Serves 4 people
1 Spanish onion
8-10 slices of bacon or pancetta - fat trimmed
4 portobello mushrooms
1 large red bell pepper/capsicum
250g chunky style basil dip*
Pinch dried chili flakes - optional
Maldon sea salt or similar, freshly ground black pepper
400g spaghetti or fettuccini (100g per person)
Freshly grated parmesan to serve
*Note: I use the Australian brand; 'Wattle Valley Chunky Basil Dip with Cashew & Parmesan' in this dish, but any chunky style basil dip would work. I have also made it at times using a jar or good quality regular pesto - it works just as well.
Method
- - - - - - - - - - - - - -
1: Finely chop the onion, bacon/pancetta, mushrooms and capsicum into very small pieces.
2: Heat 1-2 tablespoons of olive oil in a large frying pan and sautée the onions until soft.
3: Add the finely chopped bacon to the onion and fry until browned and crispy.
4: Add the mushrooms and peppers, a good pinch of salt and black pepper and continue to cook over a low-medium heat for approx. 15-20 mins, stirring occasionally. Add in the basil pesto half way through and chili if desired.
5: Bring a large pot of water to a rolling boil, add a splash of olive oil and cook the pasta as per the manufacturer's instructions, drain.
6: Combine the cooked ingredients to the pasta and toss together.
7: Serve with fresh grated parmesan and a drizzle of extra virgin olive oil.