Paul's Nan's Lemon Chicken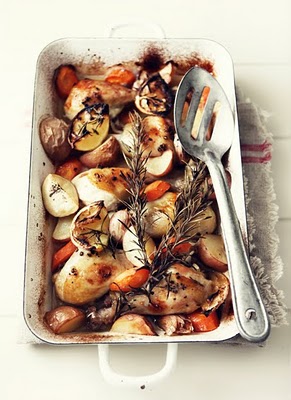 Image © Katie Quinn Davies
Dinner tonught on this run-of-the-mill Monday evening in the Quinn Davies household, is going to be yum-MO... "Why?" I hear you cry... Well it's because we're having Paul Tuorto's of Giusto Gusto from Raleigh NC Nan's Lemon Chicken for dinner that's why!
I can attest, the smells coming from my kitchen as I type this post are incredibly aromatic and comforting. The dish lends a wonderful aroma to the room and looks so rustic... exactly as you'd expect your nan to make a home-cooked, chicken dinner.
I was instantly drawn to this dish when Paul sent me a link to his website, as my husband Mick makes a rendition of Lemon Chicken too but which is very different in style to Paul's one above. Mick also got it from his granny, so I was intrigued to find out what Paul's Nan's version would taste like in comparison. I shall find out in approx. 40 mins when it gets served up :)
Being a proud Irish woman, there was no way I could see Paul's Lemon Chicken article and not make the accompanying recipe for Irish Soda Bread, I thought "this'll be fun, see how his Nan's chicken stand's up to Mick's, and the soda bread to mine".. I bought all the ingredients over the weekend minus the buttermilk = very frustrating, so I'll have to wait a few days to have a go at making that.