Pink Grapefruit Granita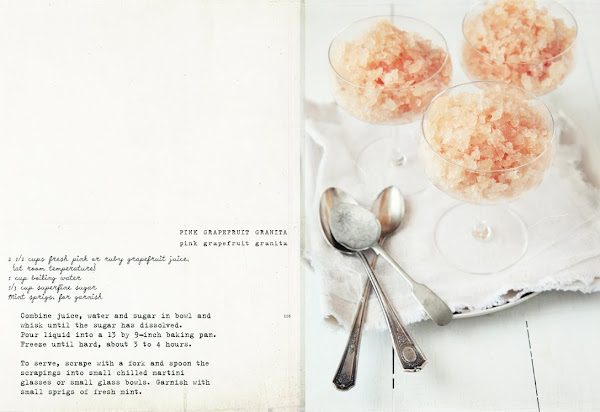 Image © Katie Quinn Davies
I tend to do my main grocery shop on a Tuesday evening so I was doing my usual 'rummage through the fridge on a Monday night' and found the 3 pink grapefruit I was supposed to be good and eat for brekkie over the last week but had totally forgot about...
I have seen a fair few granitas made recently on various blogs I read and it's always intrigued me as a dessert as I've never actually eaten it before, therefore I thought it was a perfect opportunity to use up the fruit and make a Pink Grapefruit Granita. It turned out very good actually, I prefer it when it melts a little as when very cold it tastes really just like mildly flavoured ice, but as it warms up the flavour of the grapefruit is more obvious. I used to be a mad fan of cola flavours slush puppies as a kid so this is a nice 'grown up' alternative :)
I used the recipe from Food Network's; Dave Lieberman and the ingredients are:
2 1/2 cups fresh pink or ruby grapefruit juice, at room temperature
1 cup boiling water
1/3 cup superfine sugar
Mint sprigs, for garnish
1. Combine juice, water and sugar in bowl and whisk until the sugar has dissolved.
2. Pour liquid into a 13 by 9-inch baking pan. Freeze until hard, about 3 to 4 hours.
3. To serve, scrape with a fork and spoon the scrapings into small chilled martini glasses or small glass bowls.