Poached Salmon Salad with Crumbled Feta, Chickpeas and Crispy Capers.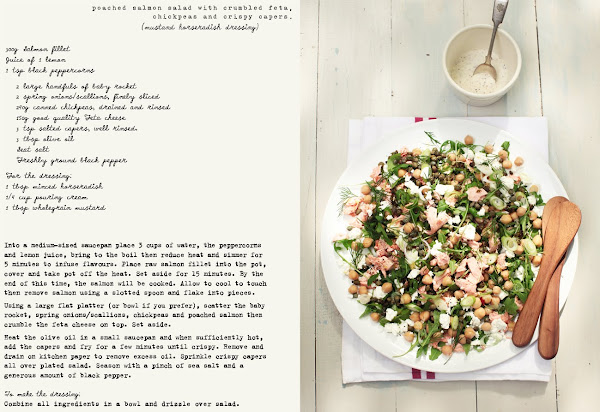 Image © Katie Quinn Davies
Today I planned to take advantage of the little bit of free time I have before the next 8 weeks go utterly barmy (!) and cook a few recipes for the blog. I went to the supermarket this morning and started preparing two other dishes in addition to the above, but one got burnt and the other is best not spoken about, as when I was supposed to be tending to them whilst cooking, I was actually sitting in front of the goggle box glued in sheer intrigue and suspense to the live coverage of the 1st, 2nd, 3rd and 4th Chilean miners being rescued. What incredibly moving stuff, such an emotional situation and an impossibilty to imagine what all those guys and their families must be going through. Needless to say any semblance of eye make up I had on at 1pm is now half way down my face... I did however managed to get one salad prepared and shoot it as it's what we're having for dinner tonight with some other stuff on the BBQ. The light wasn't great when I took this shot (again due to sitting in front of the telly for too long) but it gives a good enough idea of what the salad looks like. Sometimes if I make this salad in a big bowl for a BBQ for friends, I often throw in 2 or 3 cups of baby shell pasta or orecchiette to bulk it out even more so.
I am off on a photoshoot tomorrow and Friday so the next blog update will be a big posting from the coming weekend. Am heading early on Saturday morning to the Eveleigh Markets, and later in the eve for a long-awaited meal at Neil Perry's Rockpool for dins and then we're throwing a Sunday lunch for a mate who is visiting from overseas.