Preserved Lemon, Rosemary & Garlic Roast Chicken, Helen's Potatoes; Irish Lamb Stew Pie with Irish Mash; Apple, Ginger & Blueberry Shortcrust Pie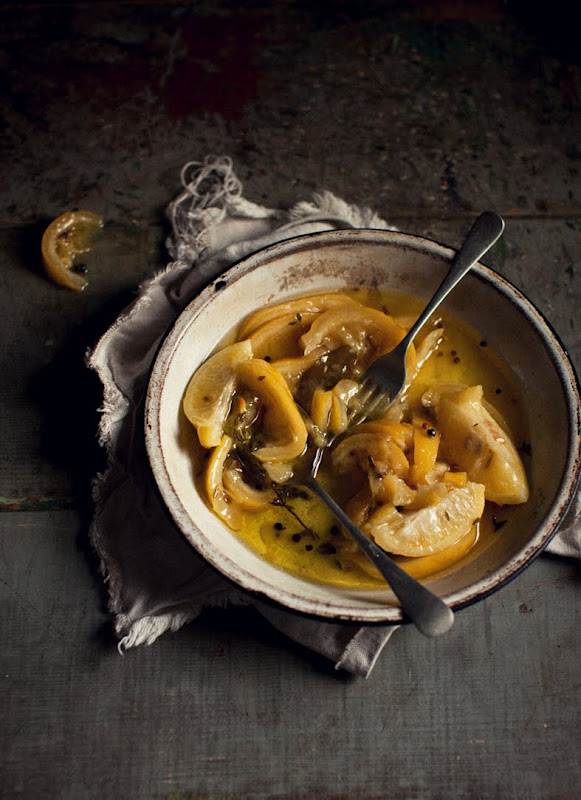 *NOTE - So sorry - I just realised - in the above pie instructions, in the first para. when I said to add the flour and a tsp of cold water, I meant in addition to say 'continue to mix in stand mixer to combine all ingredient before tipping out onto floured surface (!) Apologies about that omission, I will amend tomorrow and re-post. Tks K x
All Images © Katie Quinn Davies 2011
I shot a magazine food editorial on Wednesday this week, after which the food editor left a whole pile of preserved lemons; a bucket load of garlic and a pile of fresh rosemary. So I thought... "What to do with it all...?!" Cue a trip my local butcher to grab an organic free-range chicken and it's Preserved Lemon, Rosemary & Garlic Roast Chicken for dins tonight. I can assure you, if you make this dish, your kitchen and house will be filled with the most amazing aromas from the chicken as it's roasting. It's incredibly easy: simply fill the cavity of a chicken with a handful of garlic (just break open the bulb and add the cloves, paper skin and all) into the bird along with 4 or 5 preserved lemon wedges; a spring of two of fresh rosemary then drizzle the outside of the chicken with olive oil; a sprinkling of sea salt; black pepper and a handful more of rosemary leaves. If you want throw a few extra garlic cloves into the roasting tin too along with 2 medium-sized lemons which you cut into quarters first - when you roast lemons like this, they plump up amazingly and you get loads more juice out of them, so once or twice during cooking, open the oven, pull out the tray and squeeze the hot lemon wedges over the chicken to baste it. This provides super moist meat when it's cooked and a fantastic tangy flavour. When the bird is cooked, place the roasting tin on the stove, add 1 cup chicken stock and de-glaze the pan, scraping all the sticky roasted bits up off the tin as you go. Allow to simmer for a 5 mins over a low heat, then strain into a small pot, add a cup of pouring cream. Cook gently for a further 5 mins and you'll have a light, zesty lemon cream sauce to serve with the sliced roast lemon chicken.
The Helen in 'Helen's Potatoes' is in fact my sister-in-law, a wonderful cook who consistently produces incredible dinner party creations and is a whizz at coming up with the best salads for BBQs and healthy dinners. 'Helen's Potatoes' are another fave of hers - a super simple dish she's produced many a time and now my husband; myself and my in-laws often cook when we're looking for a quick and easy accompaniment for weekday dinners. Basically they're just mini roast potatoes, but the great thing is they cook so much quicker and are a very handy dish to have up your sleeve if you get guests popping in for dinner at the last minute, they pair great with roast chicken, fish, BBQ food - basically anything really. To make them you peel, wash and dry - then cut 5 or 6 roasting potatoes into half inch cubes, par-boil for 15 mins only (you just want to slightly soften them, be careful you don't overcook them or they'll go mushy before roasting) then turn out onto a metal baking tray (Note* glass/ceramic isn't as good for this purpose - it never gives the same results as metal)containing a tbsp of canola (or olive) oil (which you've heated in the oven for the previous 10 mins to get nice and hot). Drain the potato, add back into the cooking pot, put the lid on and shake cubes then tip them onto the hot tray (they should sizzle as the potatoes hit the hot oil), quickly coat them in the oil and season well with salt and black pepper. If you want, scatter a few rosemary leaves over the cubes - or if you like a tsp of cumin to add a bit of extra spice and roast at 180˚C (350˚F) for an hour or until the cubes are crispy and golden. Serve with a sprinkling of sea salt.
I wasn't planning to shoot another pie this week after last week's beef one, but in fairness it is only a week to St. Paddy's Day and seeing as a good friend of mine sent me this recipe a few weeks ago for an amazing Irish stew - albeit with a pastry lid (in fairness she's an Aussie!), I thought I'd give it a whirl. I asked her a few months back for to supply me with a recipe for consideration to use in another project I am working on at present as she's a fantastic cook - and all I can say is (and this is a huge, pride-busting ego blow for me) this Irish stew, is without a doubt, THE best I have ever tasted... The irony and hilarity - an Aussie woman giving an Irish woman a recipe for Irish stew... It's obviously karma for me writing a recipe for a Vegemite pie... However that aside, do try this recipe if you can as they say in Oz; It's a ripper...
Delighted too also to add I have had a glimpse at the recent Martha Stewart Living editorial I shot, the mag goes on general sale next Monday (US time) so after that I'll post up one or two spreads from the feature :)
Cheers & have a great weekend peeps! x