Raspberry Friands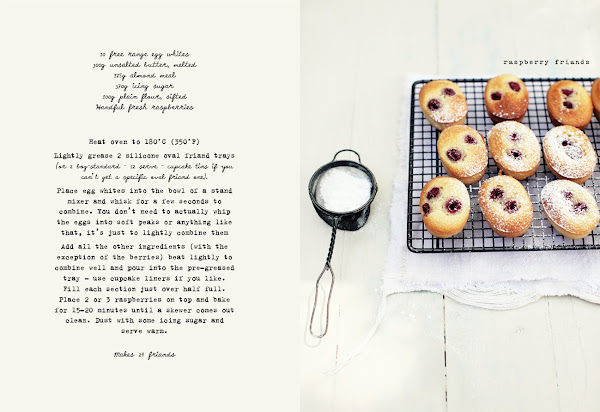 Friand papers above were bought at Leura's 'Whisk' Cooking Store.
All Images above © Katie Quinn Davies
It's only been in the past 4 or so months that have I discovered those little round cakes called; 'Financiers'. Initially this finding was via other food blogs I read from time to time and hand on my heart when I saw them first I had no iota what they were. They looked like fairy cakes to an extent, but upon reading that one of their main ingredients is almond meal I knew their texture would be somewhat different but not totally dissimilar.
So eager as ever and totally intrigued as they looked so good, I tried a batch in which I stuck a cherry in the top of each one (which weren't in season and cost me a small fortune) and you never saw them on the blog as they went straight from the oven to the bin. A total disaster - mortifyingly bad and I'm still scrubbing the cake tin clean... So my pride taking a huge dint, it was decided right there and then, the word 'financier' for a tiny cake made up of almond meal and eggs was just way too pretentious for my liking and I they were added to my 'stupid foods' list. I should add, it had absolutely nothing to do with the recipe at all, I just totally read the thing wrong and messed up.
I also recently discovered the main reason I didn't know what the heck a financier was, is because in Australia they are called 'Friands' and are always oval shape. When I was renovating the house in Melbourne this time last year (where have the last 12 months gone?!?) I used to pop into my local coffee shop and pick up a coffee and often a raspberry friand (I know, it's a really bold eating cakes for breakfast at 8am but they're only teeny tiny).
So financier or friand, either way they really are fantastic little cakes, very, very easy to make and I've been churning them out now for the past few weeks and freezing them (up to 3 months). You can also make the batter up a day before cooking. Their texture is very light and airy and there's a nice contrast with the almost sticky/chewy exterior texture contrasting with the fluffy centre.
On a side note, thanks for all the feedback on the current availability of Aussie food mags around the globe - aka how easy (or not ~ clearly for some) it is to get your paws on them. I have noticed from people's comments over the past 6 months, these mags are really popular outside of Australia (I can understand why, I constantly drool over the magnificent content they feature), so based on the feedback you've offered me, I'm going to do a giveaway in the Christmas edition of a big pile of the current top Aussie food mags. I've started to buy extra copies of Gourmet Traveller; Donna Hay; Delicious etc... and I'll send a big parcel of them to a lucky reader at Xmas along with some other nice Aussie food goodies. Stay tuned :)