Rustic Vegemite Beef & Aussie Ale Pie, Cider Roasted Pork Tenderloin with Apple, Prune & Pine Nut Stuffing, Chocolate Amaretto Pear Frangipane Tart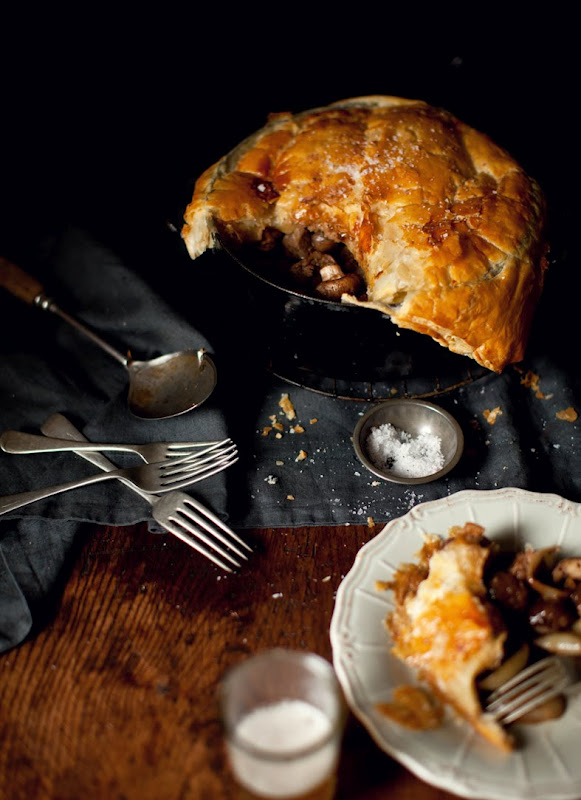 All Images © Katie Quinn Davies
Something I never, ever, EVER thought would happen, came like a bullet out of the blue last weekend whilst I was in Orange... I ate - and more importantly ENJOYED - a piece of toast with... *wait for it*... Vegemite on it...!
I have tried this food product a fair few times since I have lived here in Oz and time after time always found this product to be utterly horrendous. A salty, revolting pile of poo. Even recently when Oprah Winfrey ate a cracker with it - handed to her by Hugh Jackman whist on her huge Australian Tour TV show at the Opera House - I screamed at the TV she was a "BIG LIAR!" as she professed her likeness for it on first mouthful.
But something radically changed last weekend, I don't know if it's a symbol of the fact I am living here five years now and soon to apply for my citizenship (where does the time go?) or the fact earlier on in the day I was driven around a million hectares of prime Aussie farmland in a UTE by an Aussie farmer (my first time ever in said Aussie car) but I am now addicted to the stuff and I adore it on a piece of fresh, warm toast, with melted butter and a scraping of this wondrous Aussie icon. There is nothing better the next morning after you've had a few too many Aussie reds, than a scalding cup of tea and some toast and Vegemite. My husband is most proud... Bizarrely, that same afternoon, whilst pottering about some antique shops in search of props, I stumbled across a tiny, vintage Vegemite jar complete with little typographic lid, at the back of a box of old tins. Uncanny or what....?
Last week I mentioned I wanted to post up some recipes using the produce I discovered on my recent trip to Orange, in particular the venison from Mandagery Creek farm so I was going to use one of the recipes off the Mandagery website, however unfortunately I didn't get a chance to get to the Butchers who stocks the venison near me until Sunday morning - when you've guessed it - I discovered he is closed on a Sunday ... (!) So plan B was a switch to a superb piece of Nantucket Dexter beef beef chuck steak which I sourced from our local meat supplier Feather and Bone late last week - a wonderful company who only supply meat and poultry from local sustainable and free-range NSW farms. I discovered them a few months ago when I bought a great piece of pork belly for Christmas day. I combined the beef in a pie with a beautiful, recently sampled Aussie Ale - from Port Stephen's Winery, Swiss brown mushrooms and a teaspoon of Vegemite to add the salty element.
On Saturday night our gorgeous mates Nat and Simon came over for dinner so I used Feather and Bone'sMelanda Park free range pork tenderloins and stuffed them with a really stunning apple, cider (using the cider bought last week in Orange from Small Acres Cyder), prune and pine nut combo. Cider pairs incredibly well with pork and makes for a really tasty sauce for the meat when you use it to deglaze the roasting tin then add some cream and fresh herbs. I paired it with smashed rosemary potatoes = simply roast baby potatoes (par-boil first), with olive oil, fresh rosemary and garlic cloves, then smash with the back of a spoon and return to oven for a further 10 mins, drizzle with olive oil, sea salt and black pepper then serve warm, and also baby carrots and beetroot roasted with balsamic vinegar. To finish off I served a warm chocolate Amaretto pear frangipane tart with vanilla bean cream *note, I use Careme chocolate pastry as their quality is top-notch. The whole meal was a winner and definitely going in the 'fail-safe dinner party recipe diary' :-)