Spicy Chickpeas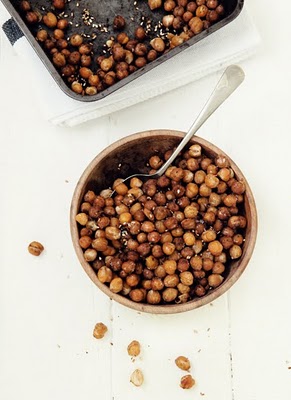 All Images © Katie Quinn Davies
This is an item I make every now and again as it's very quick to prepare and uses little ingredients. My Spicy Roasted Chickpea recipe, is something I make to have as a snack here in the house for when I'm on the computer all day. I store them in jars once cooked (if they last that long) and as I'm a 'grazer' type of eater, I find they're a healthy, low-fat, low GI substitute to pick at throughout the day instead of succumbing to crisps and cookies and the like. I like their crunchy texture and they take literally seconds to prepare and just about 40 minutes to cook.
You'll need:
1 can chickpeas
1 x tsp cumin powder
1/2 x tsp cayenne powder (up or down this depending on your likeness for spicy foods)
1/4 ground ginger
Pinch black pepper
Toasted sesame seeds
1-2 tbsp olive oil
Simply drain the chickpeas, wash, pat dry in a clean teatowel and then place into a baking tray (I find a metal one works best. In a bowl combine all dry ingredients along with the olive oil and pour over the peas. Mix with a spoon and place in a hot oven 200˚C (390˚F) for about 40 mins. Keep an eye on them and every 15 mins give them a shake to ensure they're evenly cooked. When cooked, sprinkle with a handful of toasted sesame seeds.