Stéphane Raynaud's Barbecue review and giveaway.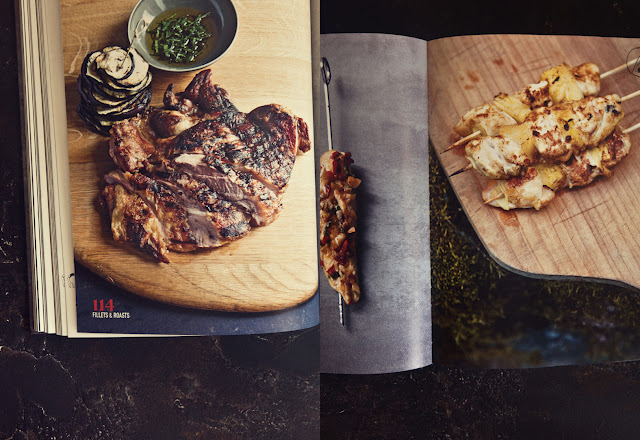 All images © Marie-Pierre Morel. Barbecue published by Murdoch Books, Australia
I'm a bit of a nut when it comes to cookbooks, I have tonnes of them all piled up on a massive bookshelf in my sitting room, but however in all honesty… some of them I rarely open… if ever at all. I do love nothing more than standing in my favourite book shop leafing through whatever new publications catches my eye and in turn adding to my ever growing collection, but half the time I buy them, I honestly often just stick them on the shelf and they rarely get a second look...
I adore books and spend most of my spare cash on cookbooks, photography books, design books and music biographies/coffee table photo books. Let's face it, a lot of us buy cookbooks in particular for the pretty (food 'porn') pictures, well I do anyway, I'll admit it. Unless one initially really tickles my fancy on the recipe front, I generally buy them to check out my competition in the food photography world and now on the author front* (*Note: I am still finding this notion a tad bizarre – it's great… actually strike that, without a doubt it utterly fantastic to me, but still a bit surreal, I think it always will be as it really only seems like yesterday I was sitting in front of a mac in a design studio working on logos…!).
Out of the 300 or so + cookbooks piling my shelves, there are about 20 I return to over and over when pondering what to cook for a dinner party or such. Obviously there are ones which stand out from the crowd for me: 'Cooking for Friends' by Gordon Ramsay springs first to mind, whilst the recipes are great and I've cooked often from this book, it's the unsurpassed Ditte Isager's photography that causes the stir in this book for me personally, she's one of my most admired photographers. Others are anything really from Hugh Fearnley Whittingstall; Heston Blumenthal; Jamie Oliver; Stephanie Alexander; Ferran Adriá, Neil Perry and the author who brings me to the purpose of this post; Stéphane Reynaud.
I have all of the latter's cookbooks. I adore his rustic, real French cooking style. There is little pretence in his recipes and it's just honest, simple cooking. His books such as: Ripailles; Pork and Sons; Rôtis; 365 Good Reasons to Sit Down and Eat are always on my top 10 list. The design – or should I say more-so, the illustrations by José Reis de Matos, are so eye-catching and fun, and as long-standing lover of great pen and ink humorous illustrations, they make me adore these books even more, the dry humour is brilliant. I had thought for a long time to feature illustrations in my own cookbook, but realised too, it would be hard to beat Josés work for Reynaud (and more is the pity, I imagine would cost the earth too :(
My most recent cookbook purchase included Stephané Reynaud's 'Barbecue ~ 150 recipes for the barbecue. It's a wonderful celebration of all things grilled, seared and baked. With over 140 recipes irresistible recipes including tender cutlets, succulent roasts and ribs, as well as a selection of accompaniments, from minted grilled vegetables to a decadent baked Camembert, there's a recipe for every barbecue get-together. Written in his well-known eccentric style, Stéphane never fails to entertain, and his passion for barbecuing is highly contagious.
'Barbecue's' photography is simple and to-the-point. I like it for the most part, the styling is similar in his other books and lets the food shine as the hero ~ something I lend to myself and prefer visually. In 'Barbecue' the ingredients are pared back to their very basics and personally I find some of the photography (about 5%) just a tad too simple, and dare I say *ducks for cover*, a teeny bit repetitive (aka the manner in which the fish dishes are represented) but overall it's really very pleasing on the eye, totally non-pretentious and fussy, simple, rustic and does make me want to have a bash at creating a lot of the dishes.
I cooked a few skewered recipes recently for my family before they returned to Ireland; Pineapple Chicken; Monkfish and Chorizo; Lamb, Cumin and Almonds and can report all were a winner with everyone who ate them (the Pineapple chicken came out no. 1). Very easy and quick to prepare, flavoursome and succulent.
Barbecue is currently available at Berkelow Books online
On an end note, I'd be really keen to know what cookbooks past or present really positively stand out for readers of WKa and why? Or what books you dislike and again why? Is it the style of writing or photography good or bad. What elements are desired in a cookbook or what you'd like to see more of featured?
I'd love to hear feedback on your thoughts and in appreciation I have a copy of 'Barbeque' to give away. Just let me know below and I will do a 'name in the hat' draw in 2 week's time on Sat Feb 11th.
Cheers!
K
14th Feb ~ Thought it best to post this here too:
Susan in the Boonies send me a mail with your details!! :)