Tapas-style foodie ideas...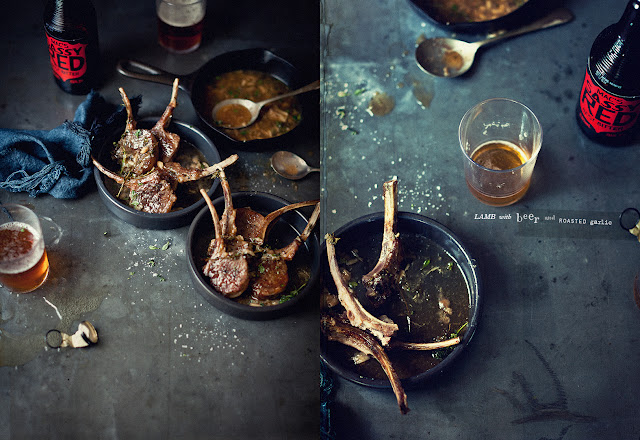 Lamb with beer and roasted garlic
- - - - - - - -
12-16 French-trimmed organic lamb cutlets
8 large cloves garlic
2 standard bottles ale/lager
Salt and freshly ground black pepper
A few fresh thyme sprigs
Olive of for frying
- - - - - - - -
Preheat oven to 180˚C (350˚F).
Place garlic cloves onto a small baking tray and roast in the oven for 30 minutes or until soft on the inside (test with a small, sharp knife) remove and allow to cool then squeeze out pulp and discard outer paper.
Heat a tablespoon or two of olive oil in a large frying pan over medium heat. Add the lamb cutlets in batches and cook for a few minutes only to brown the outside of the meat. Remove from the pan.
Pour beer into a roasting dish – large enough to hold all cutlets (not overlapping) comfortably.  Add the roasted garlic pulp and mash into the beer using a fork. Season well with salt and black pepper then add in leaves from a few thyme sprigs.
Place lamb cutlets into the beer/garlic marinade and coat meat thoroughly. Roast in the oven for 20 minutes of until cooked as per your liking (I tend to opt for just medium rare with lamb). Serve hot with any excess roasting sauce, an extra seasoning of salt and pepper and a scattering of extra thyme leaves.
Serves 3-4
Sizzling prawns with garlic, chilli and lime
- - - - - - - -
6 cloves garlic, minced
Juice & zest 1 lime
1/2 teaspoon smoked paprika
1/2 teaspoon dried chilli flakes
1/3 cup EVOO
Salt and freshly ground blackPepper
500g green prawns
2 cups chicken stock (or use fish is you don't eat chicken)
Sea salt flakes and freshly ground black pepper
Handful fresh, flat-leaf/continental parsley, roughly chopped
Extra lime wedges for serving
- - - - - - - -
To clean and prepare the prawns; remove heads and legs, peel off shell to just before the tail - leaving the latter on the prawn. Add all heads and shells into a medium-sized pot. Cover with 2 cups stock, season with black pepper and bring to the boil over high heat. Reduce heat to medium and simmer for 15-20 minutes. Drain stock into a bowl and discard heads and shells.
Using a small, sharp knife, cut a groove all along the back of the prawn, remove the 'poop shoot' and any excess membrane, repeating process with all prawns.
Add garlic, lime zest and juice, paprika, chilli flakes and EVOO into a medium-sized mixing bowl. Add the prawns to the bowl and coat thoroughly in the marinade. Season well with crushed sea salt flakes and black pepper. Chill in the fridge for 15-30 minutes.
Remove prawns from fridge and separate from stock using a strainer - retaining both liquid and shellfish. Place a heavy cast iron frying pan (or individual heat-proof tapas bowls) over a gas burner on top of your stove, add the marinade (retaining a little of the pulp for later when you'll spoon it over the prawns just before serving) and bring to a boil over high heat. Add 1/2 cup (or a few ladlefuls) of the fish stock and stir to combine then add in the prawns and cook over high heat for 5-10 minutes or until cooked through. Let them bubble and boil away.
Just before serving, add any remaining marinade to the tops of the prawns and an extra spoonful of stock, then scatter with a handful of chopped parsley.
Serve bubbling hot with extra lime wedges and lots of crusty bread.
Serves 2-4
Spicy Chorizo, red capsicum, tomato and mixed bean stew
A great winter warmer or summery dinner-for-friends/mid-week recipe which can be made a day in advance.
- - - - - - - -
2 mild chorizo sausages, sliced into thin rounds
3-4 large truss tomatoes, halved
2-3 long red peppers/red capsicums, stalk, membrane and seeds removed, cut in half lenghtways
1 brown onion, finely diced
3 large cloves garlic, minced
400g tinned, chopped tomatoes
400g tinned borlotti beans
400g tinned chickpeas
400g tinned cannellini beans
1 teaspoon smoked paprika
1 cup dry white wine
Handful fresh flat leaf/continental parsley
Salt and freshly ground black pepper
- - - - - - - -
Pre-heat oven to 180˚C (350˚F)
Place capsicums and tomatoes cut-side up onto two separate baking trays, drizzle both with a little olive oil, season tomatoes with a little salt and black pepper and roast both items in the oven for 40-50 minutes. Remove from oven and chop both capsicums and tomatoes into large chunks.
In a large heavy-based French-one/casserole pot, add a tablespoon or two of olive oil and warm over medium heat. Add the sliced chorizo and fry until crispy and caramelised around the edges. Using a slotted spoon remove chorizo and drain on paper towel.
Into the chorizo oil remaining in the pot, add the onion and garlic and fry over low-medium heat for 5 minutes before adding the roasted tomatoes, capsicums, tinned tomatoes, 3 bean vatieties, paprika and wine. Season well with salt and black pepper then add the chorizo. Stir all together and cook over low-medium heat for 30-40 mins until thickened slightly. If you want, you can add a little water at any stage if you think the mixture is getting too thick.
Serve warm in bowls with a scattering of chopped fresh parsley.
Serves 4
Olive oil roasted tomatoes with Manchego and basil
- - - - - - - -
6-8 large Truss tomatoes
Handful fresh basil leaves
Light olive oil
1 cups Manchego cheese, grated, plus extra for serving
Sea salt flakes & freshly ground black pepper
- - - - - - - -
Pre-heat oven to 120˚C (248˚F)
Cut tomatoes in half widthways and place 3-4 halves cut-side up into each tapas dish (you'll need 4 individual dishes or 1 large one).
Over each dish of tomatoes pour 1/3 cup olive oil and season tomato tops very well with crushed sea salt flakes and a decent amount of black pepper, place 3 or 4 large basil leaves around the tomatoes sinking them into the oil.
Roast tomatoes for 1.5 hours in the pre-heated oven until soft, remove and sprinkle tops with 1/4 cup grated Manchego per dish then return to the oven for 10 minutes.
Serve piping hot with extra grated Manchego, fresh basil leaves and crusty, grilled bread.
They pair excellently with a good, aged Parma ham and also with the Patatas Bravas recipe below.
Serves 4
Italian sausage with red grape and Parmesan Pangrattato
- - - - - - - -
5-6 thin Italian sausages, cut into 1.5cm (just over 1/2") pieces
1 cup baby red seedless grapes
1 large brown onion, peeled
1/2 bottle dry white wine
Fresh thyme
1/2 cup white breadcrumbs
1/2 cup Parmesan cheese, grated
Sea salt flakes & freshly ground black pepper
Olive oil
- - - - - - - -
Pre-heat oven to 180˚C (350˚F)
Cut onion into quarters length-ways, then slice each quarter again in half length-ways (basically you end up splitting the onion into 1/8's lengthways).
Heat 1 tablespoon olive oil in a large, deep saucepan over medium heat. Add the sausage pieces and fry for 5-10 minutes until lightly golden brown.
Remove sausage from the pan. Add the onion to the frying pan and cook for 5 minutes until soft, then add the sausages back in along with a good glug of white wine and the leaves from a few sprigs of fresh thyme. Continue to cook the sausage and onion over medium-high heat adding another splash of white wine as you go. Keep tossing everything in the pan until caramelised and golden. Divide contents equally between 4 tapas bowls. Season with salt and black pepper.
Return pan to heat and add a final glug of white wine to deglaze and loosen up any good bits stuck to the bottom of the pan. Simmer for a minute or so then drizzle liquid over the sausage in the cooking dishes. Roast in the oven for 20 minutes.
While sausage is roasting, to make the Pangrattato; using the same frying pan add the breadcrumbs a few more thyme leaves and fry gently, stirring often, over low-medium heat until golden brown. Remove pan from heat, add 3/4 the Parmesan and mix.
Remove sausage from oven and sprinkle tops with Pangrattato and then the remaining grated parmesan. Grill under a hot oven until golden brown. Serve warm.
Serves 4
Salt and pepper quail with plum, sage and Parma ham, plum and red wine dipping sauce
- - - - - - - -
8 quails
8 slices Parma ham
6 large black plums, cut into wedges (you should get about 8 per plum)
Handful fresh sage leaves
2 teaspoons freshly ground black pepper
1 teaspoon crushed sea salt flakes
1 cup red wine
2 tablespoons soft brown sugar
Knob or two unsalted butter
Olive oil
- - - - - - - -
Pre-heat oven to 180˚C (350˚F)
To prepare quails, using a sharp knife cut away legs from quail and place into a bowl. Cut along each side of the backbone to remove breast from bird keeping skin on. Repeat with all quails. Discard excess quail or retain and use to make a stock (optional).
Place salt flakes and ground pepper into a small container or jar and shake to combine. Scatter onto a dinner plate.
Add a little olive oil into the palms of your hands and rub over the quail breast skin and quail legs. Lay quail breasts, skin side down onto salt/pepper combo on the plate and gently press down to coat skin. Add remaining salt/pepper into bowl containing the quail legs and toss to coat.
Heat a tablespoon olive oil and a knob of butter in a frying pan and fry quail breasts - again skin side down, for a minute or two until golden brown. Repeat with quail legs but toss in the pan until fully cooked - adding an extra knob or two of butter if you wish.
Lay each slice of Parma ham on a clean surface and slice down the centre lengthways to from two pieces per slice. To wrap each piece; place one ham strip facing vertically away from you, add a quail beast to the start of the ham slice, top with 1 sage leaf and a piece of plum (I used about 2 plums in total for this stage leaving 4 for the sauce) then roll all together, secure with a cocktail stick or wooden pick (Note* - soak the wooden picks in water for an hour or so before using to avoid them burning in the oven). Repeat with all quail breasts and place in a large baking tray. Roast in the hot, pre-heated oven for 20 minutes or until quail is cooked through.
While the quail is cooking you can make the dipping sauce. To do so place the remaining plum quarters into a saucepan along with the wine and brown sugar and bring to a boil before simmering until thick (about 15-20 mins) before adding into a blender jug and whizzing to a smooth sauce. Return to the saucepan, add a knob of butter (this will make the sauce glossy), season with salt and freshly ground black pepper and serve hot as an accompanying dipping sauce for the quail.
Makes 16 canapés
Cherry Amaretto clafoutis
- - - - - - - -
3 large handfuls fresh cherries, pitted
1/3 cup ground almonds, sieved
1/3 cup caster sugar
165ml milk
1.5 tablespoons Amaretto liqueur
2 eggs
1/2 cup flaked almonds
- - - - - - - -
Pre-heat oven to 180˚C (350˚F)
Grease a 20cm (8") deep baking dish, into which add all the pitted cherries (retain a few if you like to stick into the top of the clafoutis half-way through cooking).
Add ground almonds and caster sugar into a mixing bowl, combine. Crack eggs into a jug and whisk then add the milk and Amaretto. Pour into the dry ingredients and stir to combine. Pour batter over the cherries and scatter the top with flaked almonds.
Bake in the oven for 30 minutes or until the filling is set. Serve warm with a dusting of icing sugar and whipped cream (optional).
Note: The recipe is adapted from Taste.com.au.
Original recipe can be found here
Serves 4-6
Katie's Patatas Bravas with ham and eggs
- - - - - - - -
6 large waxy potatoes, peeled and rinsed
2 large red chillis (mild-medium heat), finely sliced
2 teaspoons smoked paprika
Leaves from 3 sprigs of fresh thyme
2/3 cup olive oil, plus extra for frying
8 slices, good quality Parma ham
4 large, free-range, organic eggs
Salt and freshly ground black pepper
- - - - - - - -
Cut potatoes into quarters length-ways, then cut into large, equal-sized chunks. Half-fill a large pot with salted water and cook potatoes over high heat until just soft in the centre. Drain and set aside.
In a mixing bowl add olive oil, sliced chilli, paprika, thyme leaves, a pinch salt and lots of black pepper. Mix together.
Heat a tablespoon or two of olive oil in a large frying pan. Add potatoes in two batches and fry until lightly golden and crispy on the outside. Repeat with the remaining potatoes then add all potatoes back into the pan and coat liberally in the paprika/oil mixture. Fry for an extra minute or two then turn off heat. Set aside.
Place Parma ham on a baking sheet lined with aluminium foil and cook for 5 minutes under a hot grill until crispy.
Generously grease the insides for 4 individual heat-proof tapas bowls with olive oil. Line the edges of the tapas bowls with 2 slices each of grilled ham. Equally divide the potatoes between the bowls making sure to place them around the edges leaving a void in the centre of each dish to hold the egg.
Crack an egg into the centre of each dish then place onto a trivet which in turn is placed over a gas burner/electric plate set  on medium-high. Fry until egg white is cooked through - be really careful as the dishes will be utterly volcanic in temperature, so do really take care with your hands and serve dishes on a heat-proof board or plate.
Serve piping hot (which won't be hard as they stay hot for ages), seasoned with a little salt and freshly ground black pepper, with fresh bread to soak up the egg yolk.
Note - this dish can be made without the ham and eggs, simply just fry the potatoes a little longer in the pan once you add the paprika and oil mix and then serve them warm in a big serving bowl for guests to help themselves.
Serves 4
All images © Katie Quinn Davies 2011
- - - - - - - -
A few weeks ago I was kindly given a gorgeous surprise gift of 4 black terracotta tapas plates. I've always been a huge fan of tapas, probably as I'm a bit of a 'grazer', preferring meals which consist of lots of smaller, flavour-packed portions as opposed to one big dish. I also love the sharing aspect and it's always a winner with a group of mates.
The weather in Sydney is so all over the shop at the moment and has been for the past 2 weeks and it has included rain by the bucket loads, which at times has made for a rather gloomy atmosphere in the house and studio (great for my gardenias and Hydrangeas however! Woohoo! :) So I thought what better an idea than to try out a few tapas recipes for the blog...
And what a success! They worked a treat, in particular the prawns, quail (FYI Note* a great idea for party canapés) and spicy potatoes (great as tapas but also a super brekkie recipe). The prawns, holy moly those prawns, were out-of-this-world amazing... (!!) Juicy; salty; garlicky; sour; spicy; fab! Really simple too and pretty quick and hassle-free. Not only could you serve them as a tapas dish - but these would make a fantastic BBQ dish, or at least an accompaniment at a BBQ so you could, rather than cook them in individual dishes, muster up a big wok-full of them and serve them hot with fresh crusty bread and lots of chilled white wine or sparkling... I know I will most definitely be making a few batches over the silly season (or when this weather decides to behave like 'normal and proper early Summer Sydney' weather (!) They would also make for a great dinner party starter in the warmer months or over Christmas in chillier climates.
Another reason I went down a tapas route this week was especially so as I enjoyed some superb tapas-style food last weekend at The Four in Hand pub in Paddington which is an award-winning, 2-hatted gastropub and adjoining restaurant run by Head chef and Dublin-born; Colin Fassnidge.
There we all shared a range of tasting plates including: Roast Bone Marrow With Celeriac Remoulade; Spanish Sardines & Tomato Sauce With Grilled Bread and in particular I had an amazing dish of oven-roasted truss tomatoes with Manchego = wow! and what a treat when paired with the pub's incredible aged 18 month Prosciutto - I can only imagine gobbling this up to Sunday brekkie along with a good sourdough and some of the spicy potatoes and egg (latter optional) above... I don't know the actual recipe for this tomato dish but I gave it a whack myself at home during the week and the results were pretty impressive :)
Moving onto quail.. there's nothing better than pairing game birds with fruit and now that plums and such are in season in Oz, I grabbed a few and combined the two with bacon (everything tastes better with bacon right?!) ~ or at least with a good-quality Parma ham. these are a super idea for canapés for a Christmas party - all the ingredients are very festive: Quail, plum, sage, ham and of course a good glug of hearty red wine in the dipping sauce. There is a wonderful balance of taste sensations from the salt and pepper seasoning which is contrasted by the sour fruit, piquant sauce and again lightly salty ham wrapping everything together. A definite winner for me and again, on my 'to-make' list for Christmas eve drinks.
I can't believe tomorrow is December 1st ~ this year has flown by but the official countdown to Christmas has begun (Wayhey!!) My Christmas tree is up (I know - tres embarrassing that I put it up before Dec 1st - blame the gloomy horrible aforementioned weather and the need for a mid-week pick me up - which worked a treat I might add! :) So with a few more shoots to complete before the big day, I am off like "a bucket of prawns in the sun" (as they say here in Oz LOL) to get cracking on ideas for the next and in turn Xmas blog post (note ~ it won't be as big as last years mammoth adventure but I'll muster up something fun :)
X