The Grounds Sydney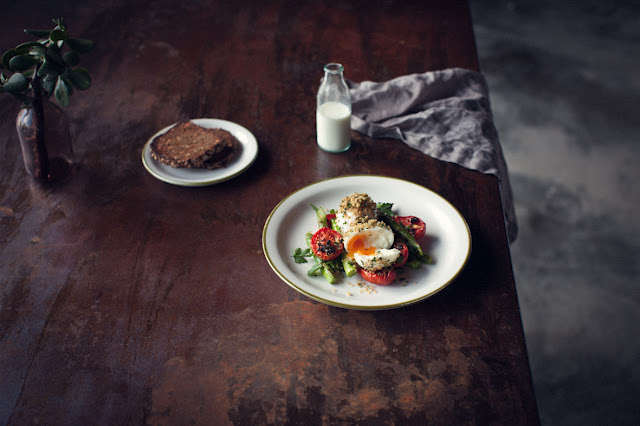 The Grounds, Alexandria, Sydney
Parmesan and Lemon Baked Chicken Goujons with Salsa Verde Dipping Sauce
Buttermilk Chicken, Walnut, Tarragon and Watercress pizza
Italian Sausage, Bacon, Roasted Tomato and Egg Pizza
Chocolate Frangipane Plum Tart
Last week I did a shoot at a new coffee house in the suburb of Alexandria in Sydney. 'The Grounds' is opening next Monday (April 2nd) and what can I say about the building and fit-out other than it is utterly STUNNING...
When I walked into the building last week early in the morning with all my gear, I was blown away at what an amazing job is being done here. There's an incredible industrial feel to the place what with it's beautiful sparkling subway tiles; pristine white glass and wood cabinets lining the walls in abundance; exposed vents and Edison light bulbs hanging over tables and perfectly positioned around the interior. Solid wood tabletops are treated with beautiful typography and overall there is a fabulous feeling of perfected attention to detail with a great contrast between the old and new; crumbling bricks from the old building sit alongside sumptuous leather banquettes, plants hang overflowing from exposed shelving alongside rows and rows of (gorgeous!!) vintage American milk bottles and old scales and lamps.
It's always reassuring (and in most instances a rarity over commonplace) to see a business owner showing this level of respect for design, branding and marketing. I hope this business soars for him and his team. Ramzey Choker is the said entrepreneurial owner and food importer and he's teamed up with Jack Hanna ~ barista extraordinaire to build The Grounds. Never to-date have I witnesses (and enjoyed) coffee made with such passion.
I was asked to take some food shots by Folke (the fab Communications firm in Paddington) before the grand opening as the team were still putting the finishing touches to the interior coffee-house and adjoining exterior gardens, so regretfully this time I was unable to get full shots of the building ~ ladders and workmen don't always make for the most beautiful photography ;) but what a stellar effort to all who are involved to get The Grounds ready and shining for it's grand opening next week. It's going to be huge and from what I witnessed it's going to be one of the hottest locations in Sydney once open, especially too did I mention the exterior garden area which is utterly lush with an abundance of veggies, flowers and fruit which is a perfect play area for kids; a stunning party venue or client function area (complete with bar area) and or a wonderous place to enjoy a Sunday brunch with friends.
Overall it's just a magnificent site which has been designed and fitted out to suit a plethora of events and needs. I can't wait until it opens to get back with friends to savour more scrummy food and superb coffee.
A former warehouse and pie factory, The Grounds is now a coffee lovers heaven and venue for hire.
Rater than me rambling on here, you can read all about The Grounds here and check out their website which will be going live very soon.
One of the dishes I shot whilst there was an amazing chicken schnitzel with a tangy and vibrant salsa Verde dipping sauce. Taking on board some of your comments from my last post re. healthy options, I thought it would be a nice idea over the past weekend to rustle up my own version of this recipe – albeit, oven baked chicken to cut back on the calories. This is a healthy alternative to deep or shallow frying breaded chicken and a great mid-week dinner idea for kids. The salsa Verde is more of a take on a more traditional recipe as I added in some ingredients I found in my fridge which I had leftover from other recipes, i.e. the green capsicum etc.
I'm also including this week some pizza recipes and a fab chocolate plum tart. These were all recipes I was considering to use in an upcoming editorial I am doing with a Sydney mag but felt they'd be good options for blog recipes. I could eat pizza every night – I adore it, and I love making them too, one of the best pieces of kitchen equipment I have ever bought is a pizza maker. Initially I balked at the notion of owning one as I saw them as very 'gadgety', but I find them one of the handiest and time saving pieces in the kitchen. They're not expensive (approx. $120) and make pizza-making super quick and hassle-free. Obviously if you don't have one, you can use a pizza stone in a regular oven.
On an end note, thanks again SO much for all the wonderful, insightful comments on the blog from my last post re. what you'd like to see from a functionality point of view on the blog when I start having it re-designed. All your words have been well read now and the re-design has started officially. I am going to draw a winner from a hat on Friday for the Christine Manfield 'Tasting India' book (or which I now have a signed copy from Christine here at my studio :)
Next month's book is a signed copy of Kylie Kwong's 'Simple Chinese Cooking' photographed by Earl Carter. To win this signed copy simple leave a comment below letting me know your absolute favourite Asian dish - be it Chinese, Thai, Japanese etc etc, let me know your thoughts below. Also can you let me know your location and no Anonymous comment please :) I have an all Asian inspired theme coming up after my big USA posting (that'll be up end of May when I return from the States so all you photo contributors don't despair - I will be using piccies i haven't forgotten about you or them :) and I'll have a wonderful giveaway from a top Japanese kitchenware company who supply the top restaurants of the world with knives and kitchenware - stay tuned!
As ever thanks for reading.
Katie x