The Standard Hotel, Fitzroy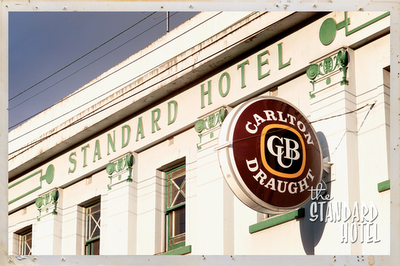 One of my favourite areas of Melbourne has always been Brunswick Street in Fitzroy. Like so many others I adore the chilled out, bohemian and creative vibe which surrounds the area. It tends at times to remind me of parts of New York, another place in which I would happily spend a great deal of time (shopping in Sephora most probably..!).
Running parallel to Brunswick street on Fitzroy street is a pub called The Standard. Built in 1865 it's one of the longest standing pubs in Australia. It has a responsive, relaxed atmosphere and offers some of the best pub food in Melbourne, so owing to all those positive attributes it's one of my favourite places to enjoy a few Sunday afternoon beers and grab a bite to eat. The clientele are a good mix of locals and regulars and out back it houses one of the largest beer gardens in all of the city where it is a fantastic place to spend a few hours on a warm summer's eve.
The food is of an above-par standard to most good pub grub, their 'Share plate' consisting of a selection of; sopressa, pastirma leg ham, reggiano, smoked cheddar, gordal olives and housemade roulade and grissini - is one you'll go back for over and over as it's damn good and the consistency of the food in this pub is the same one week to the next so you always know what to expect and what you'll receive. The 'Chat potatoes roasted in garlic with herbs and mustard mayo' are also extremely tasty and worth ordering a bowl (or two) to share on the side.
The Standard stays open Monday through Saturday until 11pm and on Sundays until 9pm. It's a residential area where the pub is located on Fitzroy street so they close earlier than some other pubs on neighbouring Brunswick Street, in consideration of the nearby neighbours.