Trunktown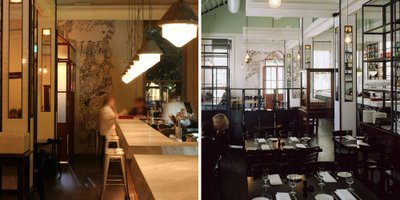 I hope to be able to offer a listing and basic overview of restaurants in Melbourne I find particularly of interest and who offer good food, value and service. I am not a restaurant critic, professional food writer or qualified Michelin Star chef, nor I do not dare to try to become one in the foreseeable future... However, I am full-blooded Irish woman and that therefore qualifies me in the gold medal stakes to be able to give my honest opinion of some of Melbourne's finest drinking saloons, and this blog now gives me a perfect excuse to go to more :)
So, let the pub crawl begin I say..! *Hic*
First off my current No. 1 bar and eatery in Melbourne CBD: 'Trunktown' or 'Trunk' as it's more commonly known.
Located on the corner of Little Lonsdale and Exhibition Street, Trunktown includes one of largest (and prettiest) outdoor courtyards in the CBD, complete with huge tree - hence the name origin. The design of the bar inside was an instant hit with me as I adore it's industrial feel combined with fantastic graffiti-style illustrated wall mural and clever, funky graphics - especially so with the menus and beer coasters. (NB. If you're single you may want to pick one of the latter up on your way in, it may come in handy later on throughout the night..).
I found the crowd at Trunk laid-back and most seemed to be within the 25 and up age-group. It's got a great buzz about the place and the ambiance is energetic and lively, it's also totally unpretentious, something I particularly welcome in any bar. Bar staff are friendly and helpful and beer and drink prices nothing out of the ordinary, I have actually found it cheaper than some other bars of lesser quality in the surrounding area. Also, one rarely gets heads up on this area in pub reviews, (someone told me once, and once was enough (!) that it's generally a good indication of the cleanliness of the establishment's kitchens...) but the bathrooms were sparkling clean (well I can only speak for the women here), and this is an area some pubs with fancy names, beers and cocktails all too unfortunately choose to ignore...
The bar itself is housed in a former Synagogue and offers modern Italian food and pizzas, as well as a large selection of local and International wines, beer and creative cocktails. Punters can choose from their bistro or pub menu. I have eaten here twice and on both occasions thoroughly enjoyed my meal. I highly recommend their 'House selection of cured meats' - some of which they cure themselves in-house and the 'Pappardelle, duck ragout', their pizzas too are supposed to be fabulous also. As if all that wasn't enough, The Age Good Food Guide has just included it in their - Top 5 Best Bar Menu.