Weekend Entertaining Salad Selection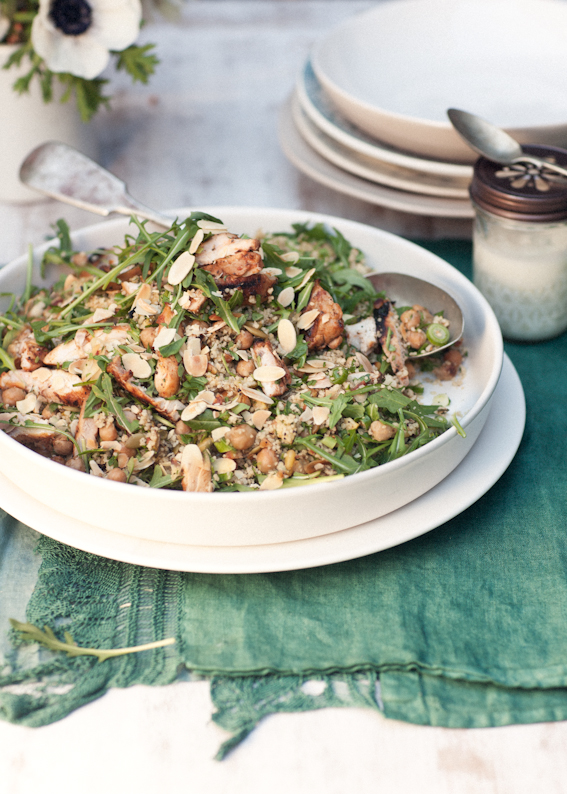 Couscous with harissa chicken, chargrilled zucchini and crunchy, nutty salad, yoghurt drizzle
Coconut chicken pitas with crispy mung bean, cucumber and baby heirloom tomato salsa, lime coconut dressing
Puy lentil and green pea salad with balsamic bacon, egg and pumpkin seed, balsamic dressing
Farro and yellow pea salad with spinach and flaked salmon,white bean and black sesame dressing
Brown rice and garlicky chilli prawn salad, with capers, broccoli and radish, crushed peanuts
All images © Katie Quinn Davies 2012
Also ~ in one or two of the above pics I used some really adorable little jars which I found 2 weeks ago on a very cool little site called 'Little Ink' check it out. Suzie ~ the girl who runs it, is wonderful and she has some really adorable bits and pieces on there for sale.
Last weekend we had some friends around for Saturday lunch as six weeks ago they had a beautiful little boy ~ Connor Vincent Martin, and we were dying to meet him and celebrate his arrival with his proud mum and dad, Simon and Bronwyn.
I have been incorporating a lot more pulses, legumes and grains into our diet here for dinners etc. And find, one of the best things to serve for a weekend get-together is a great salad ~ filled full of interesting textural ingredients ~ nuts, pulses, cheeses etc. and paired with a beautiful piece of BBQ fish or lean meat which I love to marinate the night before then chargrill on the day, pair the lot with some amazing crusty sourdough bread a some great chilled wine and you're set.
I have a recipe coming up in one of my Delicious features, which is an idea along these lines and it's a great, hassle-free way to entertain. I found with the salad I made on Saturday; Couscous With Harissa Chicken, Chargrilled Zucchini And Crunchy, Nutty Salad, Yoghurt Drizzle it tasted even better the next day and it gave me inspiration to work on some salad recipes which you can use primarily as a main menu item for a lunch or dinner, then use the left-overs for a work lunch the next day.
All the salad takes approx. 30 minutes or so to prepare and all meat can be marinaded the night before so take this into account when prepping. Feel free to omit some of the ingredients i.e. in the Puy Lentil And Green Pea Salad With Balsamic Bacon, Egg And Pumpkin Seed, Balsamic Dressing you can easily exclude the bacon if you want to make it a vegetarian option. Alternatively you could substitute the coconut chicken for haloumi in the Coconut Chicken Pitas With Crispy Mung Bean, Cucumber And Baby Heirloom Tomato Salsa, Lime Coconut Dressing recipe. This is great lunch idea as it's fantastic served in either wholemeal pita bread or low-fat mountain wraps.
Initially when I was making this latter recipe I asked my husband Mick to taste some of the mung beans straight from the packet ~ I'm going to be honest here, not a lot of true-blooded Aussie men are going to get too enthralled when a plate of mung beans is put in front of them (!) and yep, he totally hated them (LOL), I'll be frank too, they're not the first thing I'd be reaching for in a hurry, but they are really good for you, add great texture to a salad and are good and crunchy. I decided the best thing to do with them was to sweeten them up a little in an effort to subdue some of their bitterness, which is the factor I find difficult to warm to. So throw them in a pan with a small amount of light olive oil, a drizzle of agave nectar syrup, pinch of salt and pepper and toast them until crispy and golden, their flavour changes dramatically and a lot of the bitterness disappears. Mick loved them, a total turnaround and they added a really nice texture to the salsa. Mung beans are a nutritional powerhouse; packed full of folic acid (so good if you're planning to become, or are pregnant), low in saturated fat and sodium, and very low in cholesterol. They are also a good source of protein, thiamin, niacin, vitamin b6, and a very good source of dietary fiber, vitamin C and vitamin K amongst others
I thought a fitting book giveaway this month would be Simon Bryant's 'Vegies'.
Simon is a well known chef here in Oz and featured daily on TV in a wonderful show alongside Maggie Beer called; The Cook and the Chef.
I met Simon a few months ago at the 2012/2013 Penguin Book launch, he was a super guy, really cool with a great attitude and lovely to chat to. You can read more about Simon and his background as a chef here at his own website.
On a side note, the book is stunning, one of my faves from this year. I love the design, really great punchy typography, modern, young and striking. It's a great size and bound beautifully with the superb photos all printed on gorgeous uncoated stock and shot, but the one and only, and a good friend of mine; Alan Benson
Simon's long-awaited debut cookbook is a vibrant, inspiring collection of vegie recipes that will appeal to vegetarians and meat-eaters alike. Simon guides you through the changing seasons, as he shares tales from his vegie patch and brilliant tips for selecting the finest produce. Discover new ways to enjoy your favourite vegies and learn simple cooking techniques to make them really shine.
Simon's recipes sing with flavour. Comforting dishes such as Sweet potato, peanut and mandarin curry and Beetroot ravioli with roast garlic and lemon-zested chevre and walnuts will warm and nourish during the colder months, while the light, fresh flavours of Lavender and orange broccoli with cous cous and Sugar snaps and capsicum with burnt chilli sambal and basil are perfect for spring and summer. Vegies effortlessly dispels the myth that vegetarian cooking can't be daring, original and delicious.
To win a copy, simple leave a comment below noting the one fruit and vegetable you'd love to see featured more on What Katie Ate. I'll be announcing the winner of the last book giveaway - Guillaume's gorgeous coffee table, cookbook mid-next week ~ stay tuned.
All above cookbook images © Alan Benson | Penguin/Lantern Books